Albatron K8X800 Pro II
As usual, the formal board spec first.


| | |
| --- | --- |
| | Albatron K8X800 Pro II |
| CPU Support | 1 x Socket 754 |
| Northbridge | VIA K8T800 |
| Memory Support | 3 slots, DDR400 max, 3GB max |
| AGP | 8X |
| Southbridge | VIA VT8237 |
| Audio | VIA Envy24PT PCI (VT1720) feeding VT1616 and WM8278 |
| Audio Connectivity | 6 port backplane speaker, PCI I/O mounted S/PDIF (coax and optical) input/output module with mic and headphone replicated ports |
| PCI | 6 x 32-bit 33MHz PCI 2.1 slots |
| IDE | 2 ATA133 compliant ports from 8237 |
| IDE RAID | None |
| SATA | 2 ports from VT8237 |
| SATA RAID | VT8237 able to RAID provided ports |
| Ethernet | 3Com 3C940 Gigabit Ethernet LOM controller |
| USB | VT8237, 2 x backplane USB2.0, 4 x I/O USB2.0 |
| FireWire | 2 I/O shield ports from VT6307 |
| Other I/O | PS/2, Parallel, 1 x Serial |

At first glance, it was the K8T800 feature set I'd come up with myself. I'd have augmented another pair of SATA ports onto the board via a discrete controller, probably a SiliconImage, but everything else seems spot on. A second glance is enough to spot the flaw though.

Albatron equip the K8X800 Pro II with VIA's Envy24PT, the version of Envy24HT that's suitable for applications like motherboards. It's an 8 channel discrete PCI audio controller. The HT version is found on some of the most capable PCI soundcards on the market just now, capable of 24-bit resolution and 192kHz sample rate on all 8 channels, input and output.

The PT drops that to 96kHz sample rate, but maintains the resolution, so not too bad and still a step up from most motherboard equipped audio. So far. Albatron drop the ball however with the CODECs used to present it with data. Sat in front of the Envy24PT is a VT1616 6-channel CODEC that samples at 18-bit, 48kHz. So while the PT has all that capability, Albatron saddle it with a 6-channel front end with worse spec than the solution ASUS use on K8V, the AD1980. Given that Envy24PT is 8-channel and Albatron advertise the K8X800 Pro II as 7.1 capable, that leaves 2 channels spare. Like Chaintech use on their 9CJS motherboard, Albatron use a WM8278 DAC for the spare channels, a 24-bit, 192kHz device.

Why? VIA supply the VT1617, otherwise known as the Eight-TRAC (part of their Vinyl Audio brand of hardware, the VT1616 is the Six-TRAC). It handles the front end for all 8 supplied channels an Envy24PT can do and does 20-bit and 96kHz, a better fit to the capabilities of the impressive ASIC. It's a three chip mess that cripples what would be a huge selling point for any motherboard introduced today. It's not subjectively poor, but it could be a lot better.

As it stands, you get eight channel motherboard audio and decent connectivity, along with digital output and input. Crippled down to usual AC'97 motherboard specs however makes it nothing special, save two channels more than what's usually found.

Albatron stick with the same 3C940 LOM that everyone seems to be using these days. No bad thing, they even ship an alternate non-WHQL driver for it, along with the WHQL'd version, should you wish to live your networked life on the ragged edge.

As far as disk connectivity goes, the VT8237 does everything. The two SATA channels have their respective ports and there's two legacy PATA ports for disks and optical devices. No physical interface for the two other SATA ports the bridge can run, so two SATA is your lot. Of course they are RAID capable, adding some value and flexibility to the features the board provides.

Serial bus I/O gets a nod with six USB2.0 ports, two on the backplane and four available on a PCI plate. FireWire sees two physical ports on a PCI plate, hung off the same two port VT6307 that ASUS use on K8V.

Overall, think of it as ASUS K8V with the Promise SATA and IDE RAID ports swapped for two extra audio channels. That's how it essentially pans out. Device Manager shows us what we need to know.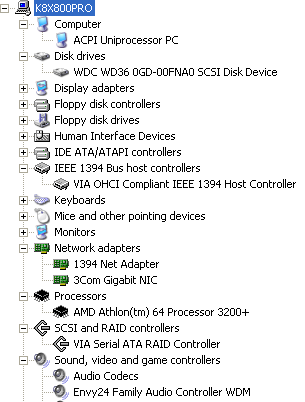 A decent spec, I'm just disappointed in the audio solution. Unrealised potential is a sore thing to swallow. Lets have a look at the bundle.