Layout and BIOS
Been impressed with AMD's new Kaveri-based APUs? They represent an evolution of the company's heterogenous computing architecture though, being even-handed, it will be a while before applications can take advantage of the efficiencies baked into the Steamroller core and GCN graphics.
A new architecture generally means a new socket form factor - FM2+ is the flavour this time around and, with adequate preparedness, motherboard manufacturers have been releasing compatible boards since October last year.
Gigabyte has eight boards in the A88X chipset lineup and value is still very much the focus for attention; the headline G1.Sniper currently retails at just £75. Sniper is Gigabyte's sub-brand primed for gaming, but the A-series APUs aren't designed for ultimate performance, thus making the A88X version something of a misfit in our eyes.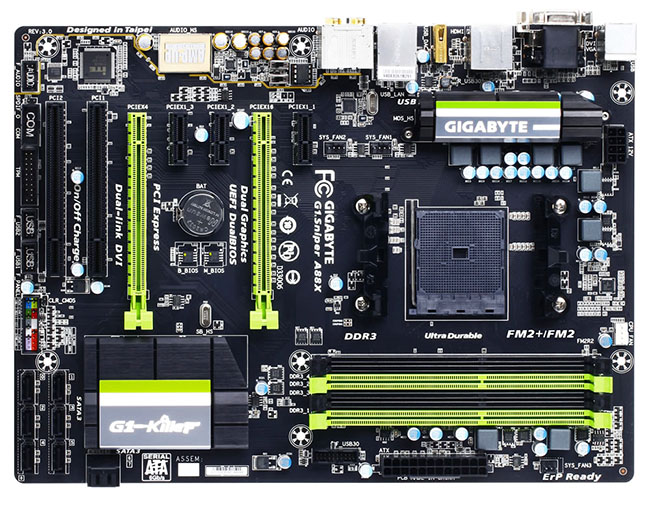 Sniper boards are usually chock-full of features. Keeping costs in check means using a single passive heatsink on the chipset and another smaller one on the VRM components. We quite like the lime-green colour scheme, however, which contrasts well with the black PCB and ports.
Memory slots are rated at up to 2,400MHz, configurable in the BIOS, and AMD now has AMP-ready RAM that will scale to that speed. There are none of the higher-end enthusiast features such as debug LED or onboard buttons but, adding a nice aesthetic touch, the gold-coloured line that traces from the IO section and across to the audio port lights up green when power is supplied.
Power plugs are sensibly located around the edges and four fan-headers - three of them the four-pin PWM variety - provide decent cooling potential. Taking advantage of what the A88X chipset offers, eight SATA6Gbps ports, four USB 3.0 and nine USB 2.0 ports are available, with half accessed through the I/O panel and the remainder via external headers on the board.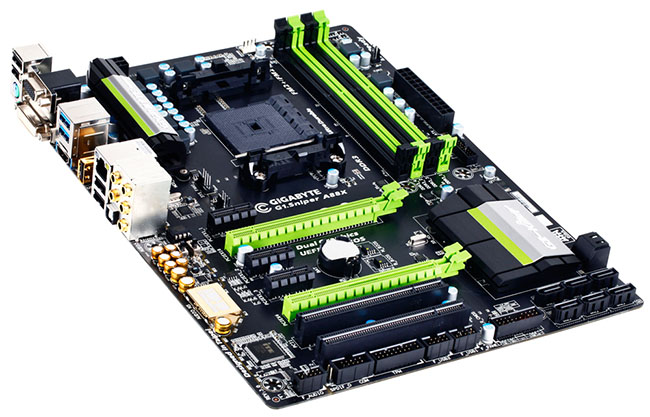 The two lime-coloured PCIe slots share 16 lanes for graphics - they can be bifurcated into x8 and x4 for discrete CrossFire duties. As every chip compatible with the FM2+ socket has built-in graphics, the primary PCIe, filled with a Radeon R7 card, can be used to provide Dual Graphics via CrossFireX. Use a Kaveri FM2+ APU and the primary slot runs at the latest 3.0 standard, older APUs reduce bandwidth to PCIe 2.0.
Gigabyte also adds a trio of PCIe x1 and two PCIc, with adequate room between the slots to enable double-height cards to be fitted. Everything we've spoken about thus far emanates from the AMD A88X chipset, but the audio is provided by the venerable Realtek ALC898 Codec. What's interesting here is that Gigabyte integrates what it terms AMP-UP audio - seen just below the IO panel - that includes a socketed, replaceable operational amplifier used to power headsets. The purpose here is to enable users to purchase three additional op-amps that have different acoustic characteristics. That said, the potential extra cost, at up to £50, goes against the grain of the value theme.

Outputs are fairly standard for an FM2+ motherboard. The DVI port supports monitor resolutions up to 2,560x1,600 when using a dual-link cable and the HDMI output can increase that to 4K with a Kaveri APU in situ; use an FM2 APU and the resolution is limited to 1,920x1,200. The gold-plated USB 2.0 port stands out as a somewhat strange feature, taking up valuable room on the IO panel.
The full-UEFI BIOS is a cutdown version of the snazzy one found on Haswell boards, but it's no worse off for it. Easy to navigate and smoother than the Z87's, voltage and frequency adjustment is solid. A maximum 140MHz clock on the CPU bus, 79x multiplier and 2,000MHz for the GPU are all outside the realms of possibility.
It is annoying, however, that there's no drop-down menu showing the highest and lowest limits - you have to either cycle through each MHz parameter or key the desired frequency in. Voltage-wise, there's +0.3V for both the CPU and northbridge and up to 1.9V for memory. Fan control is available on the trio of four-pin headers. The speed can be set to Normal, Silent, Full Speed, or Manual, with the latter controlled by a slope (speed) factor.