Chipset analysis and comparison

Just to reiterate if you never bother reading the first page, NVIDIA launched its nForce 500-series chipset in tandem with AMD's move over to Socket AM2 for its range of performance processors. Truth be told, there was no real need for a new chipset; an update to the proven nForce 4 family would have done just fine. NVIDIA, though, decided it was high time that its core-logic support was overhauled.

We took a detailed look at the AMD-based nForce 500 series here. NVIDIA released nForce 550 and 570 SLI models but most of the focus was on the range-topping '590 SLI. Our conclusion was that it was well-geared towards enthusiasts, with new technologies such as LinkBoost (limited to GeForce 7900 GTX) and SLI-Ready memory pushing up performance to best-in-class levels.

The two-bridge nForce 590 SLI chipset provided full x16 PCIe support for a couple of NVIDIA graphics cards, thereby allowing the enthusiast to run multi-GPU configurations without worrying about bandwidth limitations. The matching MCP bumped up specifications by adding a couple of Gigabit MACs with FirstPacket and DualNet technology and provided high-definition audio (Azalia), 10 USB2.0 ports, and extensive storage options under the MediaShield banner. Retail examples have shipped with excellent overclocking options and nTune 5.0 support, offering OS-based tweaking.

In short, whilst not absolutely necessary for the transition to DDR2-driven AM2, NVIDIA's nForce 590 SLI chipset is a decent implementation that balances performance with an impressive feature-set.

Moving on to today, it won't have escaped your attention that Intel's Core 2 Duo processors are generating considerable excitement across the enthusiast community, and with good reason. Our review concluded that Intel had now surpassed AMD as the company of choice for the well-informed PC buyer, Intel, obviously, had chipset support from the get go, and its i975X-based boards, with a little revision, ran the LGA775 Core 2 Duo processors flawlessly. Add to this inherent multi-GPU support in the form of ATI's CrossFire, and, really, any buyer looking to build a gaming machine would, most likely, first look at this kind of setup.

NVIDIA's also realised the prodigious performance offered by Intel's Core 2 Duo CPUs and wants in on the action. What better way than by tweaking its own nForce 500-series range for full LGA775 form-factor support.

That's why we're taking a look at NVIDIA's reference nForce 590 SLI Intel Edition motherboard, which provides much of the goodness found on the AMD Edition and, obviously, packs in multi-GPU support. NVIDIA is initially launching its Intel-supporting nForce 500-series with two SKUs that you've heard of before - nForce 570 SLI, which is targeted at the mainstream who have performance in mind and, of course, the nForce 590 SLI, aimed squarely at the enthusiast.

Let's haul out the chipset diagram and digest what, if anything, is new in the transition between AMD and Intel platforms.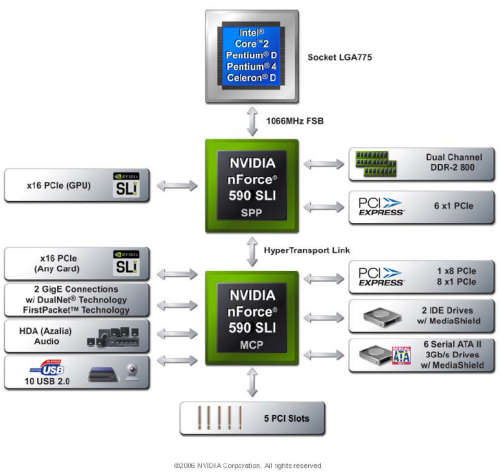 First off, nForce 590 SLI I.E. is still a two-bridge design that comprises of the nForce 590 SLI SPP (System Platform Processor) and accompanying southbridge, or MCP (Media and Communications Processor. The reason why NVIDIA's chosen a chipset design as opposed to, say the AMD nForce 570 SLI's single-chip, lies with the need to integrate a discrete Memory Controller Hub to communicate with system memory and the CPU and, to a lesser degree, the number of PCI-Express lanes offered - amounting to an AMD-matching total of 46. There's a total of 9 links that are divided over both bridges which are connected via an 8GB/s link, and further split over 2 full-bandwidth x16 for graphics and a possible 8 (including one of the x16 slots) running at x1 (or one at x8). It's interesting to note that NVIDIA isn't specifying any PCIe bus overclocking, a la LinkBoost, here.

It will be up to motherboard manufacturers to implement them the way they see fit. All will opt for the 2 full-bandwidth graphics slots and most will offer 3 x1 physical PCIe slots with the rest allotted to PCIe-based ASICs for additional features. After all, nForce 590 SLI I.E. will be offered as a deluxe motherboard.

If you cast your minds back to the nForce 4 SLI Intel Edition, a limited release, it was noted for not supporting all LGA775 processors at that time. You couldn't, for example, run a Pentium D 820. The nForce 590 SLI I.E, though, supports all current LGA775 models, including 266MHz FSB Core 2 Duo and Core 2 Extreme X6800 CPUs.

The processor is kept fed by dual-channel DDR2 memory that's officially supported at 800MHz. That's around 12.8GB/s of potential bandwidth. However, taking a lead from the AMD version, NVIDIA equips the chipset with EPP memory support. You can read about it here. Essentially, if the EPP DRAM modules are rated high enough, you can increase memory speed at the touch of a few buttons in the BIOS. What's useful is the ability to raise memory speeds without altering the CPU's. We'll show you how it works in the BIOS section. SLI-Ready memory, which is the official name, is limited to this enthusiast chipset.

Also inherent to the nForce 590 SLI I.E are two TCP/IP hardware-accelerated Gigabit Ethernet controllers that are usually operated on an individual basis. They can also be teamed up (DualNet) to provide a 2Gigabit Ethernet connection. It'll work best in a server role, feeding a number of client machines concurrently. Related to this is FirstPacket, again carried over from the AMD model. Through a Windows-based program you are able to define the priority of outgoing traffic or packets. For example, by prioritising packets pertaining to online gaming and consequently moving other network traffic (FTP'ing springs to mind) down in the queue, FirstPacket should offer better response times. According to NVIDIA, you can be the King of Ping, so it will be one less excuse when your pwnd in Quake 4.

Storage-wise, nForce 590 SLI I.E packs in 6 SATA2 controllers that support the usual multi-drive formats such as RAID0, 1, 0+1, and 5. If you're feeling flush and want fault tolerance, how does a 6-drive RAID5 array sound? You can also construct multiple RAID arrays via the 6 ports, so RAID0 for speed and RAID1 for security, perhaps. NVIDIA also adds profiles for certain hard drives, to increase response times. We've yet to see it in action but it does appear to be sound on paper. Unlike Intel with its ICH8® southbridge, NVIDIA hasn't forgotten about users who require native PATA connectivity. 590 I.E will ship with a single ATA133 controller that's capable of administering a couple of drives, be they optical or hard.

Keeping the MCP up to date, NVIDIA offers motherboard IHVs the option of either AC'97 (boo, hiss) or High-Definition Audio (Yay) support. We'd be staggered if any manufacturer opted for AC'97 on the nForce 590 SLI I.E, and it's best left to low-cost 570 models. Given a choice, we'd ditch AC'97 from these performance chipsets.

There you have it. A brief summary of what makes the nForce 590 SLI Intel Edition tick along. It's interesting to note that NVIDIA won't be shipping an SLI-less chipset for Intel-based CPUs. The slightly cheaper 570 SLI model is, as mentioned, also a two-bridge design which provides a total of only 20 PCI-Express lanes. That immediately informs you that SLI support is 'limited' to x8 for each card. Further, official memory support is set at DDR2-667 and, unlike the comparison AMD model, it makes do with a single Gigabit MAC that doesn't feature TCP/IP hardware-acceleration (why?), so no DualNet teaming for the 570 and a little extra work for the CPU in networking-related matters. Additional differences include 'only' 8 USB2.0 and 4 SATA2 ports that still provide the same RAID levels and, in terms of overclocking and compared to the nForce 590 I.E, a lack of specific o/c tech.

Digesting all that information isn't easy, so we've constructed a basic table that highlights the features and key differences between NVIDIA's two Intel-based SLI chipsets, Intel's own i975X, and NVIDIA's two performance AMD core-logic counterparts. We've also added in ATI's AMD-based Xpress 3200 CrossFire chipset; the equivalent Intel model, RD600, isn't officially released.


Chipset comparison
How do the nForce 590 SLI and 570 SLI Intel Editions compare with other modern chipsets? We're glad you asked.


Chipset
NVIDIA nForce 590 SLI Intel Edition
NVIDIA nForce 570 SLI Intel Edition
NVIDIA nForce4 SLI x16 Intel Edition
Intel i975X
NVIDIA nForce 590 SLI AMD
ATI CrossFire Xpress 3200 AM2
Northbridge
NVIDIA nForce 590 SLI SPP
NVIDIA nForce 570 SLI SPP
NVIDIA nForce 4 SLI SPP
Intel i975X MCH
NVIDIA nForce 590 SLI SPP
Crossfire Xpress 3200
Southbridge
NVIDIA nForce 590 SLI MCP
NVIDIA nForce 570 SLI MCP
NVIDIA nForce 4 x16 SLI MCP
Intel ICH7R
NVIDIA nForce 590 SLI MCP
ATI SB600
Total PCI-Express lanes
46 (inc 2 x16)
20 (inc 2 x8)
38 (inc 2 x16)
22 (inc 2 x8)
46 (inc 2 x16)
40 (inc 2 x16)
Multi-GPU suport
NVIDIA SLI
NVIDIA SLI
NVIDIA SLI
ATI CrossFire
NVIDIA SLI
ATI CrossFire
Chipset interconnect speed
8GB/s
8GB/s
8GB/s
2GB/s
8GB/s
2GB/s
Form factor suppport
LGA775 (Intel)
AM2 (AMD)
FSB support
266MHz FSB
200MHz HTT
System RAM support
DDR2-800 + EPP
DDR2-667
DDR2-800
DDR2-800
DDR2-800 + EPP
DDR2-800
SATA support (native)
6 SATA2
4 SATA2
4 SATA2
4 SATA2
6 SATA2
4 SATA2
NCQ
Yes
Yes
Yes
Yes
Yes
Yes
RAID flavours
0, 1, 0+1, 5
0, 1, 0+1, 5
0, 1, 0+1, 5
0, 1, 0+1, 5
0, 1, 0+1, 5
0, 1, 0+1,
PATA support (native)
2 drives
2 drives
4 drives
2 drives
2 drives
2 drives
USB ports (native)
10
10
10
8
10
10
Networking
2x Gigabit
1x Gigabit
1x 100MBit
Gigabit (optional)
2x Gigabit
None
Audio
High-Definition (Azalia)
High-Definition (Azalia)
AC'97
High-Definition (Azalia))
High-Definition (Azalia)
High-Definition (Azalia)


As you can see, nForce 590 SLI I.E. is pretty hot on the features front.