Introduction
AMD's recent launch of the second-generation desktop APU chips, codenamed Trinity, has brought budget PCs into sharper focus. With the sub-£100 APUs providing credible CPU and above-average graphics performance, putting together a reasonable build needn't cost the earth, more so if the supporting motherboard continues this value theme.
And you'll need a new motherboard, because Trinity APUs use an FM2 form factor that is socket-incompatible with first-generation FM1. Understanding that modern chips integrate the memory controller on the silicon itself, FM2-based boards have a single supporting core logic, and the following table highlights the basic differences between the three available choices: A55, A75, and A85X.
AMD FM2 Chipset

A55

A75

A85X

APU support

All models

Max DDR3 support

DDR3-1,866

AMD Dual Graphics

Yes

Overclocking support

Low

Mid

High

CrossFire support

No

No

Yes (2 x 8)

SATA

6 x 3Gb/s

6 x 6Gb/s

8 x 6Gb/s

USB 3.0

No

4 ports

4 ports

Street price (from)

£40

£50

£75
The basic A55 chipset, costing from £40, will be taken up by those on a strict budget. Spend an extra £10 and the A75 is a better bet as it upgrades all six SATA ports to 6Gbps, throws in four native USB 3.0 ports, and generally offers better overclocking potential than A55. Step it up to A85X and two-card CrossFireX support becomes readily available - though just how much use this is with an APU remains questionable - a couple of extra SATA ports are added, and the boards' BIOSes enable the best overclocking experience.
The specifications and price suggest that a micro-ATX-sized A75 board costing around £50 makes the most sense for a well-balanced AMD FM2-based build. And, lo and behold, we have an ASRock FM2A75 Pro4-M motherboard in for review today.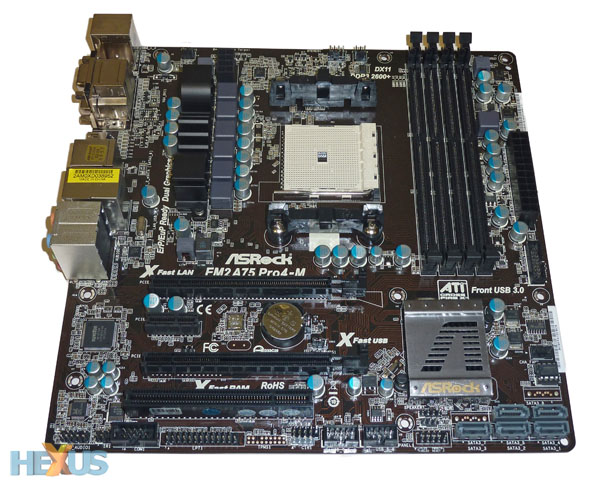 The Pro4-M is one of four A75 boards in ASRock's arsenal and, along with the (even smaller) A75M-DGS, one of two mATX mainboards. In expansion terms it loses out to the full-ATX Pro4 version by dropping a single PCIe x1 slot and two PCIc slots, while space/cost limitations also mean that four USB 3.0 ports, emanating from an Etron controller, are also chopped. Understand that this board still supports four SuperSpeed ports via two on the I/O section and two more available by an on-board header.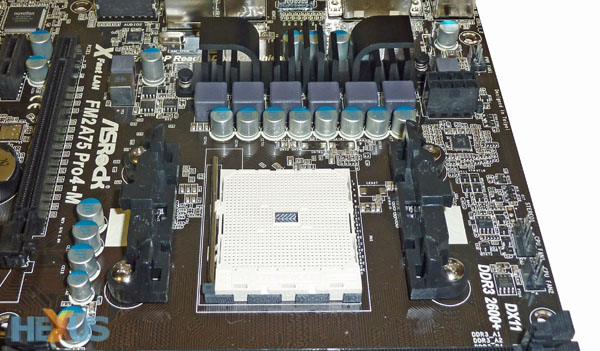 Layout is decent for an mATX board; there's a generous amount of room around the APU socket and four DIMM slots are easy to access even with a standard cooler in situ. ASRock keeps the power plugs nicely away from the centre of the PCB, too. Four fan-headers - three near the CPU - also make good sense.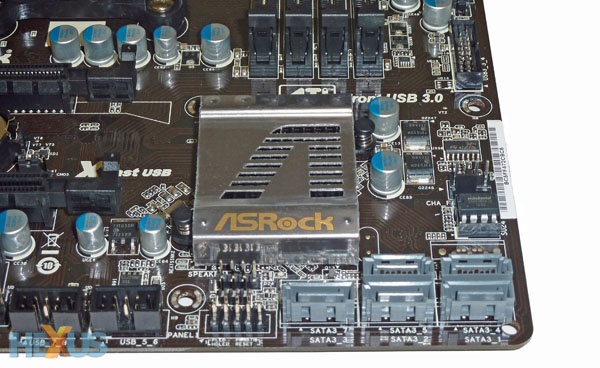 A front-panel USB 3.0 header - top-right of the above picture - is becoming commonplace on boards released this year and numerous chassis now have cabling in place to connect to it. We'd have preferred the five SATA 6Gbps ports to be rotated on the edge for easier, tidier installation and for the case-connector pins to be colour-coded for simpler hook-up.
Most premium motherboards offer diagnostic LEDs or POST-debug displays for easy troubleshooting should matters go awry. The budget ASRock board doesn't provide any such feedback and this may trouble novice users whose first attempt at building a PC results in a failed boot.
Moving over to the expansion area shows two mechanical x16 PCIe slots. ASRock keeps the upper slot working at x16 though the lower slot is able to run at x4, providing basic two-card usage and improving upon AMD's A75 specifications.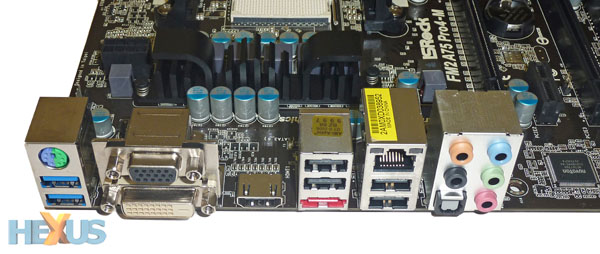 Remember the five SATA ports on the PCB? The remaining port is configured as the red-coloured eSATA. Most prospective purchasers will use the APU's on-board graphics for video duties so we're glad to see ASRock provide the three most-sensible outputs. Underscoring the differences between boards, the full-ATX Pro4 includes two USB 3.0 ports above the HDMI output and substitutes the two USB 2.0 ports under the Gigabit LAN for the SuperSpeed variety.
Our pre-benchmark look at the ASRock A75 Pro4-M shows it to be more functional than deluxe, but that's entirely the point for a board whose main selling point is an attractive street price of £50 or so. Common amongst ASRock boards of any class, the firm throws in a bunch of reasonably useful utilities.