i975X?
Intel i975X chipset

So why the muted introduction of a premium Intel chipset that you'll see adopted by all the major manufacturers? The stark answer is that there's not a whole lot that's changed in the transition between the present i955X and i975X. We'll let chipset diagrams do the talking.

First up, it's the regular i955X that you've been able to purchase for months now.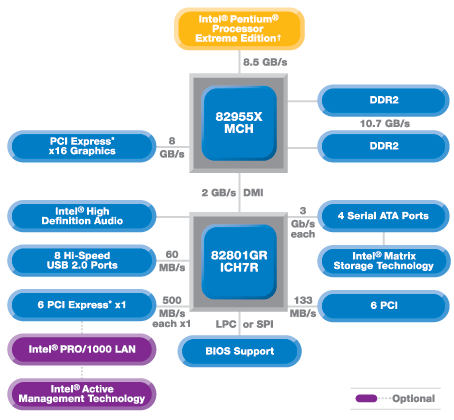 The i955X, in a nutshell, supports every LGA775 processor under the sun, including dual-core and Extreme Edition models running at 266MHz FSB (quad-pumped, naturally). The northbridge, or Memory Controller Hub, connects up to 8GBytes of system DDR2 RAM that's best utilised in dual-channel mode. On the majority of retail models, the MCH carries a single PCI-Express controller that connects to a x16 PCIe graphics slot. A fast interconnect joins the ICH7R southbridge to its northern counterpart, and it features another 6 PCI-Express lanes, Intel's flexible Matrix Storage Technology, High-Definition Audio (HDA), and the possibility of up to 6 PCI slots. It's a modern, decent chipset in most respects.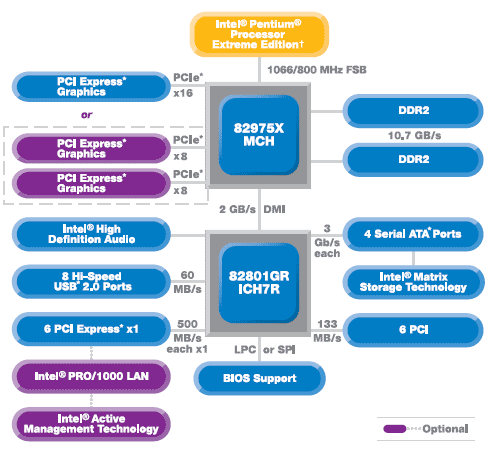 Jump on over to the i975X chipset and we can ignore the southbridge here; it's the ICH7R and, as such, identical to the one found on i955X motherboards. The differences lie with the northbridge. General memory support and internal pathway optimisations for reduced latency appear to remain the same as i955X, and the i975X also supports the various LGA775 CPUs available today. However, for one, i975X is guaranteed to support Intel's upcoming 65nm processors. Presler and Cedar Mill cores come to mind. i955X validation, though, isn't certain.

i975X is a flexible chipset in that it can support either a regular x16 PCIe lane/slot that we see on many motherboards now. Depending upon how the chipset partner envisages it, i975X chipset can support a couple of PCI-Express slots with 8 lanes each, opening up the way for multi-GPU usage both in terms of extra display options (2D) and dual-graphics (3D) support. It's important to note that there aren't any further PCI-Express lanes on the i975X over and above i955X, but with two PCIe graphics slots, it will appeal to the enthusiast that's looking for extra framerate fun.

CrossFire/SLI?

i975X isn't the first Intel chipset/motherboard to support multi-GPU rendering. The Intel D955XBK reference motherboard that we reviewed a while back took that honour. It supported ATI's CrossFire technology but not NVIDIA's SLI. That remains the case with the i975X. that is, immediate CrossFire compatibility but, as yet, no driver support to enable a couple of GeForce cards to run in tandem, and it's a shame that NVIDIA and Intel haven't been able to thrash out a deal that would see SLI run on a non-NVIDIA motherboard.

A new name goes along with immediate multi-GPU support from, initially, ATI. i975X, then, is a slight chipset tweak than a new launch, and we can appreciate why Intel has kept it under the press radar.

Let's now see what Gigabyte has done with its i975X interpretation.