Introduction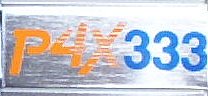 Introduction
VIA technologies, the Taiwanese chipset designer, have been working hard in recent years to firmly establish themselves  n the motherboard ranks. This they have done with a good deal of success for AMD's range of Socket A processors. VIA have arguably the dominant chipset for the Athlons and Durons. Their recently released KT333-based chipset has further reinforced their position as a leading light in AMD's world.
The position with respect to Intel's CPU is markedly different. Intel themselves have a number of motherboards based on differing memory technologies, and SiS (Silicon Integrated Systems) have impressed the on-line reviewing community with their high-performance / low-cost approach. VIA, not simply having stiff competition from the aforementioned two, were also plagued by the fact that they were not in possession of the relevant licenses for Pentium4 motherboard production. You can probably now see why the initial VIA P4X266 chipset was doomed to failure from the off.
Undeterred, VIA decided to take matters into their own hands and thus set-up a subsidiary that goes by the name of VPSD (VIA Platform Solutions Division). This was partly in response to a number of prominent manufacturers not taking up the P4X266 chipset due to the clouded legal issues highlighted above. A vicious circle. VPSD's role is to produce motherboards from VIA's own chipsets and package them for the retail market.
The Pentium4 has moved on and so have the associated motherboards. PC2700 memory (DDR333) has been all the rage recently as increased memory bandwidth usually plays a significant role in defining overall performance. The Pentium4, with a quad-pumped FSB, simply loves bandwidth. The more you give it, the more you'll get out. With this in mind, both VIA and SiS recently upgraded their chipsets to offer support for this newer, faster memory.
VIA duly upgraded their P4X266A chipset into the present P4X333, the 333 denoting support for DDR333 (or PC2700 memory). Now here is where it may get a little confusing. By my reckoning, there are two P4X333 motherboards available to the end-user. The P4B-UR, our review motherboard, simply differs from the incumbent P4X266A by offering DDR333 support, most other aspects remain the same. The P4B-Pro offers the newer 8235 Southbridge with built-in USB2.0 and on-board Firewire. VIA's own premium sound CODEC finds its way on too.
With that cleared up, let's proceed to the review itself.