Board layout and features
We're looking at the 'C51GK8MA as a finished, retail motherboard. We'll head over the integrated graphics performance in due course.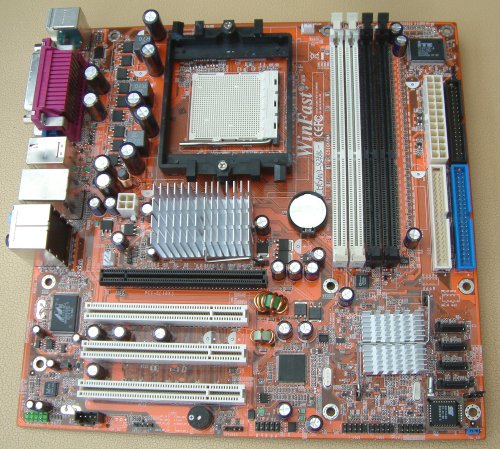 There's something we've not seen for a while now. The above shot shows an nForce4 motherboard with a couple of chipsets, divided into north and southbridges. Both nForce3 and nForce4, thanks to AMD's on-die memory controller for its S754/S939 processors, have been single-chip affairs. Integrated graphics, however, take up enough silicon to force NVIDIA into opting for a traditional two-chip design, replete with a high-speed interconnect between the two. It bears reiterating that architecting integrated graphics which inevitably take their bandwidth from system memory (a la TurboCache) produces its own design problems for CPUs with on-die controllers; there's no regular memory controller hub to tap into. The larger heatsink, right below the CPU socket hides you-know-what.

Foxconn's C51GK8MA's motherboard is presented in a microATX form factor (244mm x 244mm max). This is, we believe, how most motherboard manufacturers will decide to market an nForce4 IGP version, be it based on the nForce4 410 or 430. It makes economic sense to remove some of the high-end discrete features, keep overall costs down, and release a motherboard that can ship into systems that are designed for certain price-points. Indeed, the relative price of a microATX-sized board and reduction in overall cost that arises from not having to specify a discrete graphics card, opens up the path for S.Is and end-users to design S939 PCs at up to £50 less than what's achievable right now.

Looking at the very top, Foxconn has left enough room around the CPU socket such that you can mount even the larger, copper-based PIB coolers without any problems. Going back to the board's and chipset's intended market, we doubt that prospective users will indulge in anything other than reference cooling.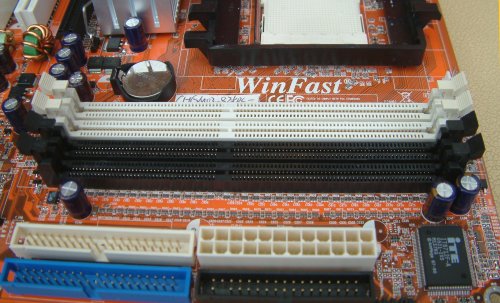 Being a S939 chipset, the C51GK8MA supports up to 4GB of DDR SDRAM, preferably in dual-channel mode. Integrated graphics, if enabled, will chew into available bandwidth just a touch, so, for once, it actually makes better sense to use the fastest DRAM you can lay your hands on, leaving the CPU with as much bandwidth as possible. MicroATX designs always challenge the manufacturer to a greater degree, and Foxconn's done well to locate IDE ports and a 24-pin power connector in one place. The 4-pin 12v connector, however, is rather awkwardly located right next to the northbridge's heatsink.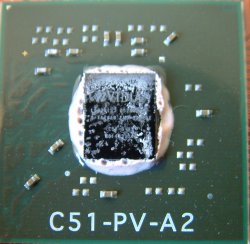 Whipping off the heatsink from the northbridge shows us the GeForce 6150 northbridge in its nudity. This one, remember, runs at 475MHz core and supports High-Definition playback of WMV9 and MPEG-2 sources. Thanks to the heat-reducing 90nm manufacturing process employed by NVIDIA and fabricated by TSMC, Foxconn is able to run it with a passive heatsink. You can see the x16 PCI-Express slot, run right off the GeForce 6150, just below.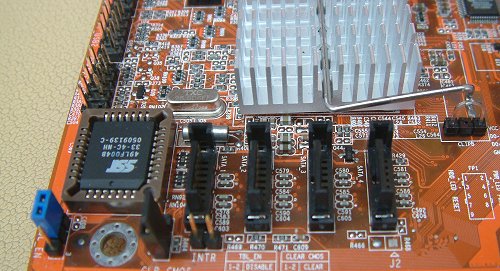 The 4 SATA ports emanating from the southbridge are an instant giveaway that we're dealing with NVIDIA's high-end C51 implementation of nForce4 430 southbridge and GeForce 6150 northbridge. The southbridge, however, is manufactured on a 130nm process, Foxconn, though, has been able to sufficiently cool the southbridge with just a small aluminium heatsink. The nForce4 430, amongst other features, supports Gigabit Ethernet and RAID in 0,1, 0+1, and 5 flavours. Just to the right is the first discrete addition from Foxconn. Texas Instruments' TSB43AB22A ASIC provides support for 2 FireWire400 ports.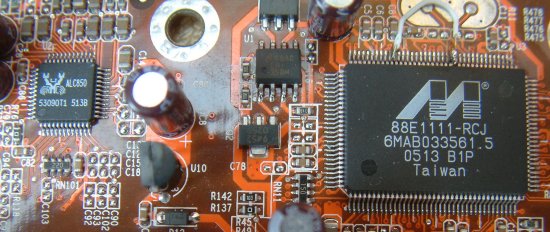 Moving on to the right shows Realtek's 8-channel ALC850 CODEC that's run off the nForce4 430's basic AC'97 audio and Marvell's physical layer that works in conjunction with NVIDIA's Gigabit MAC.





One of the GeForce 6150's strongpoints lies with its range of output connections. Component, S-Video, DVI, composite, and HD15 are all available. Foxconn has chosen to opt solely for the latter. It would have been nice to see an S-Video connection alongside, at least.

The I/O section is pretty regular for a modern motherboard, with a smattering of legacy and high-speed ports. All-in-all, decent design from Foxconn, especially in view of the fact that the C51GK8MA is a microATX-sized mainboard.

Bundle

Due to time constraints and early shipment of the sample from Foxconn, a retail bundle was not provided. However, we'll update this section once we've received word of exactly what Foxconn plans to ship.