Layout, features, and BIOS
The release of A-series desktop chips last month has brought AMD's mainstream desktop processors into sharper focus. The top-line A8-3850 retails for £100 and brings four Phenom II CPU cores and Radeon HD 5500-class graphics together on one chip. This silicon integration is called an Accelerated Processing Unit (APU) by AMD.
AMD APUs require a new socket, FM1, and therefore new motherboards. A-series-supporting boards retail from £65 and rise to £110, depending upon manufacturer and feature-set.
ASUS has at least six FM1 boards in its arsenal. Sitting near the top is the F1A75-V PRO, which is to be found on retailer listings from £85.
Layout and features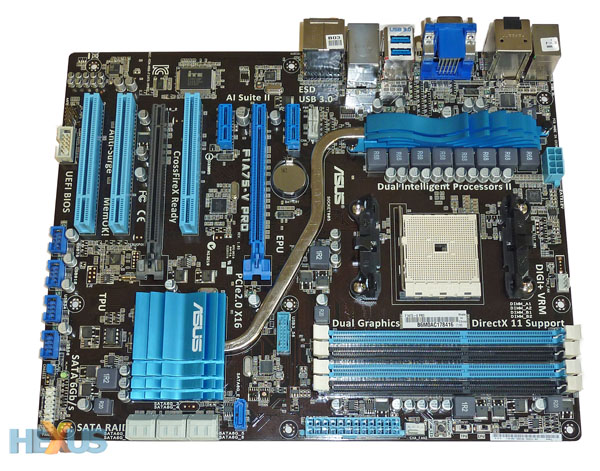 The full-ATX board takes advantage of the fact that A-series APUs require a single supporting chip (Fusion Controller Hub). There's adequate room around the socket, and the DIMM slots are nicely away from the CPU area. ASUS locates various connectors at the edges of the PCB, sensibly enough, and you shouldn't have a problem in putting together a tidy build.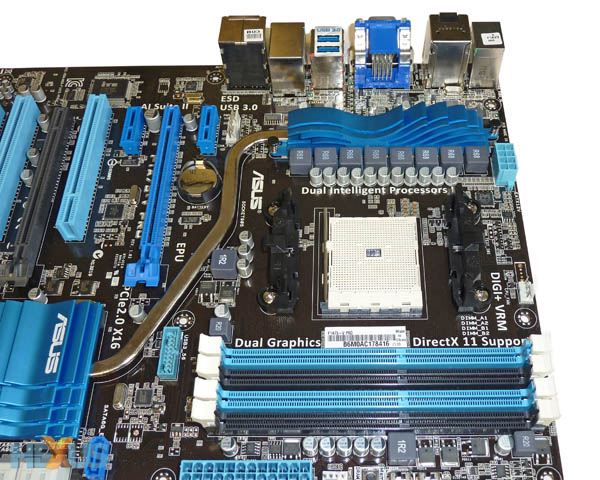 Memory-bandwidth speeds play a crucial part in determining performance when running with an APU's onboard graphics. Like most, ASUS provides adjustments in BIOS that enable users to run DDR3-1,866MHz memory off the bat, though only two DIMMs can be run at that speed. Populate all four, for capacity reasons, and you're limited to 1,600MHz.
A handy header, next to the DIMM slots, provides a means by which you can connect a case-mounted USB 3.0 box inside a chassis bay. The budget nature of the FM1 PRO precludes it being included in the bundle - ASUS gives you a couple of SATA cables and an IO shield.
Lots of fan-headers are good, and four, situated here, should be plenty for a mid-range PC.

AMD's A75 supporting chipset, known as a Fusion Controller Hub, has built-in USB 3.0 and SATA 6Gbps connectivity, and all six light-grey ports run off the chip. ASUS adds in some extra love by using an ASMedia controller that throws in an extra SATA 6Gbps port (to the right) together with an IO-mounted eSATA port. Further, another ASMedia chip increases total USB 3.0 portage to six - four rear, plus two front-mounted via discussed header.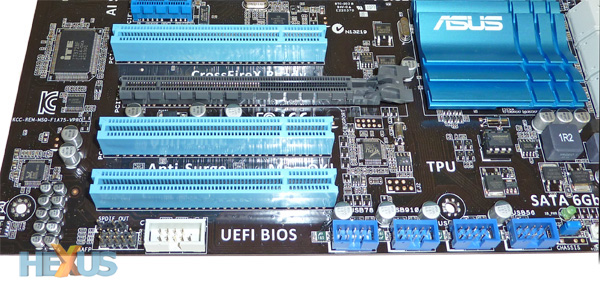 The expansion layout is pretty conventional for a board in this class. Two mechanical x16 slots can run a couple of similar AMD cards in two-way CrossFireX, limited to x16 and x4 electrical transfers. Three PCIc are perhaps overkill for a modern mainboard, but ASUS is simply taking advantage of what AMD offers from the APU and FCH.
Remember, another form of CrossFire, called Dual Graphics, is available here. This method teams the APU graphics up with a discrete Radeon GPU for extra performance. It works best with a Radeon HD 65xx or HD 66xx card, and our testing has shown that a discrete card's performance can increase by up to 60 per cent.

It's up to you whether investing in a discrete graphics card makes sense. If you don't, the video outputs are active from the APU's graphics. ASUS provides the full gamut here, encompassing DisplayPort, single-link DVI, HDMI and VGA, and two digital outputs can be active concurrently.
ASUS may confuse novice users with the USB 3.0 sticker on top of the two genuine ASMedia-powered USB 3.0 ports in the centre of the I/O section,. The same controller adds in the aforementioned eSATA port, too. Another two USB 3.0 ports are run off the AMD FCH controller: phew. Going heavy on USB 3.0 means there's no space for FireWire, though, and this is an oversight in our opinion.
Audio comes way of the ever-reliable Realtek ALC892 codec, and Gigabit LAN rounds off the package. The F1A75-V PRO has a tidy layout, provides a decent range of connectivity and output options, and is priced reasonably well.
BIOS
Another string in ASUS' bow rests with the UEFI BIOS now implemented across a wide range of motherboards. The F1A75-V PRO is no exception, and dipping into the BIOS is made all the easier with a nice-looking welcome screen.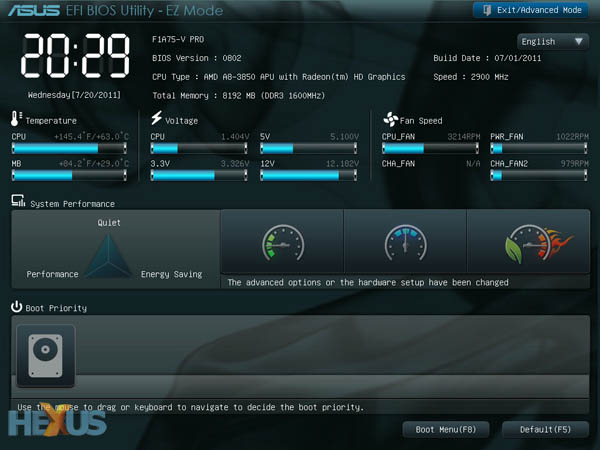 The default BIOS screen lays out all pertinent information in an easy-to-grasp manner. Those with a penchant for tweaking will make a beeline for the advanced mode.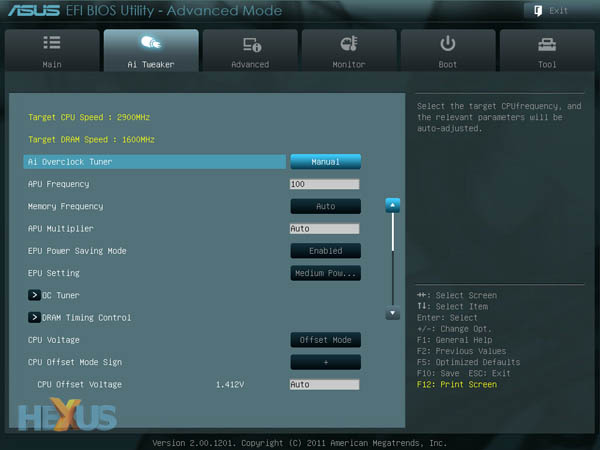 All AMD desktop APUs are currently multiplier-locked upwards, and the only method of increasing the CPU cores' frequency is to raise the APU frequency. ASUS provides adjustments up to 300MHz, though you'd do well to go much beyond 133MHz.
DDR3-1,866MHz memory is supported at the default 100MHz for the APU, and the RAM's timings can be set individually in a sub-screen. The A-series APUs aren't designed with overclocking and overvolting in mind, but there's enough adjustment in this BIOS to push the chips to their limits.
One oversight is the lack of frequency adjustment for the onboard GPU - a feature which is implemented in rival boards.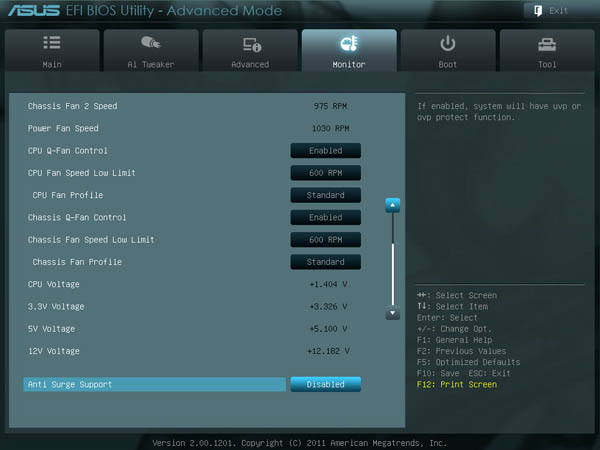 Fan-speed adjustments are good, too, and a Windows-based utility, bundled in with the board, lets you fine-tune settings further. Being a UEFI BIOS, it's easy to upgrade it without having to contend with the vagaries of DOS.
ASUS includes a BIOS-saving feature that comes in handy if you push the board/chip too far, and eight different configurations can be (re)loaded.
Easy to use, solid on frequencies and voltages, the only aspect we'd like to see added is explicit GPU frequency support.