Sandy Bridge support - a close look at the UD3
New chip, new board

Now that Intel's Sandy Bridge processors have been released into the wild and represent a solid foundation for building a new PC, many prospective purchasers will be scratching their heads and wondering just which chip and motherboard combination to go for.

If it was our money, the Intel Core i5 2500K, priced at £165, would probably be the chip of choice. The question for the motherboard is more difficult to answer, due mainly to how Intel is limiting certain Sandy Bridge features on both the currently available P67 and H67 boards. Indeed, one will need to wait until the Z68 chipset, due in a short while, to realise the full potential of the CPU-and-GPU processor.

That said, pragmatic buying cannot be doled out for unreleased silicon, so users wanting Sandy Bridge chips right now need to make a choice. If you need to use the chip-integrated graphics - HD 2000/3000 - then the usually microATX-sized H67 is the only way to go, and it also enables the chip's rather tasty media processor to strut its stuff and transcode video quickety-quick.

But while Intel is making a point of highlighting the advances made with respect to integrated graphics, the output-less P67 board will make up the majority of sales for do-it-yourself builders, mainly because of the flexibility and features a larger PCB permits.

Gigabyte P67A-UD3

Large-scale producer Gigabyte has five distinct P67-based boards in its line-up. The cheapest is the £100 UD3, and pricing quickly escalates as the features are laden on to the U3DP (£130), UD4 (£145), UD5 (£220) and, finally, the all-singing, all-dancing UD7 (£270). We take a closer look at the value-orientated UD3.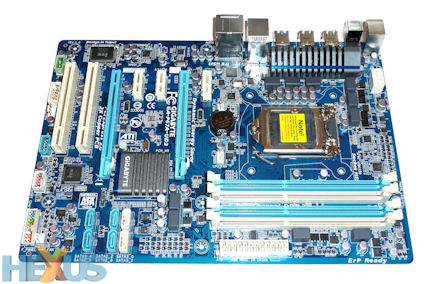 Presented in the now-familiar dark-blue PCB with blue-and-white ports, the P67A-UD3 is a reduced-sized ATX-sized board that, given a narrower 21cm width, is well-laid out. Components don't cramp one another, helped by the CPU not requiring a separate northbridge.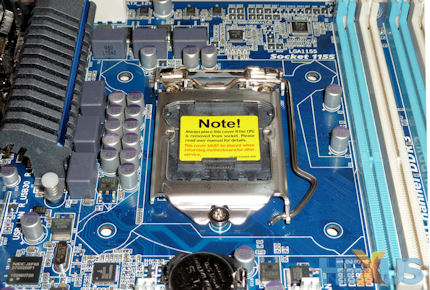 There's an abundance of room around the socket, and positioning a reference LGA1155 heatsink on top of the CPU socket shows that Gigabyte retains decent access to the four DIMM slots on the right-hand side. The UD3 supports dual-channel DDR3 memory at speeds of up to 2,133MHz, matching what's on offer from older LGA1156 (Lynnfield) boards.
The eight-pin board connector is located nicely out of the way and the left-hand heatsink should keep the hotter-running components cool under load, though our sample model's was rather loose and flimsy. Gigabyte throws in two 4-pin and two 3-pin fan headers; good enough to avail decent airflow.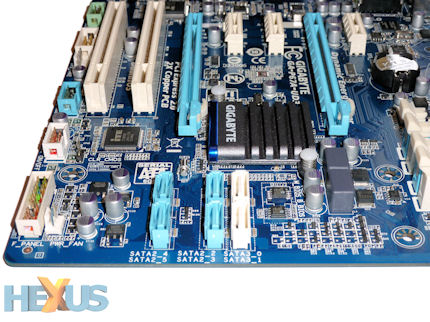 The lack of a northbridge means Gigabyte has a reasonable amount of real estate to play with. The P67 chipset requires only modest cooling, and the low-profile heatsink is sandwiched between the two mechanical x16 PCIe slots.
Intel Sandy Bridge CPUs integrate a x16 PCIe bus-link. This is used to power the primary (right-hand) PCIe slot that's used for graphics cards. The P67 chip's topology is such that, on this board, it provides the other, full-length x16 slot with a x4 electrical interface, which drops down, via a built-in switch, to x1 if either of the two x1 PCIe slots - situated between the two x16 - are populated with an expansion card. Obviously this isn't ideal if running multi-GPU graphics and general add-in cards. A further x1 PCIe and two PCIc make up the board's complement of seven expansion slots.
The board only supports AMD's CrossFireX multi-GPU technology; NVIDIA's SLI requires investment in the UD4 and above, though for AMD cards bandwidth limitations of the x4 slot may come into play at super-high resolutions and image-quality settings, where data transfers are most active. We're surprised that Gigabyte doesn't bifurcate the x16 link into two x8 in two-card mode; Intel allows for it in the P67 chipset.
In terms of storage, P67 supports four SATA 3Gbps and two white-coloured SATA 6Gbps ports. Gigabyte doesn't feel the need to rotate them on the edge of the board, and such is the room here, that's no problem, though the smaller size of the board may mean that your system's cabling needs a readjustment. Looking to the right, the firm's dual BIOS chips come into view, though this board doesn't support the rather tasty UEFI BIOS, which is a real shame.
Cuts have to be made somewhere to hit a £100 street price; out goes FireWire, eSATA, and any third-party controllers to boost the UD3's storage quotient. Intel is still dragging its heels on chipset-integrated support for USB 3.0; Gigabyte remedies this by including the popular NEC/Renesas USB 3.0 controller that sits on its own PCIe lane and provides two ports on the I/O section. We'd like to see a board-mounted port that connects to a front-mounted USB 3.0, rather than have to drag the cable to the I/O section, as would be the case if a chassis has a USB 3.0 port. ASUS is specifying such a connector with its P67 boards, though we can appreciate that Gigabyte needs to hit a lower budget with this model.

The rear panel houses eight USB 2.0 ports and the two aforementioned USB 3.0. Another four are available through board-connected brackets, of which two provide charging for USB-connected devices even when the board is switched off. What should be clear is that the P-series chipset doesn't provide the necessary video outputs for the graphics component of the Intel Sandy Bridge chips; you will have to use a discrete card.

Audio comes by way of the Realtek ALC892 CODEC, used in a number of Gigabyte boards in 2010, and provides both optical and coaxial S/PDIF outputs for hooking up with hi-fi gear. An HDMI connection would have been nice, opening up the way for transport of Dolby True HD and DTS HD Master Audio.

Summary

Gigabyte misses a couple of tricks on the P67A-UD3 by foregoing a UEFI BIOS and choosing a strange way to allocate PCIe lanes, primarily graphics, when all slots are populated. Pricing is the key driver for this board, and a £100 street listing will play well if the board's performance is up to scratch.