Beast of a board
Outfitted with seven PCIe x16 mechanical slots, a 24-phase DPS power-regulation design, and a larger-than-normal PCB, our pre-release sample is a biggun alright.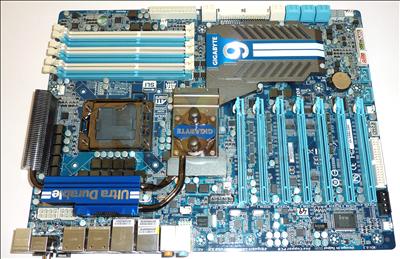 Measuring in at whopping 345mm by 263.5mm and therefore presented in an XL-ATX form factor like the EVGA Classified, it's considerably larger than ye olde ATX - we know of only a handful of chassis that can accommodate the monster, and Gigabyte provides a list of compatible cases here.
Less than 20 chassis officially support the board at the time of writing, but you could argue that most users of the UD9 will be configuring the board as an external test bench.
The mass of cooling means that it's a heavy board but there's no flex in the PCB, intimating that Gigabyte isn't skimping on costs. For what it's worth the PCB is lined with the usual very thin sheet of copper for effective heat dissipation.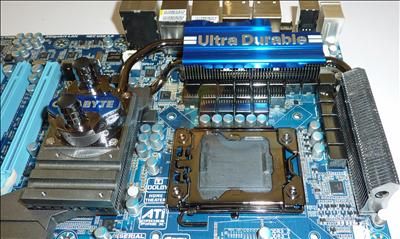 Designed as the ultimate X58 board and most likely paired with Intel's Core i7 980X chip if you have the money, Gigabyte adds in two eight-pin EPS12V power connectors - just behind the heatsinks - for maximum power delivery. The 24-phase supply is split into two sets, with the full power called upon when overclocking. A further two on-board, four-pin Molex connectors are also in place to deliver added power to the bevy of PCIe slots.
The board's not short of space, clearly, and there's plenty of room around the socket to mount aftermarket coolers. The massive cooling around the power-delivery components is another obvious nod to the extreme nature, yet we'd like to see the various heatsinks screwed into the boards as opposed to held in by plastic push-pins.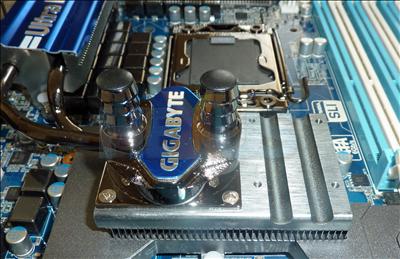 No extreme board worth its salt will turn a blind eye to the enthusiasts who engage in liquid-cooling their PCs. The GA-X58A-UD9 has a screwed-in block that can be easily attached to your existing water-cooling loop. Gigabyte recommends tubes with an inner diameter of 7.5mm and an outer diameter of 10mm, but whilst it sounds impressive, the array of fins connecting the waterblock to the northbridge heatsink suggests sub-optimal heat transfer.
Furthermore, it's arguably an over-the-top and unnecessary feature, as our northbridge temperature remained comfortably under 50°C during testing on a warm summer day without any additional attachments.
Speaking of attachments, if every extra degree of temperature is critical to your usage, Gigabyte also throws in a bundled heatsink dubbed the Hybrid SilentPipe 2 Extreme X.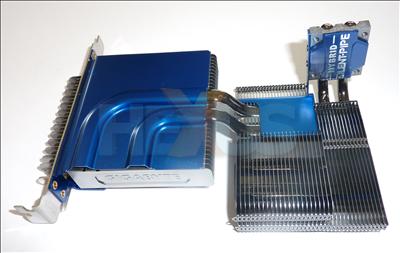 Attached to the northbridge via four screws and held in place in the uppermost PCI slot, it touts improved heat dissipation in air-cooled systems.