785G chipset. What is it?
The simplest method of delineating what the 785G chipset is all about is to break out the block diagram.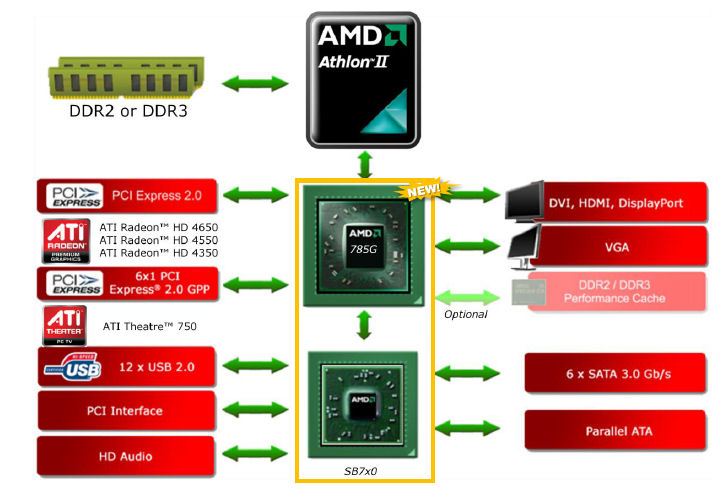 Topology

If we take the 790GX's block diagram as a base, which you can view here, there are incremental upgrades starting that the very top. AMD's launched a bevy of new AM3 processors in 2009 and the 785G chipset supports them all. That also means support for either DDR2 or DDR3 memory, depending upon how the motherboard manufacturer sees it, and we expect that budget 785Gs will feature DDR2.

Looking farther down, the 785G IGP (northbridge) is equipped with 16 PCIe 2.0 lanes, non-splittable, for graphics purposes. A further six PCIe 2.0 lanes are used for peripheral connectivity, but some manufacturers may use four lanes for adding multi-GPU CrossFireX support. The performance-enhancing SidePort cache - an on-board frame-buffer for the IGP - is an option. In effect, then, it's a mixture of 780G and 790GX, but closer to the former in specification.

Hybrid support is available, which pairs up a low-end Radeon card with the onboard graphics, but the discrete card needs to match the IGP's power for best performance.



IGP




Graphics cards
AMD 785G
AMD 780G
AMD 790GX
NVIDIA GeForce 8300
Intel G45
CPU support
AMD AM2/AM2+/AM3

AMD AM2/AM2+

AMD AM2/AM2+/AM3
AMD AM2/AM2+
Intel LGA775
IGP core
Radeon HD 4200
Radeon HD 3200
Radeon HD 3300
GeForce 8300
X4500 HD
DX/OpenGL support
10.1
10
10
10
10
GPU clock speed (MHz)
500
500
700
1,500
800
Shaders
40
40
40
16
10
GFLOPs
40
40
56
48
24
Memory type
DDR2/DDR3
DDR2
DDR2/DDR3
DDR2
DDR2/DDR3

Video-processing tech

UVD2.0

(full HD)
UVD1.0 (full HD)
UVD1.0 (full HD)
PureVideo VP3 (full HD)
X4500 (full HD)
Native output support
DVI, VGA, DisplayPort, HDMI (v1.3)
DVI, VGA, DisplayPort, HDMI (v1.2)
DVI, VGA, DisplayPort, HDMI (v1.3)
DVI, VGA, HDMI (v1.3)
DVI, VGA, DisplayPort, HDMI
Hybrid GPU support

Yes
Yes (no CF for discrete cards)
Yes
Yes
No
Expected price

£60
£50
£70
£65
£80

The graphics core is dubbed Radeon HD 4200 but is derived from a 3000-series discrete card. We're perplexed as to why AMD doesn't carry consistency with its discrete line; this IGP should be known as the Radeon HD 3200, and the previous generations as Radeon HD 2200/2300.

The discrete Radeon 3K cards brought with them DX10.1 compatibility and an improvement in the video-processing engine, UVD, with decode acceleration for multiple streams and a few video enhancements such as Picture-in-Picture. Kind of handy for HTPC usage as a Blu-ray player. However, the outputted audio is only two-channel LPCM, not the eight-channel on competing chipsets such as G45 and NVIDIA's range of IGPs, and it's a mandatory feature on Blu-ray titles.

We note that most competing IGPs now support the full gamut of hardware-based video processing for commonly-used HD codecs.

In terms of sheer power, the IGP's clocked in at the same speed as 780G and it should perform to roughly the same level. That's a little disappointing from a technical point of view, but we'll see manufacturers crank up the core with OC motherboard models, no doubt.

Keeping costs down, the 785G northbridge is likely to be paired with the SB710 southbridge. It's similar to the SB750 on the 790GX but does without RAID5 support.



Summary



The AMD 785G chipset can be thought of as an updated version of 780G. The IGP core has a slightly better specification, albeit at the same GPU speed, and AM3 CPU support opens the way for all new chips. We should also see manufacturers provide two x16 PCIe slots, for CrossFireX operation, ruinning at x16 and x4 speeds.

As per the block diagram at the top, AMD will be pitching it as a (relatively) low-cost PC base with, say, an AMD Phenom II 550 BE in the socket and el-cheapo 4GB DDR3-1,333 providing the bandwidth.