NVIDIA or Intel X58?
XFX announced the availability of its Core i7-supporting X58 motherboard - imaginatively titled MB-X58i-CH19 - just before the turn of the year. Promising high speeds with a reasonable price-tag, the £210 board is available to buy now.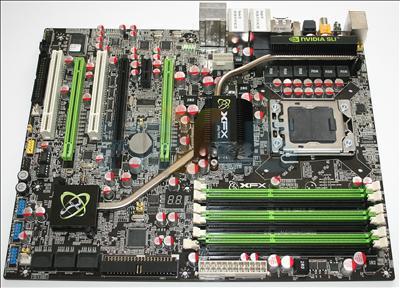 Branded in NVIDIA livery, you'd be hard-pushed to tell that it was, in fact, based on Intel's X58 chipset that supports the Core i7 920, 940, and 965 Extreme Edition chips.

XFX knows that the majority of customers will be purchasing a Core i7 920, which currently etails at around £240, and includes a couple of 'X-Profiles' in the BIOS that overclock the chip to either 2.93GHz or 3.2GHz, which are the speeds of the 940 and 965 EE, respectively. In effect, XFX is guaranteeing 965 EE speeds for free.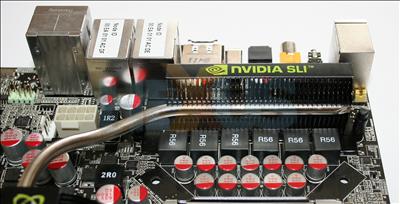 XFX's long-standing allegiance to NVIDIA pours forth in the branding, but on a more pragmatic note, the eight-pin power-connector sits in a slightly awkward position, between the two heatpipe-attached heatsinks.

The (relatively) budget origins of the board are visible in the use of six-phase power-regulation. Most X58-based tend to opt for more, at the expensive of, well, cost.

A look around the CPU area highlights that there's plenty of room to fit coolers, so layout on this side is good, and there's little risk in getting your fingers cut up when installing heatsinks, speaking from personal experience.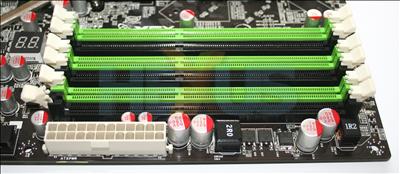 A handy debug LED is found to the right of the six DIMM slots that support tri-channel memory, and the heatpipe continues on down to the ICH10R southbridge.

Just for personal preferences, we would prefer the LED to be moved to the left, by the southbridge, making it somewhat easier to read when a long card is positioned in the primary x16 PCIe slot.