B550 Aorus Pro Examined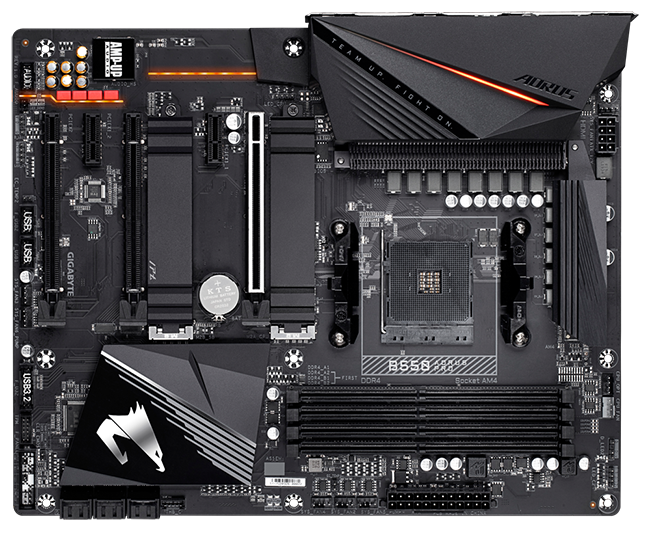 Aorus' B550 range encompasses three families of boards: Master, Pro, and Elite - in that order - so it makes sense to take a closer look at the mid-pack Pro that is also available as a WiFi-enabled version (Pro AC) touting an Intel WiFi 3168 chip.
The trio all features an integrated I/O shield. The Pro and Elite share the same power-delivery consisting of a 12-phase supply to the CPU plus another two for the SoC. In detail, the boards use a six-phase Intersil ISL229004 PWM that's doubled and connected to 12 Vishay SiC651C phases each capable of 55A. These appear to be unique to B550 as the Aorus X570 boards use different setups.
Having strong power on each stage means, as usual, the board can deliver far more current than any AM4 chip can handle. As an example, a Ryzen 9 3950X chip running at an all-core 4.35GHz and 1.35V pulls around 180W. Such juice barely tickles the 12 phases here. It's a testament to the times and motherboard design philosophies that even B550 boards are overengineered.
Though arguably not needed, heatsink assembly is solid and well put together. Large air coolers, like the Noctua NH-D15S we use, blow some air over this section, too, so we expect low VRM temperatures at most times.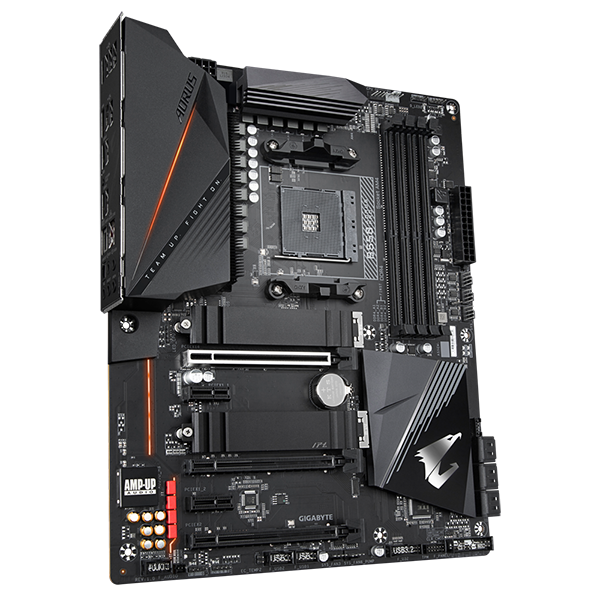 Once on, a thin orange light is apparent by the Aorus logo on the integrated I/O shield, which is actually helpful in partially illuminating the I/O ports. There are also 10 orange LEDs down the left-hand side that offer low-level lighting through the six-layer PCB. Those wanting the full RGB effect can attach strips to a couple of headers located by the DIMM and audio slots. Eight 4-pin fan headers are plenty, including one for an AIO. Those with a Type-C front panel are out of luck, however, but that goes for the dearer Master board, as well.
The top M.2 and x16 slots both hang from the CPU and offer full-speed PCIe 4.0 support. Remember this board is only home to Ryzen 3000-series chips featuring Zen 2 cores; the 3400G and 3200G won't work. The second M.2, meanwhile, is connected to the B550 chipset via PCIe 3.0 x4. As there's limited bandwidth down here, it's either this or the bottom x4 slot that is used at any one time. Our advice would be to put your primary storage drive in the top slot.
M.2 heatsinks feature single-sided pads and are solid and weighty. Testing on a Corsair 2TB Force MP600 NVMe drive reveals a temperature drop of 11°C compared to running without the heatsink.
There's little reason to have open-ended PCIe x1 slots because there's isn't much spare bandwidth for faster expansion cards. They also run off the same PCIe bus as the 2.5G LAN and a couple of SATA ports.

Choices have to be made in order to keep the £195 pricing in check. Aorus still does well to shoehorn a Realtek 2.5G LAN, two 10Gbps Type-A, a 10Gbps Type-C, and solid ALC1220 audio codec. The Elite has both DisplayPort and HDMI; that would be good here for rumoured Zen 3-based G-series chips.
Given what's on offer, one asks the question of what is missing compared to X570 Pro version? Not that much, actually, other than PCIe 4.0 for the second M.2 and strengthened secondary PCIe x16. In fact, other than the fan on the chipset, one could mistake the B550 Pro for the X570 Pro.