Introduction
AMD supports older motherboards with its range of nascent 3rd Gen Ryzen processors, but for users wanting to get the most out of them, the recommended path is to invest in X570 boards. That's all well and good, as they offer unique PCIe 4.0 connectivity and best-of-breed overclocking support, though the caveat is one of high pricing. X570 boards start at £150 and quickly escalate to beyond £500 as manufacturers add better power delivery, all forms of RGB, and esoteric cooling.
MSI has seven X570s in its arsenal, and sitting nearer the top of the stack is the MEG X570 Ace that retails for £350. Compared to the firm's own MPG X570 Gaming Plus, which we reckon is a decent entry-level effort costing exactly half as much, MSI adds an extra PCIe x16 slot, a trio of additional USB 3.1Gen2 (Type-A), explicit support for SLI, 2.5G LAN, WiFi 6, significantly beefier cooling and VRM support, along with better RGB lighting. Decent differentiation, then.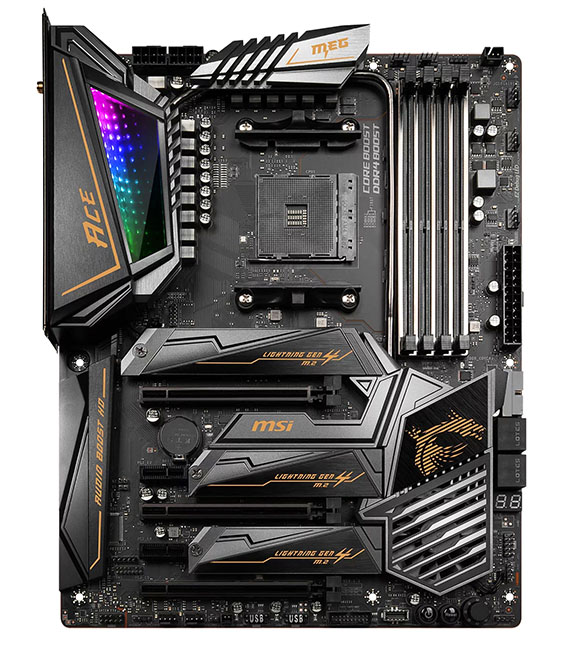 Initial impressions are that the Ace is a busy-looking motherboard, perhaps too busy for those who prefer a minimalist look. The 14-phase VRM supply - 12 for the core, two for the SoC - is driven by the industry-standard International Rectifier (IR35201) controller that's pervasive in the high-end consumer motherboard space. Got a £250-plus mobo? It's likely to be there. As usual, given that it's an 8-phase controller, MSI gets up to the requisite number on the Ace by using doublers. This means it's not a true, independent 14-phase VRM, unlike the Aorus Xtreme.
What you need to understand is that this power-delivery system is absolutely overkill for the vast majority of overclocked Ryzen CPUs. Even the Gaming Plus' 8+2-phase design, using the same IR controller, is more than adequate for a seat-of-the-pants OC chip.
Two heatpipe-connected metal heatsinks make excellent contact with the VRMs. The left-hand heatsink extends into the enclosed I/O bracket. Are they strictly necessary? Pulling a massive 150A at 1.4V (210W CPU-only power) for, say, an OC Ryzen 9 3900X, would translate to around 15W of VRM-produced heat. Arguably, spread over the 12 phases, you probably won't even need a heatsink at that kind of load, so what you see is more aesthetic than mandatory. The same goes for most X570 boards, though.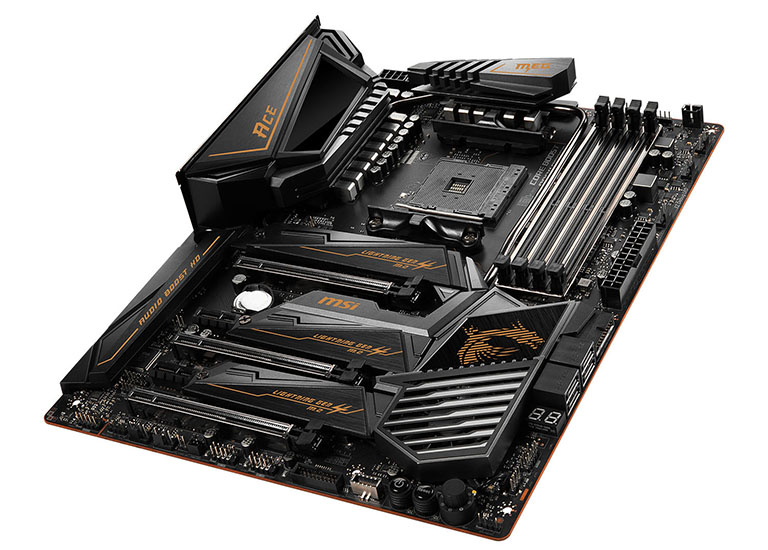 Taking RGB lighting to the next level, the Ace features what MSI calls Mystic Light Infinity, offering up to 29 effects from the controlling software, and usually the preserve of the range-topping Godlike models, it looks really decent in the flesh and trumps the regular lighting found on most other boards. In fact, if you want to go down the motherboard RGB route, MSI's implementation is the best out there, though do understand the I/O-covering section is the only part to receive such treatment. Quality over quantity.
On a more prosaic front, MSI adds a second 8-pin power connector, more for show than real-world use, and has a sensible number of fan headers on the top-right.
Having that heatpipe run down to the X570 chipset ought to preclude an active fan. That's not the case, as MSI plays it safe by having a Frozr 45mm spinner that's generally pretty quiet and, with the latest BIOSes, only switches on once there's adequate load. We'd rather see it go away altogether; the big heatsink, extending out over the M.2 slots, is more than ample at wicking away the sub-15W the chipset can produce.
MEG Ace therefore has plenty of cooling around the trio of M.2 slots - the lower duo supports a maximum 2280 - but closer examination reveals that the metal heatsinks simply slot into the overall chipset-cooling block, rather than being part of a claw design we have seen on some previous models. Still, having proper M.2 heatsinks, with thermal material pre-applied, over the trio of PCIe 4.0 x4 slots, can only be deemed a good thing.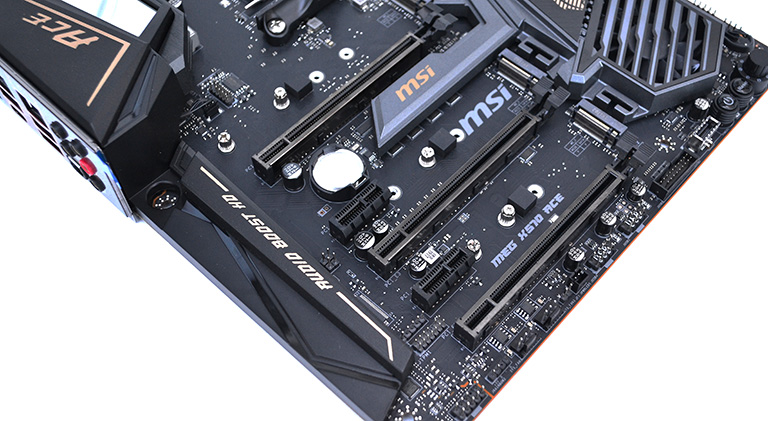 The locking mechanism on the lower two M.2 slots is setup for regular 2280 SSDs and there's support for shorter 2242 and 2260 drives, as well. The cooling plate is bit of a tight squeeze if the drive has double-sided chips.
Strengthened PCIe 4.0 slots for graphics are always appreciated, and in keeping with the heatsink-covering arrangement of the Ace, there's another over the sound section. It's clearly not needed during everyday use.
A few things we don't like. The board ought to have voltage-measuring points as it's clearly aimed at the enthusiast, and while the board does well on the M.2 front with sensibly-located slots, there are only four SATA ports - surely there should be space for six?
We're also not huge fans of the OC dial on the bottom-right yet do like the power and reset buttons, as well as the two-digit debug LED by the rotated SATA ports. One could argue the front-connecting USB3.1G2 port is a bit too far down the Ace's ATX PCB, though. And focussing on the enthusiast, the board lacks a second BIOS should things go awry.

Top marks, however, for having a dedicated clear-CMOS button the back, which is very useful for those who like to tinker with overclocking. The rear I/O is particularly robust, including Gigabit Ethernet from Intel, 2.5G Ethernet from Realtek, 802.11ax WiFi 6 also from Intel, and enough USB3.1G2 Type-A and Type-C for most.
Intended for Ryzen processors that don't ship with integrated graphics, it's worth knowing the lack of I/O video outputs preclude the use of any APU - not that you would ordinarily pair a £350 board with one, of course.
It's no longer accurate to say that AMD-based motherboards are inferior cousins of the Intel equivalents. The Z390 Ace, for example, looks pretty similar and is £75 cheaper, albeit featuring a lower specification that does without 2.5G Ethernet and WiFi 6. MSI has actually upspecced this model for the X570 chipset.
Featuring the same Click BIOS 5 as its predecessors, the MEG X570 Ace is a well-rounded enthusiast-class motherboard that's strong on networking, cooling and VRM support. Let's now roll the benchmark dice.