Specs and initial thoughts
Rockdirect's Quaddra 64 3.7 packs a meaty punch for a desktop-replacement priced at £1199+VAT. Let's take a closer look at the specifications and appearance.


| | |
| --- | --- |
| System Name | Rockdirect Quaddra 64 3.7 |
| Processor | AMD Athlon 64 3700+ (2.4GHz, 1024kb L2 cache) S754 |
| Motherboard | VIA K8T800 |
| Memory | 512MB (1x512MB) PC3200 SODIMM |
| Hard Drive | Hitachi 60GB 7,200RPM - 8MB cache |
| Screen | 17" Widescreen (1440x900) |
| Graphics card | ATI Mobility RADEON 9700 128MB |
| Optical drive | Sony 8x dual-layer DVD ReWriter (DW-D56A) |
| High-speed connectivity | 3x USB2.0, 1x mini-FireWire400 |
| Ports and sockets | S-Video, headphone, Mic, S/PDIF PCMCIA, Serial, Parallel, RJ45, RJ11, VGA, PS/2, IrDA |
| Sound | AC'97 |
| Modem | Smart Link 56k |
| Network | Realtek 8169 GbE LAN |
| Wireless Connectivity | None on review model |
| Operating system | Windows XP Home w/SP2 |
| Weight | 4.2kg (without charger) |
| Dimensions | 39.3cm (w) x 27.5cm (d) x 3.75cm (h) |
| Warranty | Rock 3yr collect-and-return |
| Battery | 4400mAH (65WHr) 8-cell |
| Price | £1199+VAT (£1408.25 inc.) as at 8/12/2004 |
| Other notables | Multicard reader, built-in webcam, Ability Office |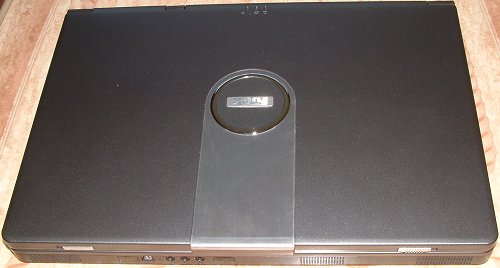 Desktop-replacement laptops, in this reviewer's opinion, shouldn't tip the scales at anything above 4kg. Our look at MV's 5kg+ Ixius 3.6 highlighted a growing trend amongst DTR distributors to completely disregard weight in favour of performance. These are laptops, after all, and portability should always be of some concern. Rock's Quaddra 64 3.7 matches the Ixius' 17-inch widescreen panel but does so with almost a whole kilogram less baggage. 4.2kg is at the upper end of the DTR scale, I feel. Thinking of other DTRs, the use of lightweight plastic, wherever possible, allows the Quaddra 64 to match a Dell Inspiron 9100's weight yet offer greater screen estate.




Unlike the Ixius 3.6, the Quaddra has no funky numerical display or range of buttons on the front. Careful internal packaging has allowed for a narrower chassis that's well over a centimetre thinner than either a Dell Inspiron 9100 or Ixius 3.6's. Indeed, 37.5mm height is well below (or above, depending upon how you look at it) average for powerful DTRs. The large screen section is secured into place via a couple of latches. Connectivity-wise, going from left to right, there's an Infrared port for an optional TV tuner (Rock doesn't feature it as an extra, though), a mini-FireWire400 socket, S/PDIF-Out, Mic-In, Headphone-In, and a regular Infrared port. You can see the in-built speaker vents on either side, too.





Looking at the left-hand side, we see that Rock has grouped the optical drive with further high-speed connectivity and a multi-format card reader. It's a shame, aesthetically, that Sony's black 8x multi-format DVD ReWriter doesn't match the chassis' charcoal colour. 3 USB 2.0 ports are positioned around a single PCMCIA slot. Again, call me picky, but £1400 should give rise to a PCMCIA blanking plate that's the same colour as the chassis, shouldn't it?. A 4-in-1 multicard reader, that accepts SecureDigital, Memory Stick, Memory Stick Pro, and MultiMedia cards, is a nice touch.





Cooling is always going to be a problem that DTR vendors have to surmount. A large vent on the left-hand side is an absolute necessity. Serial, Parallel, and VGA outputs are common fare on these heavy laptops. 2 sets of similar-looking ports offer up S-Video, PS/2, RJ45 (Gigabit LAN), and RJ11 (Modem) connectivity. Like the Ixius, the Quaddra 64 uses Realtek's PCI-driven Gigabit LAN for high-speed transfers. The versatile Mobility RADEON 9700 has now been superceded by at least a couple of new iterations of mobile graphics cards from ATI, but it remains a reasonable choice for the user who wants to play modern games with some of the image candy turned on.





A distinct lack of activity on the right-hand side. There's only a Kensington Lock socket to break up the charcoal monotony.