Introduction
Windows PCs are under siege. At the top end of the price spectrum it's Apple who continues to be a thorn in Microsoft's side, but for many consumers the more relevant battle is being fought in the low-end space, where tablets and cheap-and-cheerful Chromebooks threaten to eat into Windows' market share.
It's an area of the market that will be fiercely contested in the months ahead and Microsoft's army of partners won't be lacking in ammunition. Low-cost Windows devices are going to be prominent in most stores this Christmas, and one of more high-profile options is the Asus Transformer Book T100HA, in for review today.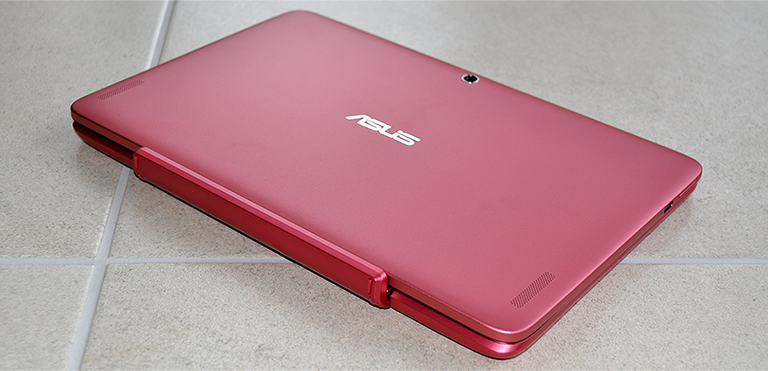 Currently available for a mere £229, the Transformer Book T100HA runs full Windows 10 and combines a quad-core Intel processor with a touchscreen display in a convertible form factor. Let's repeat that again. It runs a full, 64-bit copy of Windows 10, there's a quad-core Intel CPU inside and a 10.1in touchscreen display that detaches to function as a standalone tablet. All that, for £229.
None of the aforementioned ingredients can be refuted, but as you might have guessed the T100HA is a device that's riddled with compromise. So what are the most obvious shortcomings, and do they do enough to detract from what appears to be a good-value machine? Let's find out.
Design
Measuring 265mm x 175mm x 19mm in size, the Transformer Book is a petite package that tips the scales at a fraction over 1kg. Portability is excellent and despite the price tag, the top shell feels suitably sturdy throughout. There's hardly any flex to the cover, so kudos to Asus for maintaining a good fit and finish.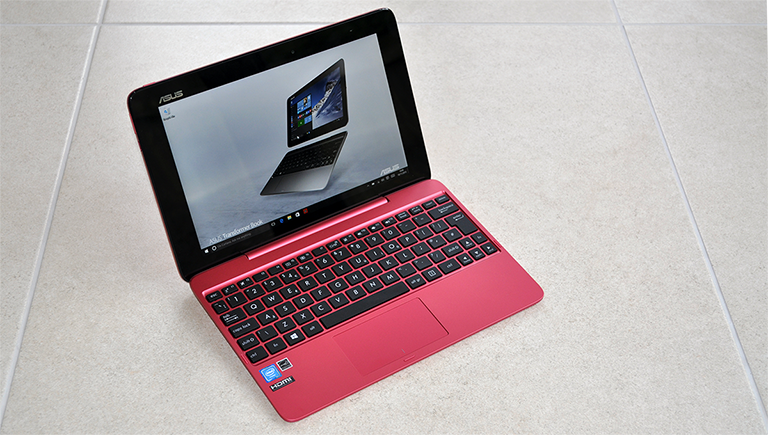 Unusually, the 0.58kg top section is heavier than the 0.46kg base. This is due to the hardware components being shoehorned behind the 10.1in display, allowing for the top to detach and serve as a standalone tablet. In this mode, the tablet measures just 8.45mm thick, but when combined the top-heavy approach results in a tendency to topple, particularly when used on the lap.
The ability to function as a proper laptop is a key selling point for the T100HA and an important differentiator from low-cost tablets, and the hardware pairing is for the most part seamless. The display docks with the keyboard using a three-point magnet and there are no latches or push-to-release buttons to contend with - the magnets are strong enough to keep everything together and a stiff pull will detach the tablet.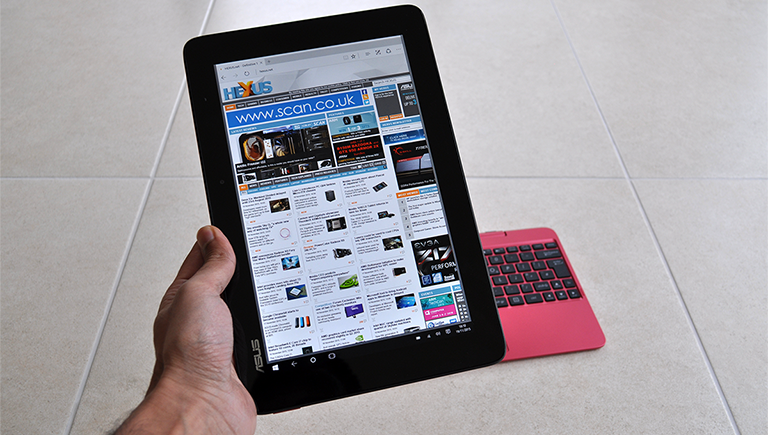 From an aesthetic point of view, the large display bezel is arguably the laptop's weak link. The 10.1in panel is surrounded by a black border that's almost an inch thick in parts, and you can only imagine how fantastic the tablet would have looked with a near-borderless 11in display. Then again, imagine what that might have done to the price tag.
Expectations need to be kept in check at £229, though there is a constant niggle in the back of your mind that what you're paying for here is more netbook-like in style and stature than a proper laptop. The garish Rouge Pink colour of our review sample doesn't help, though there are thankfully Tin Grey, Silk White and Aqua Blue alternatives.