Introduction
Keeping close to the bleeding edge of PC technology can be a costly endeavor at the best of times, and if you find yourself waiting for the next big innovation, it can be time consuming, too. Such obstacles are however of little significance to the hardened enthusiasts who frequently turn to gaming laptops as a means to obtain the latest and greatest in PC hardware.
If that sounds like you, take a look at one of MSI's latest revamps, the GT72S 6QE Dominator Pro G. The name doesn't exactly roll off the tongue, but this new addition to MSI's arsenal continues the GT72 tradition of packing bleeding-edge components into a 17.3in, portable machine.

A jaw-dropping £1,999 price tag is not for the faint hearted, but then neither is the hardware, which includes the likes of an Intel Skylake processor, GeForce GTX 980M graphics and PCIe storage. From the outside it doesn't look as though a lot has changed - MSI has, for all intents and purposes, recycled last year's chassis, but that's no bad thing.
The GT72 is reasonably sleek for a gaming laptop and, while its 48mm-thick frame feels bulbous by today's standards, it isn't as garish as some of MSI's earlier efforts. Build quality remains adequate but no more - it's a case of plastic interspersed with metal - and whereas premium Ultrabooks feel seamless in construction, this is essentially multiple panels stitched together as a no-frills bullpen for all the parts within.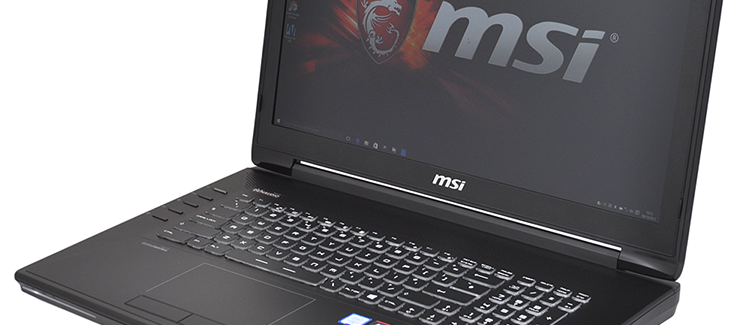 Gaming laptops generally don't fare well in the beauty contest stakes, but they do have plenty of space to work with and MSI puts it to good use. The familiar-looking keyboard is a SteelSeries solution touting an integrated numpad and full RGB backlight, the trackpad is roomy and responds well enough to multi-touch gestures, the Dynaudio 2.1 speaker system is surprisingly powerful and the five shortcut keys on the left are quite useful. These include a switch to toggle between IGP and discrete GPU, a boost button for the internal fans and a dedicated shortcut to XSplit Gamecaster.
There's no shortage of I/O ports, either. The laptop's left edge is home to four USB 3.0 ports, a quartet of audio jacks and an SD card reader. The right-hand side houses two further USB 3.0 ports and a tray-loaded Blu-ray writer, and there are five more connectors around back - a port for the bundled 230W external power brick, Gigabit Ethernet, HDMI 1.4, USB Type-C and mini-DisplayPort 1.2.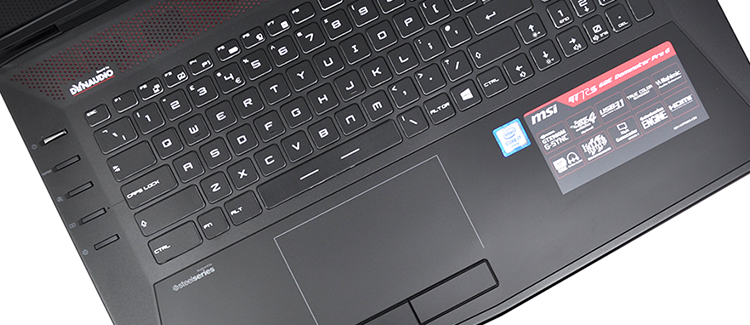 A USB Type-C connector is a nice addition and aside from high-speed data transfer can be used to charge gadgets with a 3A current or drive 4K monitors at 60Hz via Thunderbolt. Handy if you happen to have external monitors in mind, though the native display could be deemed good enough. MSI has upgraded the panel to a matte full-HD IPS solution that offers G-Sync functionality and wide viewing angles. The 75Hz refresh rate allied to the 1080p resolution is tasty for gaming, though productivity types may be left wanting by what's a relatively low pixel count at this price point.
An upgraded display panel and the likes of USB Type-C are genuine value-adds, but it's what's on the inside that will have gamers rubbing their hands in anticipation. At the helm of the system is a quad-core, latest-generation Intel Core i7-6820HK 'Skylake' processor capable of speeds of up to 3.6GHz. The 45W CPU is joined by 16GB (2x8GB) of DDR4-2133 memory (expandable to 32GB) and high-end mobile graphics in the form of an 8GB GeForce GTX 980M.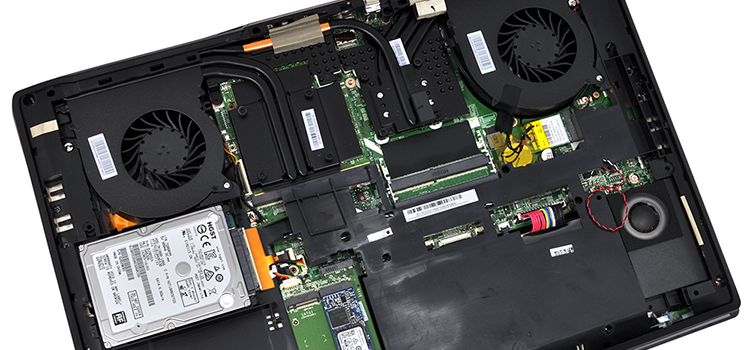 That's a decent CPU and GPU combination for any system, let alone a laptop, though performance purists may find themselves waiting for the GT72S 6QF Dragon Edition 29th Anniversary Edition. Raising the stakes further still, this pricier, more-powerful variant will eschew the GTX 980M in favour of a full-fat GTX 980 when it arrives at retail in the coming weeks.
Getting back to the GT72S 6QE Dominator Pro G, removing the back cover reveals two storage devices - a 128GB NVMe PCIe SSD and a 1TB 2.5in hard disk. The Toshiba M.2 drive should deliver stellar performance, but the capacity leaves plenty to be desired in a laptop fetching two grand. Higher-capacity models will be made available in most regions, as will certain SKUs with RAID configurations, but nonetheless we feel that 256GB should now be the minimum.
More so than most other laptops, the MSI's revamped GT72S is all about performance so let's head over to the benchmarks, shall we?