Specs and initial thoughts
It appears, from the flashy website at least, that SavRow is the U.K's answer to AlienWare, that is, desktop and laptop computers that are available in a number of pre-configured guises or completely bespoke affairs through a handy system configurator. We reckon there's a niche market for truly signature or individual systems today; SavRow's attempting to fill it.

A quick but important note before we begin our evaluation. The test unit supplied by SavRow was a US-specified model. Thus, the main differences between it and a full U.K production model are 1) a U.K keyboard 2) U.K machine has an international travel adapter 3) U.K machines have a SavRoyal paint option 4) U.K machines have signature owners' books and are brand new, the test unit had been used prior to our evaluation.


| | |
| --- | --- |
| System Name | SavRow Razor 1.7 |
| Processor | Intel Pentium M (Banias) 1.7GHz - 1MB L2 cache |
| Motherboard | Intel i855 |
| Memory | 1GB (2x512MB) PC3200 SODIMMs |
| Hard Drive | Hitachi 80GB 5,400RPM - 8MB cache |
| Screen | 15" SXGA(1400x1050) |
| Graphics card | ATI Mobility Radeon 9700 64MB (M11) |
| Optical drive | CDRW- DVD-ROM |
| Connectivity | 4x USB2.0, mini-FireWire400, S-Video, headphone, microphone sockets, jog-style volume control, HD15-out |
| Sound | AC'97 |
| Modem | Agere Systems 56k |
| Network | Intel Pro Wireless 54g, Broadcom GbE LAN |
| Operating system | Windows XP Home SP1 |
| Weight | 2.3kg (without charger) |
| Dimensions | 33cm (w) x 26.8cm (d) x 2.4cm-3cm (h) |
| Warranty | SavRow 3-year collect and return |
| Price | £1250.22+VAT (£1469 inc.) as at 3/6/04 |
| Shipping | £19.74 inc. VAT |


The default, pre-configured Razor 1.7 specifications are impressive from start to finish. Intel's true mobile processors' lineup is in a state of flux right now. The recently released Dothan architecture has replaced the existing Banias as the mobile CPU of choice. SavRow has informed us that Dothan-powered models will also be available imminently, but obviously at a higher cost. Not that there's much wrong with the 1.7GHz Pentium M Banias. It's fast enough for most tasks, has reasonable battery life in most thin-and-light laptops, and doesn't require a gale to cool it.

The next point of discussion centres around the form factor and weight of the laptop.





It's a lean, mean, svelte machine, measuring around 2.4cm at the front and rising to 3cm as we look into the distance.





Ports and sockets are hidden away on both sides, we'll come to those in a moment. The backs houses a single HD15 output, 2 ports for modem and Ethernet connections, respectively. Incidentally, the Razor 1.7 has Gigabit Ethernet capability.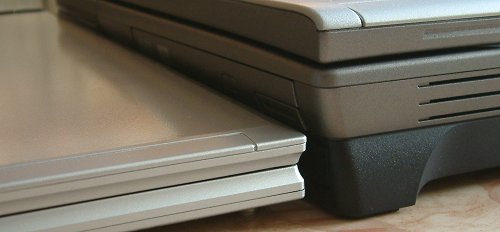 What you're looking at are front sections of both the Razor 1.7 and a Dell Inpsiron 9100. This gives you some idea of the Dell's bulkiness and the SavRow's slimline figure. SavRow reckons the Razor line of laptops tips the scales, sans charger, at 2.2kg. I found this to be a slight, but only slight, underestimate. The review unit, according to a set of professional scales, was just a touch under 2.35kg, thereby still firmly being entrenched in the thin-and-light crowd.





Here's the left-hand side, replete with 3 USB2.0 ports, a 4-pin FireWire400 port, an S-Video socket, a single PCMCIA slot and a multi-function card reader.





My first bone of contention is with the white plastic PCMCIA and multi-card reader covers. Purely personally speaking, they cheapen the whole look of the Razor 1.7. SavRow sets itself to be a vendor of the highest-quality computers, so it's disappointing to see covers that stick out like the proverbial sore thumb. We reckon this has more to do with the ODM (Original Design Manufacturer) than SavRow, but it's little touches like these that will make or break an expensive laptop's appeal.





The opposing side features a fourth USB2.0 port, a jog-dial-style volume control and audio ports. The Razor 1.7 arrives pre-equipped with a chassis-matching CDRW/DVD-ROM combination drive. SavRow states that a compatible ultra-slim combination DVD-ReWriting drive will be available shortly (speed or format TBA), which expected to bump up the overall price by around £90.