Specifications and initial thoughts
Let's take a look at the Pegasus 650 DnD's vital statistics.


| | |
| --- | --- |
| System Name | Rock Pegasus 650 Dungeons And Dragons: Online |
| Processor | Intel Pentium M 750 - 1.86GHz - 533MHz FSB - Dothan (single-core) |
| Motherboard | Intel i915GM (dual-channel support, Sonoma, PCI-Express support) |
| Memory | 512MByte (2x 256MB DDR2 PC4200 SODIMMs) |
| Hard Drives | HGST 80GB, 5,400RPM, 8MB cache, ATA100 |
| Screen | 15.4" WSXGA+ (1680x1050) |
| Graphics card(s) | ATI Mobility RADEON X700 128MB PCIe (MXM) & Intel 915G (onboard) |
| Optical drive | NEC ND-6500A |
| Optical drive characteristics | 8x DVD-R, 8x DVD+R, 4x DVD+RW, 4x DVD-RW, 2.4x DVD+R9, 24x CD-R, 16x CD-RW, 8x DVD-ROM (read) |
| Sound | ICH6 High-Definition Azalia audio through Realtek ALC880 CODEC |
| Modem | Motorola SM56k |
| Networking | Realtek RTL8169 10/100/1000 LAN, Intel 2915ABG 802.11a/b/g Wireless |
| Operating system | Windows XP Home SP2 |
| Weight | 3.15kg (without charger) 3.5kg with |
| Dimensions | 358mm (w) x 272mm (d) x 25.3-35.7mm (h) |
| Warranty | Rockdirect 3-year collect-and-return |
| Price | £997.58 inc. VAT (as at 19th June 2006) |
| Shipping | £20 |
| Other notables | Card reasder (SD,MMC,MS, MS-Pro), switchable graphics, 5% CPU mains overclock, special edition |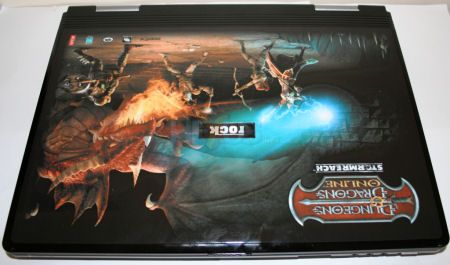 Taking a look at this svelte Pegasus 650 from the top, we see the artwork that makes it a special edition. To commemorate the release of Atari's Dungeons And Dragons Online: Stormreach, the MMORPG, rockdirect is launching a limited number, one hundred in all, of Pegasus 650-based laptops. The high-quality artwork certainly makes it stand out from the homogenous laptop crowd, and it quickly becomes a talking point in itself. Rather than having it painted directly on to the Pegasus 650's lid, it's pre-painted on a thin layer that is then attached on to the lid. The layer is thin enough for you not to notice it until brushing your finger over the top.





This shot shows the low-profile nature of the '650. It's around an inch high at the front, going up to an inch-and-a-half at the back. There's a single latch that secures the screen, and the chassis takes in a 4-in-1 card reader and audio ports. As you will know if you read our original Pegasus 650 review, there's also a switch on the very right-hand side that toggles the laptop's onboard and discrete graphics. Thinking about mobile, battery-powered usage, onboard graphics are fine for 2D-related tasks. Simply switch over to the discrete ATI Radeon X700 discrete card, or, at no extra cost a GeForce 6600 Go, if you want to game (presumably battery-powered). A nice, novel feature.





The right-hand side carries the laptop's high-speed ports, in the form of 3 USB2.0 and a single 4-pin (unpowered) FireWire400. There's also a regular CardBus slot, S-Video-Out, and the DC-in. The Pegasus 650 is based on Intel's Pentium M CPUs, with a 750 model specified in this £997 laptop. The low TDP and power-saving technology allows rockdirect to use minimal cooling. However, seeing as the mobile world is currently embracing dual-core technology, especially with Yonah (Intel Core Duo) making excellent performance waves, we're non-plussed by the use of a single-core Dothan. Saving things somewhat is rock's pre-overclocking, which automatically adds 5% on top of the default speed of any chip. For the 1.86GHz-rated '750, then, that's around an extra 100MHz for 'free'.





The left-hand side houses a multi-format NEC DVD-ReWriter and the modem and Gigabit Ethernet ports.