Specifications and initial thoughts
Specifications
| | |
| --- | --- |
| System Name | rock Pegasus 330 |
| Processor | Intel Core Duo T2300. 1.67GHz, 667MHz FSB, dual-core @ 1.733GHz |
| Motherboard | Intel i945GM (dual-channel support, Napa, PCI-Express support) |
| Memory | 512MByte (2x 256MB DDR2 PC4200 SODIMMs) |
| Hard Drives | Fujitsu 80GB, 5,400RPM, 8MB cache, SATA |
| Screen | 13.3" WXGA+ (12800x768) |
| Graphics card(s) | Intel 945GM (integrated - GMA950) |
| Optical drive | Sony DW-Q58A |
| Optical drive characteristics (write) | 8x DVD-R, 8x DVD+R, 8x DVD+RW, 4x DVD-RW, 4x DVD+R DL, 4x DVD-R DL, 24x CD-R, 24x CD-RW, 8x DVD-ROM (read) |
| Sound | ICH7-M High-Definition Azalia audio through Realtek ALC880 CODEC |
| Modem | Motorola SM56k |
| Networking | Marvell Yukon 88E053 PCIe 10/100/1000 LAN, Intel 3945ABG 802.11a/b/g Wireless |
| Operating system | Windows XP Home SP2 |
| Weight | 2.1kg (without charger) 2.25kg with |
| Dimensions | 316mm (w) x 224mm (d) x 31.9-34.4mm (h) |
| Warranty | rockdirect 3-year collect-and-return |
| Price | £880.08 inc. VAT (as at 27th May 2006) |
| Shipping | £20+VAT |
| Other notables | Multi-format card reasder (SD,MMC,MS, MS-Pro), 5% CPU mains overclock |


A look at the specifications table highlights the fact that rock has adopted Intel's latest mobile branding, Napa, as a base for a thin-and-light laptop that tips the scales at 2.1kg. Napa, as you may know, consists of an Intel-certified 945-based motherboard, a Centrino Duo (dual-core) CPU, and 3945ABG WiFi card, all of which are present here.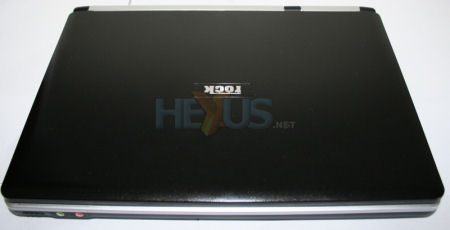 A look at the chassis' clean lines and svelte form factor will pique the interest of any reader looking for a light notebook that packs in the latest features.

The front carries a switch that toggles the 3945ABG WiFi's operation from on to off. Other than that, there's only microphone and sound out ports.





Moving on over to the left-hand side shows a single USB2.0 port above the 4-in-1 cardreader. rock uses a slimline dual-layer multi-format Sony DW-Q58A ReWriter that writes at a maximum 8x and includes support for both +/-R dual-layer discs. A second USB2.0 port sits to the right of the modem port which, frankly, looks out of place with its white colour.





The Pegasus 330's 4400mAh battery takes up a large chunk of the space available on the back of the laptop. There's a power inlet, Kensington lock socket and HD15 (VGA) connection for exporting video on to a larger screen. It's possible to run two displays from the GMA950 graphics, too.





Playing name the ports game, from left to right, there's a regular PCMCIA, the third USB2.0, a single mini-FireWire400, S-Video, and, finally, an RJ45 port. The '330's hotter-running components are all located on this side, so that's why you can see the copper heatsink and vent.