Specifications and external musings
| | |
| --- | --- |
| Laptop name | Alienware Area-51 m5700 |
| Processor | Intel Pentium M 770 - 2.13GHz, 2MB L2 cache, 133MHz FSB - Dothan core |
| Motherboard | Intel i915PM (dual-channel support, PCI-Express) |
| Memory | 1GByte (1x 1GByte DDR2 PC4200 SODIMM) |
| Hard Drives | Fujitsu MHT2080BH 80GB 5,400PM with 8MB cache |
| Screen | 17" WXGA+ (1440x900) |
| Graphics card | NVIDIA GeForce 6800 Go 256MB (325/600) |
| Optical drive | NEC ND-6650A |
| Optical drive characteristics | 8x DVD-R, 8x DVD+R, 8x DVD+RW, 4x DVD-RW, 4x DVD+R9, 24x CD-R, 20x CD-RW, 8x DVD-ROM (read), 4x DVD-R (dual layer) |
| Sound | ICH6 High-Definition audio through Realtek CODEC |
| Modem | Motorola 56k |
| Networking | Realtek RTL8169 Gigabit LAN, Intel 2200BG 802.11b/g Wireless |
| Operating system | Windows XP Home SP2 |
| Weight | 3.7kg (without charger) 4.1kg with |
| Dimensions | 406mm (w) x 292mm (d) x 44.2mm (h) |
| Warranty | Alienware Free Phone 1-year 24/7 |
| Price | £1807.15 inc. VAT (as at 28th November 2005) |
| Shipping | Included in above price |
| Other notables | 4-in-1 card reader, space for 2nd hard drive |


The Alienware Area-51 m5700 is based on Intel's excellent Pentium M processor that marries excellent gaming performance to decent battery life, thanks to its low-power architecture. Alienware has outfitted this particular model with the 770 model, running at 2.13GHz clock speed and strapped to an i915PM chipset that provides dual-channel memory support.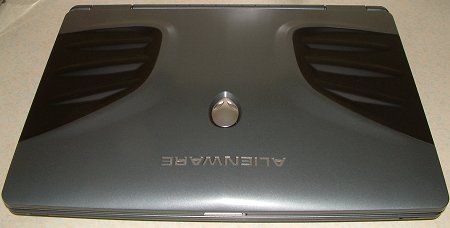 The chassis houses a 17-inch widescreen LCD and is pretty svelte in comparison to laptops with similar screens. A single latch, pushed to the right, secures the screen. Alienware adds a nice touch by including a couple of LEDs behind the company's badge and logo on the top portion. Rubberised sections on both sides also makes it easy to carry, too, and weighing in at around 3.7kg, which is at the lower end for 17-inch LCD-equipped models, makes it reasonably portable. The gunmetal colour, however, is the only one that's available at launch. It's interesting to note that the chassis isn't exclusive to Alienware, as Fujitsu-Siemens use it in the company's M3438/4438 laptops.





Turning it to the left keeps the minimalist theme going. A volume wheel, headphone/S/PDIF port, and microphone input line the right-hand side. Further to the left and past the fairly noisy multi-format, dual-layer DVD ReWriter from NEC (6650A), is the first of four USB2.0 ports and power jack.





The rear, as you can see, is also pretty sparsely populated. S-Video and DVI are handy display connections and much-needed on top-end laptops. The central section is taken up with the cooling for the CPU and graphics card, and there's a modem port on the right-hand side. There's a total of 9 LEDs on the spine that highlight the usual functions, including power, wireless and hard-drive activity.





Carrying on the product tour and taking a look at the right-hand side, we see the usual Kensington lock next to the RJ45 port for the laptop's Gigabit Ethernet. There's a 4-in-1 card reader to the left that accommodates all the usual small form-factor suspects, including Secure Digital, Memory Stick, MultiMedia Card and Memory Stick Pro. A mini-FireWire400 port and three further USB2.0s provide high-speed peripheral connectivity and the external ports are rounded off by a single PCMCIA slot.