All that glitters
Component manufacturer MSI has been making overtures in the laptop market for a couple of years now. Perhaps best known for its Apple-like X-series and netbook Wind lines, the Taiwan outfit's laptop ensemble stretches from the cheap and cheerful to mobile gaming beasts with quad-core CPUs and multi-GPU graphics.
But MSI knows it needs to be strong in the mainstream market, as this is where the bulk of Mom and Dad's spending takes place. To that end, MSI has the Classic series - constituted by 14 laptops split over various Intel and AMD CPUs.
Look and build quality
Chipping in at around £600 is the 15.6in CX640, weighing a manageable 2.55kg and powered by the latest Intel Core i5 processors, which are given a graphical helping hand with discrete graphics from NVIDIA's stable of low-end mobile GPUs. The same laptop is available with just the Intel HD Graphics, packaged as the CR640.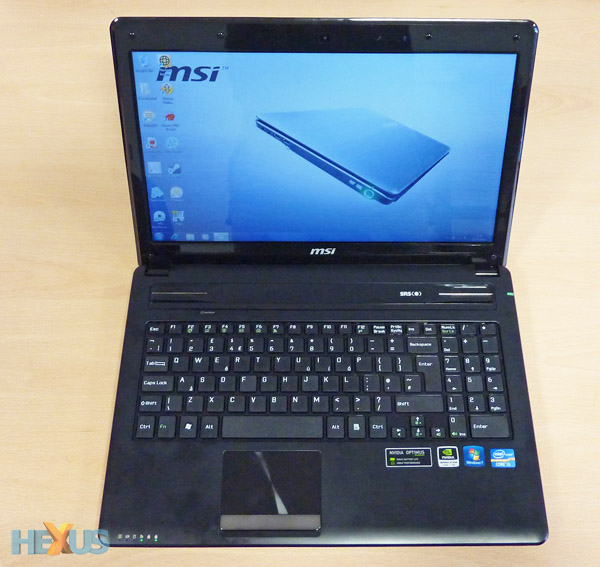 Presented in all-black here but also available in grey, MSI's high-end aspirations are evident with the CX640's brushed-metal look. Give it a rap with a knuckle and the dull sound indicates that the entire body is plastic. Picking up fingerprints with aplomb, there's a touch too much flex in the lid and body, making it feel cheap-ish rather than premium.
Screen
The screen is a little better. Sporting a standard 15.6in, 1,366x768 resolution with a built-in ambient light sensor, it's reasonably sharp and clear for the most part, but it does look a somewhat washed-out when compared to the best panels. Viewing angles are average and, like most laptops, you won't want to veer too far off a straight-ahead look when working or watching movies. Fitting in with the trend towards glossy coatings, the screen can seem overly reflective at times, as evidenced by the flash-less photo, above.

Yet the CX640 isn't without aesthetic charm. Switched on by a cool start button and an elegant back-to-front tapering design, it's far from ugly. Our review model's equipped with a DVD ReWriter while a Blu-ray option is available. A couple of USB 2.0 ports and audio/mic line this side, while the ubiquitous multi-card reader gets an outing on the front.
Audio quality from the twin upward-firing, recessed speakers is above average for a mainstream laptop, however, providing more-than-expected bass and clear mid-ranges.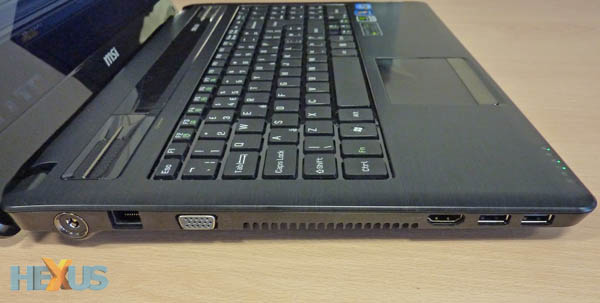 Components
With the screen hinging over the back the remainder of the ports are collected on the opposite side. Keeping up to date, MSI throws in a couple of USB 3.0, HDMI-out and Gigabit LAN. Hot air from the heat-making components - CPU and GPU - is forced out here through an obvious vent, and the CX640 does become markedly warmer on the left-hand side after prolonged use.
Speaking of the components, the £600 notebook brings together a second-generation Intel Core i5 2410M chip, NVIDIA GeForce GT 520M 1GB GPU, 4GB DDR3, 500GB hard-drive and Windows 7 64-bit, along with 802.11n WiFi.
NVIDIA's Optimus technology switches between the on-chip and discrete graphics, but we think the GT 520M, being a genuinely entry-level discrete card, may struggle at the screen's native resolution when gaming. Interestingly, MSI uses a custom variant of this GPU, as the shipping model is downclocked from the standard 740MHz core to 600MHz here.
Powering all these goodies is a six-cell, 47WHr battery. As far as we can tell, there's no option for upgrading this at the time of purchase. Competitors offer optional 90WHr batteries on similar-sized laptops.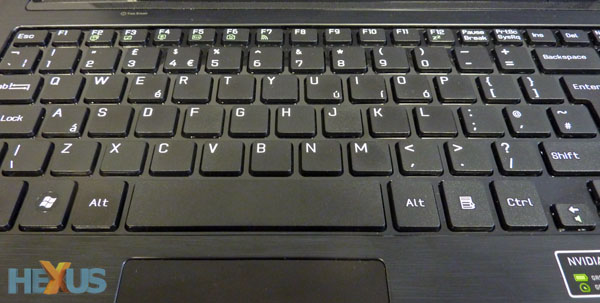 Keyboard and trackpad
The CX640's island-style keyboard is reasonable to type on and includes a three-key-wide number-pad on the right-hand side. However, much like the build, there's unwanted flex when pushing hard, to the extent that the entire section bows inward if you're heavy handed. The keys feel hollow and spongy, too.
Matching the width of the small-ish space bar, the trackpad has a micro-ridged surface that's relatively precise at tracking movements. However, any ladies (or gents) with anything but trimmed nails may be put off by the noticeable sound of moving a finger over the ridges. Think of it as as akin to a miniature vinyl record and you get the idea. Below, a single button serves both left and right functions, but users will need to be aware that presses in the central section often do nothing; there's a finger-wide dead spot.
Software
MSI pre-loads the laptop with Windows 7 64-bit and provides options to install a bunch of bundled applications, including a full (free) edition of the ad-based Microsoft Office 2010 Starter, a trial version of Norton Internet Security and Norton Backup, Microsoft Windows Live Essentials, its own BurnRecovery utility, and, for use with the integrated camera, MSI's EasyFace 2 Logon.
The BurnRecovery software enables ISOs or DVDs to be authored that bring the laptop back to a factory-fresh state, though using the program for the first time leaves the user in limbo, as the system analyses files for at least 10 minutes without giving any on-screen insight into what's happening. The system appears to do nothing, and novice users may well worry that not all is well.
Better is the newly-introduced Time Stamp feature, activated by a hidden button just above the F3 key. Press the button and it records a snapshot of the system, taking a scant 10 seconds to do so. This snapshot can be reloaded through an intuitive GUI (bar the lovely Engrish) by having the system reboot to an earlier time (with all files intact). Backed by a one-year return-to-base warranty, let's now see how it performs.