User experience
Keyboard and trackpad
Under the lid, the Edge 11 looks distinctly business-like thanks to the trademark matte-black ThinkPad finish. But with the aid of Lenovo's new "contemporary style" keyboard, it's visually pleasant and welcoming.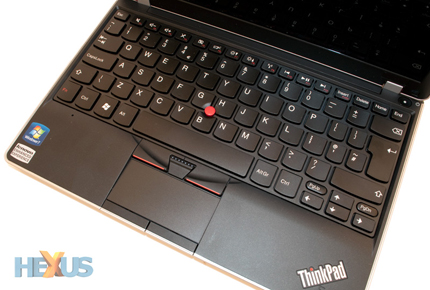 The well-sized, well-spaced keys - finished in a chiclet-like keycap design - make full use of the 11.6in frame and sit on a spill-proof tray that feels strong and well-made.
It's an excellent 11.6in implementation - and perhaps better than our previous front-runner, the Dell Inspiron M101z. Lenovo's keys feel soft, have just the right amount of spring to them, and the Edge 11 is generally a joy to type on.
But it isn't quite perfect. We'd give anything to swap the Fn and left Ctrl keys around, there's no backlight or ThinkLight, and to our surprise, the accompanying trackpad is slightly compromised by Lenovo's attempts to retain full ThinkPad functionality.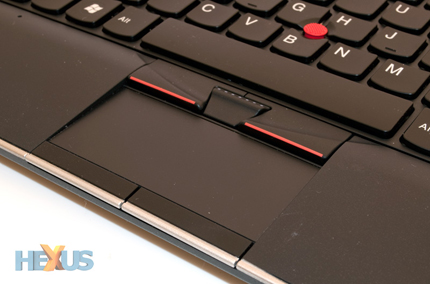 If you're a fan of the ThinkPad's multiple input methods, you'll love the fact that the Edge 11 features the synonymous red TrackPoint pointing device and its associated three buttons; left click, right click and scroll.
However, the inclusion of the above results in a multi-touch trackpad that's smaller than we'd like. It's perfectly responsive, and the edge-integrated mouse buttons feel nice to the touch, but two-finger scrolling isn't easy on a pad that's under 40mm tall. Given the choice, we'd have preferred a larger trackpad and just one set of mouse buttons.
Ports and software

By trimming down to an 11.6in form factor, the latest addition to the Edge line up isn't able to include an optical drive, but there's a reasonable selection of ports. To the rear of the notebook, there's a connector for the bundled power supply, and a VGA output that business users will no doubt appreciate.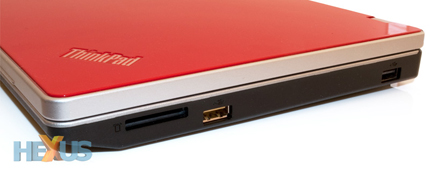 The right side looks a bit barren and features only a multi-card reader and two USB 2.0 ports.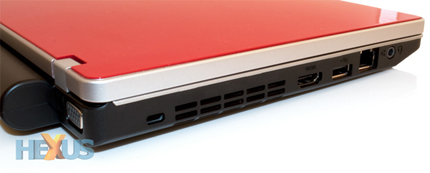 The busier left edge sports a Kensington lock slot, an air vent, HDMI output, a third USB port, Gigabit Ethernet and a single headphone/mic combination jack. There's no eSATA, and USB 3.0 would have been nice, but it's a useful selection.
On the software front, Lenovo keeps the clutter to a minimum - our sample arrived pre-loaded with only a few of the usual suspects; including Windows Live Essentials, Adobe Reader, a trial of Office 2010, and Lenovo's suite of Think Vantage tools. The latter provides a number of value-add features, including the ability to optimise system health by checking for driver updates, and the means to electronically contact Lenovo support.
Display, sound and heat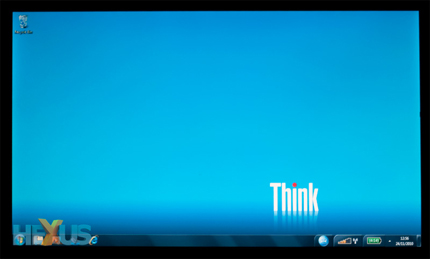 An 11.6in panel that provides a 1,366x768 resolution offers plenty of desktop real estate, but the ThinkPad Edge 11's display provides mixed results in use. The glossy finish is awkward in well-lit areas, but the display is bright enough to overcome most reflections.
Viewing angles, however, could be better. Horizontal viewing angles are average at best, and tilting the screen back and forth can easily result in a washed-out picture. It's unfortunate, as the benefits of being able to tilt the screen back almost a full 180° haven't been realised. The 11.6in panel is by no means bad, but in a product that's so well finished in most other areas, you can't help but feel as though the display should be better.
The Edge 11's audio credentials aren't particularly impressive either. Stereo speakers are positioned in a strip across the bottom of the notebook's front edge, and though they're plenty loud, there's no bass to speak of and the sound becomes muffled when the system is placed on your lap.
What is impressive, however, is the system's ability to keep both cool and quiet. We've found other similarly-spec'd AMD notebooks to be noisy and hot under load, but the ThinkPad Edge 11's external temperatures didn't rise beyond warm during testing. The system's fan is audible but far from noisy.