Introduction
Toshiba describes its Satellite range of notebooks as "versatile laptops designed for work, play, and the everyday".
That description certainly fits one of the company's latest models, the Satellite A660.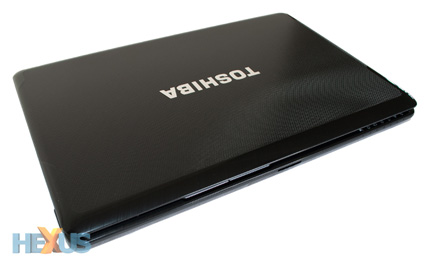 The sleek-looking 16in system is a mid-range offering with its sights set on providing a stylish multimedia experience.
In keeping with others in the Satellite range, the A660 is itself available in a multitude of flavours that provide a choice of Intel Core i3, Core i5 or Core i7 processors and price tags that range from around £600 to £900.
A useful asking price for a 16in multimedia notebook, and our review sample - the mid-range Satellite A660-17T - fits the work, play and everyday philosophy thanks to a combination of a 2.26GHz Intel Core i3 processor, a Harman Kardon stereo speaker system and a tempting £649 price tag.
Design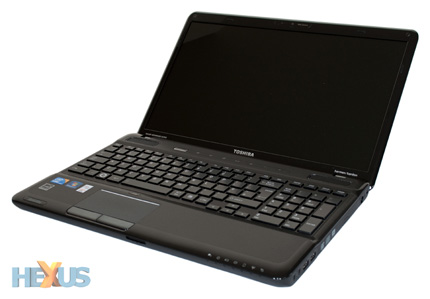 The Satellite A660 may look a lot like a big, black slab of plastic with a silver Toshiba logo on top, but there's more to the design than first meets the eye.
On closer inspection, the system's lid, palm rest and keyboard tray are finished in a textured chain-like pattern that's somewhat attractive and nice to the touch. And the island-style keyboard - which we'll cover in more detail a little later - is equally pleasant, as is the generously-sized multi-touch trackpad.
Other niceties - including a backlit touch panel above the keyboard, a light illuminating the trackpad and a backlit Satellite logo - suggest that the A660-17T is ready to punch above its £650 weight. The same could be said for the two upward-facing Harman Kardon speakers. Finished in a silver trim and designed to be in full view, the speakers are the first sign of the A660's multimedia credentials.
The system feels sturdy and well built, but it comes across as dull due to its drab use of colour. Measuring 381mm x 254mm x 28-36mm, it's neither particularly thick nor thin, and at 2.5kg in weight, it's exactly what you'd expect from a 16in notebook.
Sure, we'd have preferred a little more contrast and a little less black, but hey, we guess Halloween's coming up, right?
Specification
So what do you get for your 650 gold coins? For starters, plenty of screen size thanks to a 16in Toshiba TruBrite LED-backlit display that provides a standard 1,366x768 resolution.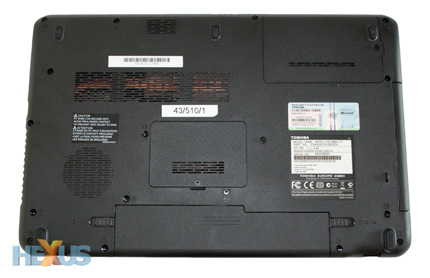 Inside the machine, the power to feed all the on-screen pixels is provided by a 2.26GHz Intel Core i3 350M processor, 4GB of DDR3 memory and integrated Intel HD graphics. If you're in need of a little more graphical grunt, Toshiba does also offer a range of A660 models equipped with an NVIDIA GeForce G310M GPU.
The modest internal components reflect the modest fee, but Toshiba does pad out the spec sheet with a few useful extras.
A 500GB hard disk features as standard, as does a DVD writer, and Toshiba takes the extra step by putting little cherries on otherwise simple features. For example, the eSATA/USB combo port can be used to charge peripherals when the notebook's asleep, and, similarly, you can plug in an MP3 player and play music through the notebook's speakers without having to wake the machine.
Joining the system's eSATA/USB combo port are a further three USB 2.0 ports, 10/100 Ethernet (not Gigabit, sadly), headphone and microphone jacks, a built-in 1.3 megapixel webcam, a multi card reader, both HDMI and VGA outputs, and a 34mm Express Card slot.
As you'd expect from a Satellite, end-user upgrades are catered for through two removable panels that provide one-screw access to both the memory and the 2.5in hard disk.
The hardware's looking good, but how does it hold up during everyday use?