User experience
Keyboard and trackpad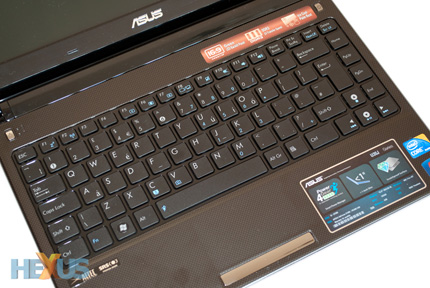 ASUS's chiclet-style keyboard is surrounded in by a nice patterned palm rest, but the combination of the pattern itself, numerous stickers and large key-lettering makes the keyboard come across as cluttered.
Removing the stickers will certainly help make the system appear less busy, but it doesn't quite look like a keyboard that belongs in a £670 machine.
The keys themselves are well-sized and nicely-spaced, but they feel a little shallow to the touch and, in keeping with the system's general build quality, there's a noticeable amount of flex in the keyboard tray when typing.
Those minor qualms don't combine to ruin the experience, however. The size of the keys makes touch-typing a breeze, and there's little faulting the key layout; we particularly like the double-height Enter, although a larger Shift key wouldn't have gone amiss.
The trackpad, too, is very pleasant in use. Sitting flush in the palm rest, the trackpad surface is made to stand out through a textured surface and it feels nice to the touch - almost tingly. In use, it's incredibly responsive and multi-touch gestures are consequently very easy to use. We've been critical of stiff single-bar mouse buttons in the past, but to ASUS's credit, the U35JC features a mouse-bar that feels soft, quiet and responsive.
Ports and software

ASUS's chosen array of ports don't offer anything out of the ordinary, but you do get everything you'd expect. That includes a multi-card reader, headphone and mic jacks, two USB ports, Ethernet and a power connector to the system's right, and VGA output, HDMI and a third USB port to the system's left.

There's no room for an optical drive, sadly, but the layout is simple, clean and sufficient for most users' needs.
The same can't be said for ASUS's pre-bundled software. There's frankly lots of it, as illustrated by the cluttered desktop image below, and though ASUS may think of its bundled utilities and apps as added value, end users may not feel the same way. The arsenal of pre-loaded programs almost makes the U35JC feel second-hand.
For readers who've already placed an order, it's also worth pointing out a specific software quirk. If your system doesn't ship with the latest BIOS, installing NVIDIA's most recent graphics driver will cause your system to hang. We learnt the hard way, but take our advice; upgrade to the latest BIOS before installing any new NVIDIA Verde drivers.
Display, sound and heat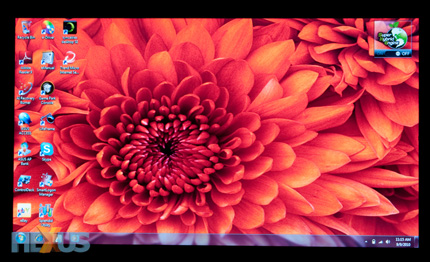 A 1,366x768 resolution feels just right in a 13.3in form factor, and the U35JC's display does a decent job of portraying all those pixels.
Colours are vivid and the screen's plenty bright, but there are a few drawbacks. Black levels are average at best and vertical viewing angles leave a lot to be desired - we found ourselves constantly tilting the display in order to find the somewhat-narrow sweet-spot.
If there's an area in which 13.3in-or-smaller notebooks generally disappoint, it's sound. The U35JC doesn't change that trend. Although the integrated speakers are sufficiently loud, audio output is tinny, lacking depth, and can become muffled when the notebook is used on your lap.
What is useful is that the system remains nice and quiet during light use - you can barely hear it save for the occasional grind of the hard-disk - and it doesn't become particularly noisy under load, either.
Aiding user comfort, the notebook also remains suitably cool. Despite the performance-orientated innards, the U35JC becomes only slightly warm during 2D use. Putting the NVIDIA GPU into action can cause the area surrounding the vent to become warm, but after a 10-minute stress test, we found the system was able to keep GPU temperature under 73°C.