User Experience
Keyboard and trackpad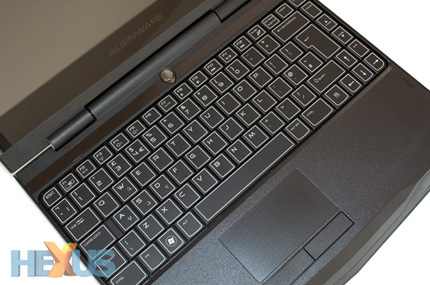 Before we cover the keyboard and trackpad, let's expand on that built-in light show we mentioned earlier.
The M11x features five coloured zones - the Alienware logo, the power button, the status indicators, the keyboard and the front headlights - all of which can be backlit in a colour of your choice.
Colours are controlled through Dell's easy-to-use control panel, and can be set independently for each zone and made to change when running on battery power. It's completely inelegant, surplus to requirements, and yet immensely entertaining. Mouse over the above image to see how it looks lit up in red, blue and green.
Nothing wrong with a bit of fun, and there's not a lot wrong with the M11x keyboard and trackpad, too.
Though the keyboard looks almost entirely flat, each individual key is slightly curved to create a more comfortable experience. It seems to be working, too, as the well-sized and well-spaced keys are excellent in use; providing a shallow bounce and very little noise.
The pedantic in us would point out that the smooth surface can feel slippery at times, and we'd prefer larger up-down-left-right arrows keys, but hey, how many 11.6in notebooks offer a backlit keyboard with literally no flex and comfortable keys adorned in a space-age font?
The trackpad, meanwhile, is a mixed bag. It's suitably large and finished with a nice textured surface, but gestures are limited to one-finger scrolling and pinch to zoom. The buttons, too, aren't quite perfect. Our review sample had trouble registering presses of the left mouse button - we've been having to go back and press the button more firmly. A minor annoyance, but an annoyance nonetheless.
If you're thinking solely in terms of your next Modern Warfare frag, the WASD keys are comfortable to use and USB ports can be found on both sides of the chassis for your external gaming mouse.
Ports and software

There's plenty of room for connectivity options, but the system's right edge keeps it simple with three audio connectors - two headphone jacks and a microphone input - as well as a duo of USB 2.0 ports.

The busier left edge features a Kensington Lock slot, DisplayPort and HDMI output, a third USB 2.0 port, 10/100 Ethernet, a media card reader, a SIM card slot that currently serves no function for UK consumers, and FireWire.
That's almost everything covered, but we had hoped the second revision of this premium notebook would up the ante by including USB 3.0 and Gigabit Ethernet.
The loss of VGA connectivity may be an issue for some users, and there's also no integrated optical drive. An external solution is available as a £61 optional extra, but if you're eyeing up the M11x as a mobile gaming rig, now might be a good time to start buying digitally-distributed titles.
Display, sound and heat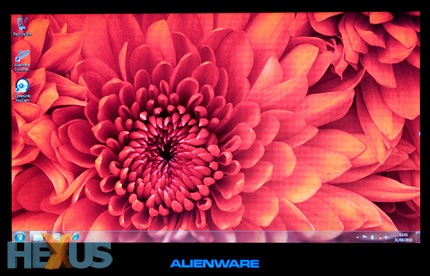 11.6in notebook displays have a tendency to be average at best. Fortunately, the panel used in the Alienware M11x is better than most, albeit still far from perfect.
Horizontal viewing angles are decent, but vertical viewing angles are poor. Black levels appear to be good, colours are reproduced accurately enough, but overall contrast feels lacking.
And, whilst the 1,366x768 resolution helps the desktop feel both spacious and sharp, the overall package is let down by an incredibly-glossy surface. That, combined with a large glossy bezel, ensures you spend more time looking at your own reflection than the on-screen image.
Sound output, as you might expect, is very tinny and lacking depth, but the M11x surprises with high volume and its ability to retain clarity.
What's particularly enjoyable is the fact that our review sample - equipped with a 256GB solid-state drive - is practically silent during light use. The internal fan only becomes audible when the system is tasked; by playing 3D games, for example.
Given the choice of internal components, we were expecting heat to be an issue. The fact that said issue never arose is testament to Dell's design. Whilst gaming, the notebook stayed cool to the touch and showed no signs of becoming uncomfortably warm. Pushing it further, we ran the GPU-busting Furmark stress test for a full ten minutes and recorded a modest GPU temperature of just 66°C.
The system's cooling is obviously doing a decent job during gaming, as evidenced by the large amounts of hot air being rapidly exhausted from a rear vent.