User experience
Keyboard and trackpad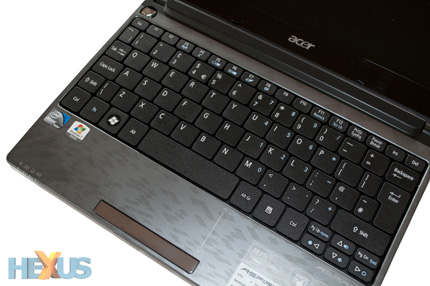 The Flake pattern looks particularly cool on the palm rest and keyboard surround, and the transparent power button housed top-left is a nice touch, too.
It's easy on the eye, but how does it fare under the fingers? Well, it's something of a mixed bag.
The keyboard's nicely sized - and we appreciate the large right-shift and enter keys - but its chiclet layout is completely flat and the keys themselves are very closely spaced.
The close proximity of the keys can take some getting used to, and we'd certainly be willing to sacrifice a little in terms of key size in favour of spacing, but the typing experience after a bit of practise is pleasant. The keys feel soft to the touch, and though there are signs of flex - particularly toward the middle - it isn't enough to hamper the experience.
We like the inclusion of dedicated page up and page down keys, but if we were being picky - and we are - we'd add that we prefer our function keys to provide pre-defined special actions as default.
The keyboard's good, albeit not quite perfect, and it's joined by a nice, large multi-touch trackpad.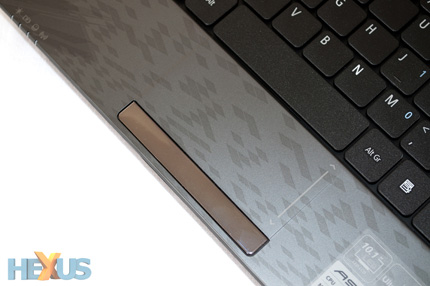 Measuring around 80mm x 40mm in size, the new trackpad's notably bigger than last year's D250 implementation and the extra room makes gestures - including two-finger scroll and pinch to zoom - all the more usable.
The trackpad's also raised above the palm rest ever so slightly, to help ensure you don't lose track of it in the dark, and its accompanied by a single mouse bar. The mouse bar does the trick, but it is a little too "clicky" for our liking, and as we've stated before; we'd take two dedicated buttons over a single bar any day of the week.
There's still room for improvement, but this is in our estimation Acer's best 10in keyboard and trackpad to date.
Ports and software


There's little to see along the front and rear edges of the D260, with just four small LEDs residing on the front-left edge to provide at-a-glance power, battery, hard-disk and wireless status.


To the sides, there's the standard array of netbook connectivity options.
The left edge provides a power socket, VGA output and two USB 2.0 ports, whilst the right side sports a multi-card reader, headphone and mic jacks, a third USB 2.0 port, a Kensington lock slot and 10/100 Ethernet.
There's no dedicated hardware switch to enable/disable wireless radios, but the FN+F3 keyboard shortcut will do the trick.
On the software side of things, Acer pre-loads the Aspire One D260 with a bevy of third-party utilities. All of the usual suspects - Windows Live Essentials, Adobe Flash Player, Adobe Reader, McAfee Internet Security and a trial of Microsoft Office 2010 - are present, but Acer throws in a bagful of other programs, too.
These include Norton Online Backup, Google Toolbar for Internet Explorer, Egis MyWinLocker, eSobi news reader, a shortcut to eBay on your desktop, a bunch of Acer utilities, and a selection of game demos you've never heard of; including Chicken Invaders 2, Farm Frenzy 2 and Granny in Paradise (we're not making these up).
We come to expect a fair share of bloatware on most modern notebooks, but it's particularly painful on a low-power netbook, where the bombardment of applications can make the system feel even more sluggish.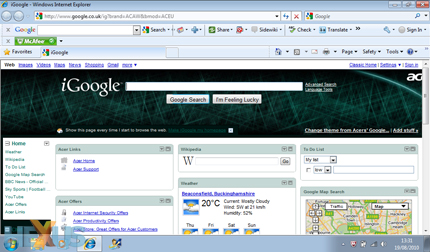 The Aspire One D260 takes over a minute to boot into Windows, and loading simple applications such as Internet Explorer is annoyingly slow due to the pre-loaded toolbars.
Making matters worse, the Google and McAfee toolbars - pictured above - occupy a chunk of the already-limited desktop real estate and make the web-browsing experience feel all the more cramped.
Nothing a few uninstalls wouldn't solve, of course, but between Acer asking you to register your product, McAfee constantly prompting you to activate your security and Norton encouraging you to entrust your data to the cloud, the out-the-box D260 experience can be frustrating.
Display, sound and heat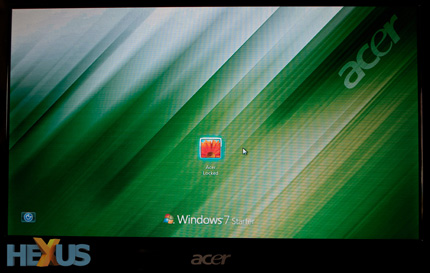 Displays on 10in netbooks have come a long way in recent years, and like most modern systems, the Acer Aspire One D260's LED-backlit, 1,024x600 glossy screen is generally pleasant.
The image is bright - although colours could be a tad more vibrant - and horizontal viewing angles aren't bad. It's best enjoyed head-on, and it's in keeping with most other aspects of a netbook PC; i.e. sufficient.
Sound, albeit not particularly loud, is crisp and clear, and the angled position of the bottom-mounted speakers helps ensure that audio output isn't overly muffled during lap-top use.
Last but not least, the system manages to keep cool under use - with the base turning only mildly warm - and it's nice and quiet, too. The system's practically silent when idle, and when the internal fan does kick in it produces little more than a soft hum.