Introduction
Intel's Atom and CULV platforms have been the mainstay of ultra-portable notebooks for the past year or two, but there's now a new kid on the block that's hoping to unsettle the established order.
Launched back in May, AMD's Nile platform - consisting of low-power Athlon processors coupled with a new M880G chipset and integrated ATI Radeon HD 4250 graphics - created a solution that, on paper at least, shows plenty of merit.
And we're clearly not the only ones who think so. Following the arrival of AMD's new parts, the industry's biggest names showed their support with the launch of numerous supporting systems. One of which is the new Dell Inspiron M101z.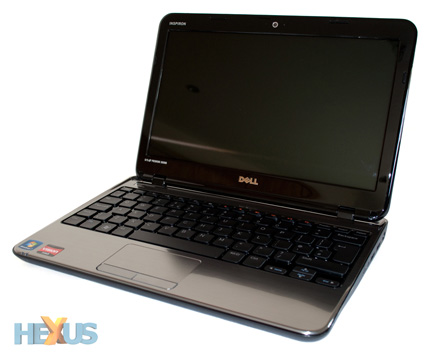 Launched as Dell's smallest AMD-powered notebook, the Inspiron M101z is something of an alternative to the Intel Atom-powered Inspiron Mini 10 and Intel CULV-based Inspiron 11z.
Priced from £379, the system can be configured with a dual-core processor, up to 4GB of RAM, 320GB of storage and Radeon HD 4000-series graphics; seemingly everything you'd want in what's shaping up to be the perfect ultra-portable.
Design
10in and 11in notebooks have a tendency to look cheap and plastic-like in appearance. Fortunately, the same can't be said for Dell's Inspiron M101z.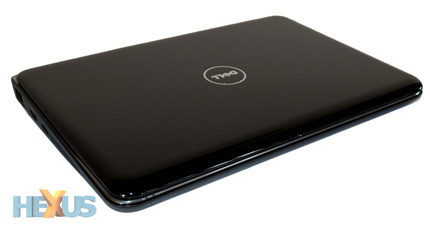 Adopting the same curved edges of the larger Inspiron 15R, the new M101z is one of the tidiest 11in systems we've seen.
Available in a choice of Clear Black, Peacock Blue, Tomato Red or Lotus Pink finishes - of which the latter trio fetch a £19 premium - the system is sleek in appearance, with our black review sample looking particularly smart with its smooth, glossy lid and silver accents.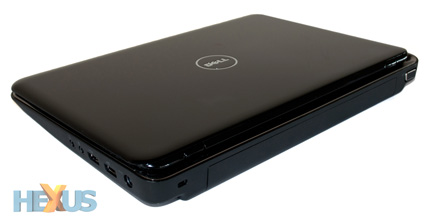 Though, despite the fact that AMD's gunning for the ultra-thin segment, the Inspiron M101z doesn't quite fall under that particular umbrella.
Like many of Dell's recent notebooks, the six-cell battery has been kept flush within the chassis at the expense of overall thickness. Yet, despite measuring a relatively chunky 35mm at its thickest point, the system's small enough to be ultra-portable and it's light, too, weighing in at 1.57kg.
On another positive note, the M101z's bulkier-than-normal frame has an obvious benefit; the chassis is incredibly rigid, and there's nary a sign of flex in the main body. You don't expect light, plastic 11in systems to feel so sturdy, but this little Inspiron's robust frame is a testament to Dell's build quality.
And that quality is extended throughout the notebook. Inside, a brushed metallic palm rest is particularly easy on the eye, and both the keyboard and trackpad offer a marked improvement over Dell's previous designs. More on those later.
Specification and upgrades
The starting price of £379 might have caught your eye, but for that sum you're restricted to a single-core Athlon II Neo K125 processor, 2GB of DDR3 memory and a 250GB, 5,400rpm hard disk.
Our review sample - Dell's top-end model - features a dual-core Athlon II Neo K325 processor, 4GB of DD3 memory, a quicker 320GB, 7,200rpm hard disk and a premium £499 price tag. That's clearly more than your average Atom or CULV-based machine, and more in line with full-size notebooks such as the Intel Core i3-powered Inspiron 15R.
It's a lofty amount for an 11in machine, but for your money you do get a useful 1,366x768 display resolution, stereo "SRS Premium Sound" speakers, a built-in 1.3 megapixel webcam and a 64-bit install of Microsoft's Windows 7 Home Premium operating system.
Three USB ports feature as standard, as do Ethernet, VGA and HDMI connectors, and you get Wireless N and Bluetooth connectivity as standard, as well as a 3-in-1 card reader.
Nothing out of the ordinary, but it's worth remembering that a system of this size offers no room for an integrated optical drive. Dell instead offers an external USB DVD writer as a £60 optional extra.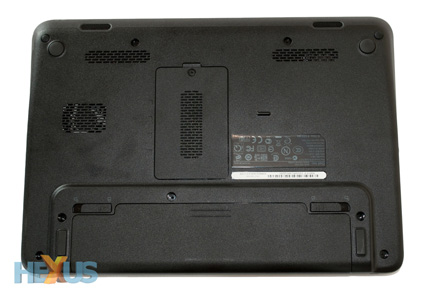 As for end-user upgrades, a rear panel provides easy access to the system's memory slots, but swapping out the hard disk is a little more tricky - you'll only get access to that by lifting out the keyboard.
From the outside, it's everything you'd expect from an 11in system delivered in a very tidy package. Let's see how it fares under the lid.