Introduction
Say you're in the market for a new gaming rig, and, for argument's sake, let's assume you'll be spending most Friday nights at a LAN party. What do you buy?
Traditionally, the performance-seeking gamer would opt for a mid-to-big-type desktop, preferably with a carry handle and a decent serving of neon LEDs.
Today, things have moved on, and you can get gaming power in a much more portable form factor; the notebook.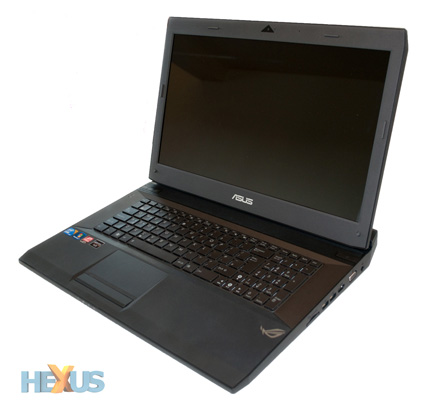 You've seen gaming notebooks before, of course, but this here is ASUS's latest powerhouse; the G73JH.
The name won't tell you a whole lot, but as part of ASUS's Republic of Gamers brand, it promises to provide "the power and authority of a desktop rig" in "a total package for dedicated gamers".
And it might just deliver. As for a mere £1,630, you get a 17.3in system equipped with an Intel Core i7 processor and AMD ATI Mobility Radeon HD 5870 graphics.
What's more, you get it in a design that ASUS reckons is inspired by the F117 stealth bomber. If you're talking about the aircraft's sharp lines and strangle angles, we can see the resemblance.
Design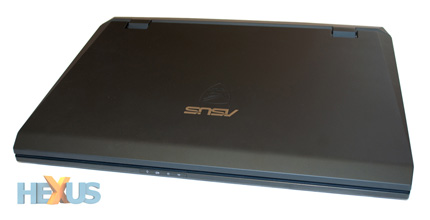 Finished in matte black, the G73JH certainly looks the part.
Thanks to a sumptuous rubberised lid, the notebook does away with the stereotypical gaming design in favour of something - dare we say it - far more cultivated.
Measuring a sizeable 420mm x 310mm x 18.9mm-56.8mm and weighing almost 4kg, the beast's about as formidable as they come, so you needn't worry about striking fear into the heart of your gaming foes.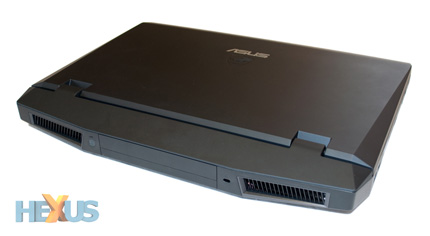 And if the sharp, sloping front doesn't make you grin, the Lambo-like rear exhausts are certain to elicit a reaction. Utilised by two internal fans, the rear vents are tasked with keeping the hot-running internal components cool under load. What's particularly promising is that ASUS claims the cooling solution is "deadly silent". More on that later.
There's clearly plenty of cool factor here, and the sheer scale of the system practically ensures a certain level of build quality. There's hardly a hint of flex in the main body and the display hinges are suitably sturdy. Everything a growing gamer needs.
Specification and upgrades
The ASUS G73JH touts a mixture of innards that combine to create one of the fastest notebooks available.
At the heart of the system resides a 1.6GHz Intel Core i7 720QM processor. That's paired with a massive 8GB of DDR3 memory and a discrete AMD ATI Mobility Radeon HD 5870 GPU equipped with a 1GB frame buffer.
Sounds about as good as most gaming desktops, but don't let the component names confuse you. The mobile Core i7 720QM processor may be quad-core and hyper-threaded, but it comes clocked at a mere 1.6GHz - comfortably slower than even the most basic desktop Core i7 part.
Similarly, the GPU isn't quite what it seems. Differentiated simply by the word "Mobility", the chip is a cut-down equivalent of the desktop card. Talking numbers, a desktop Radeon HD 5870 graphics card provides an 850MHz core, 1,200MHz GDDR5 memory, a 256-bit bus width, 1,600 shaders, 80 texture units and 32 ROPs.
In order to keep within the thermal restraints of a notebook environment, the Mobility version of the same-name chip provides a slower 700MHz core, slower 1,000MHz memory, and literally half of everything else; a 128-bit bus width, 800 shaders, 40 texture units and 16 ROPs. In reality, the chip's specification is closer to the desktop's mid-range Radeon HD 5770.
Don't expect performance to match your Core i7/HD 5870 desktop, then, but there's still a fair amount of power on offer here. Rounding off the key areas of the spec sheet is a lovely 17.3in full-HD 1,920x1,080 display, a built-in Blu-ray drive, a 2.1 speaker system and 1TB of storage made available through dual 500GB, 7,200rpm hard drives.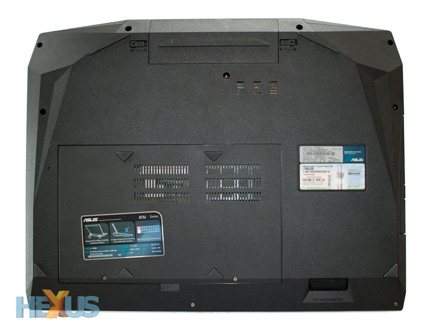 End-user upgrades are well catered for, too. If the standard configuration just doesn't do it for you, a detachable plate on the notebook's underside reveals access to the hard disks and DDR3 memory modules - all of which can be swapped out with ease. There's no RAID controller, though, so don't get ideas of striping your disk drives for increased performance.