Introduction
MSI is developing itself a proud history of netbook computers, but whilst the Taiwanese manufacturer's original 2008 foray - the Wind U100 - took the concept of cheap and cheerful all too literally, its 2010 successors hope to introduce an added sense of sophistication.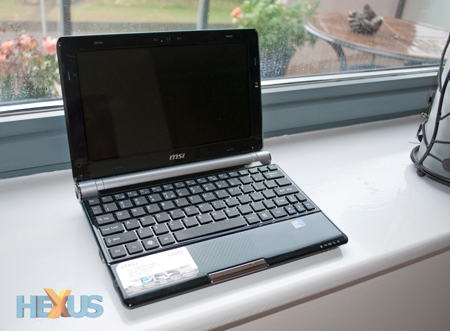 Take for example the MSI Wind U160, a modern netbook that aesthetically, at least, doesn't reflect a relatively paltry £330 asking price.
First unveiled at January's Consumer Electronics Show, the system abandons the Wind's traditional clamshell design in favour of something more sleek and refined.
Measuring under 20mm at its thickest point, it's MSI's thinnest-ever netbook and our review sample - equipped with a useful six-cell battery - weighs just 1.2kg, making it small, ultra-thin, ultra-light and suitably portable in every sense.
Design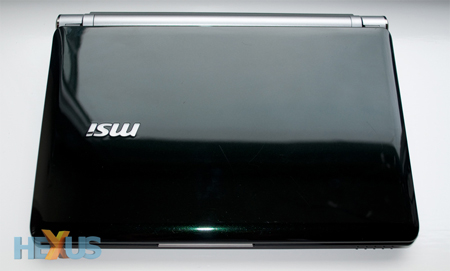 Available in "Fancy Gold" or "Jet Black" finishes, it claims to be an object of desire, and it is admittedly very easy on the eye.
At the heart of the system, a cylindrical hinge - finished with a backlit power button at the right end - offers a premium feel, and the MSI logo atop of the lid illuminates in a subtle shade of white.
It's all nicely done, and whilst the Jet Black colour scheme may not have the pizzazz of Fancy Gold, its clean lines and glossy lid combine to great effect - making this one of the better-looking netbooks on the market.
Though, whilst a glossy, reflective surface is visually appealing, the Wind U160 is notably prone to finger prints and MSI's "scratch-resistant enamel" finish isn't quite as sturdy as it sounds. Click on the above image for a larger view and you'll notice that our review sample is already showing small signs of wear and tear.
And, as with arguably all netbooks, there are a couple of design quirks to be wary of. Most notably, MSI's six-cell battery protrudes from the body of the chassis by approximately 25mm and prevents the display from rotating back further than around 130 degrees.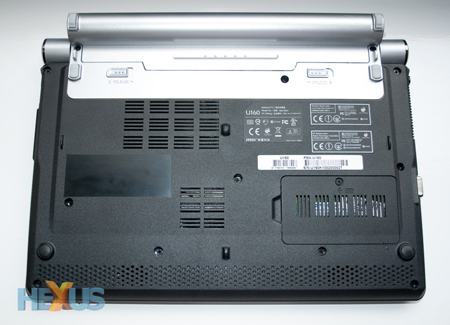 The result is an aesthetic eyesore, but to MSI's credit, the blemished design does surprisingly enhance the system's usability in another way. By propping up the netbook, the extruding battery creates an inclined typing experience that's most agreeable when used on your lap or on a desk.
Favour fashion over form? MSI does offer a flush three-cell battery, and rival solutions - such as Dell's Inspiron Mini 10 - feature an integrated six-cell battery at the expense of overall thinness.
Specification and upgrades
In keeping with most netbooks, the Wind U160 packs a combination of familiar internal components, including; a 1.66GHz Intel Atom N450 processor with integrated GMA 3150 graphics, 1GB of DDR2 memory, a 250GB hard disk and a 10in display that offers a basic 1,024x600 resolution.
That's joined by down-firing stereo speakers, three USB ports, Ethernet, Wireless N and Bluetooth connectivity, and an integrated 1.3 megapixel webcam. Underneath the battery, a SIM card slot suggests a model with 3G support could also be in the pipeline.
Everything you'd come to expect from a budget system, and users can carry out post-purchase upgrades if needed. A small, removable panel provides quick access to a single DIMM slot, allowing you to upgrade from 1GB to a maximum of 2GB of DDR2 memory, and with a little more work, the entire back panel can be removed for those wanting to swap out the hard disk.
It has the looks, it's reasonably rigid and well built, and it's designed to provide masses of battery life (up to 15 hours according to MSI's estimations). More on that lofty claim a little later.