Yukon
Yukon



The Yukon platform has had an interesting history. Born out of the Kite Refresh and Puma platforms, announced a year ago, we spoke to AMD's Patrick Moorhead, in November 2008, on the company's plans for the ultra-mobile notebook space. The idea behind Yukon, and its successor Congo, was to exploit a gap in the market characterised by a lightweight, feature-rich laptop with an attractive street price.

Comprising of a single-core Athlon Neo CPU in a small-package form-factor - 27mm x 27mm x 2.5mm - the 1.6GHz-clocked MV-40 chip's paired with an AMD 690E mainboard with integrated Radeon X1250-class graphics that support DX9/SM2.0b. In effect, Yukon is a shrunken-down iteration of older AMD technology, albeit with the considerable benefit of consuming less power and presenting a thinner form-factor. AMD quotes a maximum TDP of 15W for the chip and 8W for the chipset, keeping it in line with Intel's CULV parts but significantly above Atom's 2.5W/9W.



HP Pavilion dv2



HP's manifestation of Yukon is the Pavilion dv2, available in three configurations, starting with dv2-1010ea at £499, including VAT. It ships with the same 12.1in screen (1,280x800) screen, Athlon Neo MV-40 processor, and 690E chipset as the £599 dv2-1030e, and £699 dv2-1035ea, but does without the benefit of a discrete graphics card - Mobility Radeon HD 3410 512MB - and larger RAM, hard-drive, and more software. With sleekness a key selling point, the triumvirate of dv2s all ship with external optical drives, too.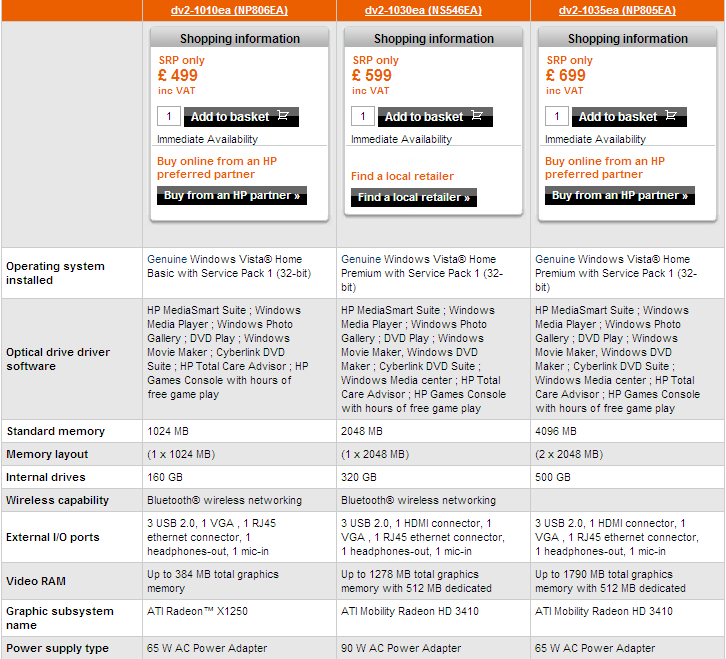 The current pricing may well change a little on the back of price-drops in the US. Ignore the 90W AC adapter for the 1030ea; it ships with a 65W Lite-on.