Introduction
When reviewing the Spin 5 laptop last month, we referred to Acer as "a go-to brand for customers seeking a half-decent laptop that doesn't break the bank." With that in mind, Acer seems to be the ideal home for AMD's mobile Ryzen processors.
Continuing the good work of desktop Ryzen, the mobile equivalents combine AMD's latest quad-core CPU technology with Radeon Vega graphics in a single-chip design that's well suited to thin, modern laptops offering plenty of all-round goodness. We've been itching to see mobile Ryzen at work, so when Acer offered to send in the AMD-powered Swift 3, HEXUS jumped at the opportunity to put the 15.6in machine through its paces.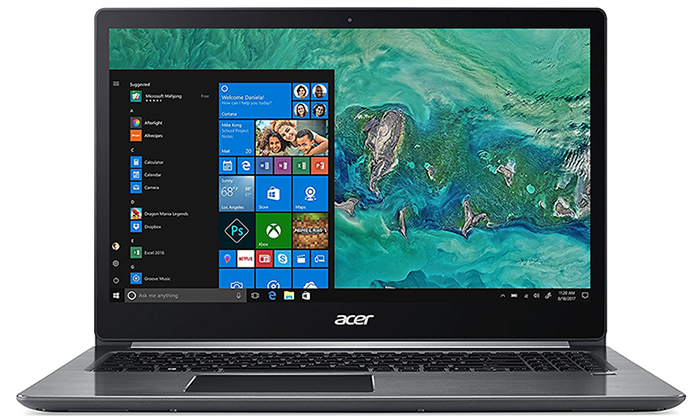 Now available with a tempting price tag of £700, the Swift 3 (model SF315-41-R7EQ) holds plenty of promise, but AMD fans will no doubt be reading with a sense of trepidation. In recent times we've become accustomed to the major players treating AMD laptops as second-class citizens. Dated-looking designs, stifling single-channel memory and poor battery optimisations are just some of the common complaints, and many of these deal-breaking niggles are already starting to appear on the first of the latest-generation Ryzen crop.
AMD Ryzen vs. Intel Core
Thankfully, Acer is taking things seriously and at first glance, Swift 3 gets a lot right. The 15.6in chassis is practically the same between Intel and AMD variants, with decent build quality - there's a bit of flex near the centre but nothing to get in a twist about - plus a grey colour scheme that appears elegant without being overly susceptible to fingerprints. This is no Surface Book, granted, but Swift 3 pricing is far more palatable and the overall profile is reasonably modern - Acer's machine measures a hair under 19mm at its thickest point and tips the scales at just over 2kg.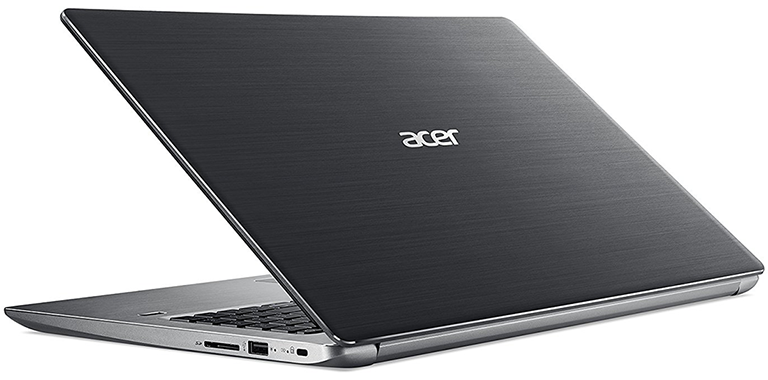 The pleasant exterior is all well and good but what makes this particular Swift 3 intriguing is the choice of internal hardware. At the helm, Acer has installed an AMD Ryzen 5 2500U processor. The 15W chip, designed to compete with Intel's Core i5, offers four physical cores and eight threads courtesy of simultaneous multithreading, with the ability to opportunistically boost to speeds of up to 3.6GHz.
Sounds like a ready-made alternative to the Core i5-8350U, but whereas the Intel chip comes to the table bringing frugal UHD 620 graphics, Ryzen 5 2500U is armed with a Vega 8 IGP that promises to raise the bar for onboard laptop visuals and introduce a smidgen of games-playing potential. Ensuring there are no obvious blunders in the supporting cast, the AMD processor is paired to 8GB of dual-channel DDR4 memory operating at 2,400MHz while storage is provided by a 256GB SK hynix M.2 SSD.
Display, Audio and Connectivity
You're itching to see the benchmarks, we know, but chip capabilities alone don't make a good laptop. For its display, Acer has opted for a 15.6in IPS panel with a full-HD 1,920x1080 resolution. Viewing angles are decent and the resolution is a good fit at this segment, however there are some caveats to be aware of; the bezels are a bit on the thick side, there's no touchscreen support, and as we'll confirm with the benchmarks, brightness and colour accuracy are below average.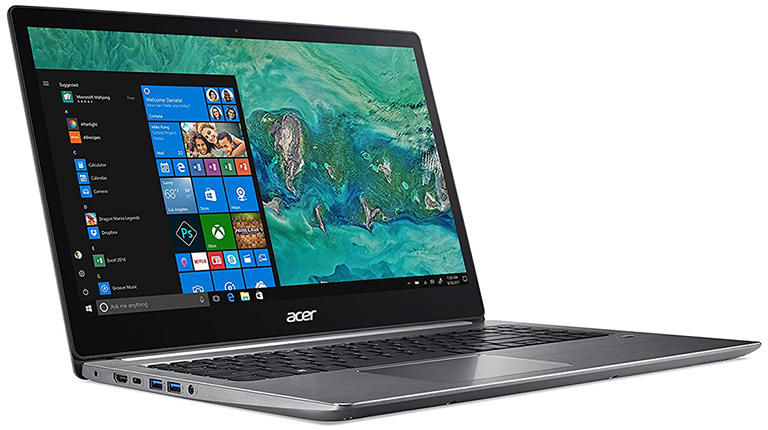 A touchscreen is something you may miss, particularly if your current laptop has the facility, and it's a shame Acer's speakers are downward-firing. Located near the bottom-front edge, the stereo pair provide plenty of volume, reasonable clarity and hardly any bass, which is to be expected from a mainstream laptop, yet while sound output is decent when the system is placed on a desk, the speakers are inevitably stifled when used on your lap.
In terms of I/O, Swift 3 has most bases covered. The laptop's left side is home to an audio jack, dual USB 3.0, USB 3.1 Type-C, HDMI and a connector for the small 45W external power supply. Over on the right side there's an SD card reader, USB 2.0 and Kensington lock. Nothing particularly fancy - there's no support for Thunderbolt and the basic webcam doesn't support Windows Hello - but the connectivity options are ample for most users.
Input and Software
Continuing the pleasant overall feel, the full-size keyboard is satisfactory with just enough travel, a quiet action and even backlighting throughout. The downsides are a somewhat cramped layout and only one backlight setting - it's either on or off - and the fingerprint sensor is a tad sluggish, but there's little to dislike about the accompanying precision trackpad, which is well-sized, responsive and accurate when using gestures.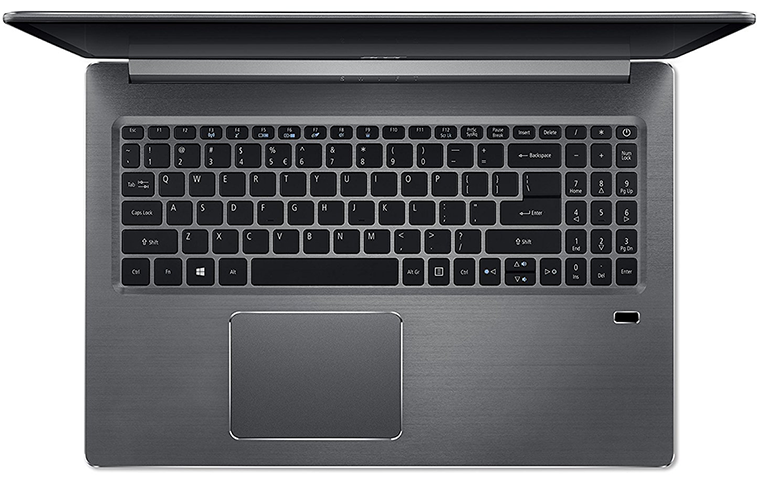 We have the makings of a solid 15.6in PC for both work and play, but fan noise could be problematic. You can barely hear the laptop when idle, yet there's a steady hum that is noticeable during demanding 2D or 3D load, and whether or not you consider it loud depends entirely where you're coming from. Users with an ageing machine full of dusty spluttering fans will deem Swift 3 relatively quiet, but you'll certainly notice the noise if you've experienced a passively cooled laptop.
Last but not least, Acer's hardware is reasonably refined, however the usual forewarning applies to Swift 3's software configuration as there's a fair amount of bloatware sat atop the Windows 10 operating system. Expect a slew of ad-heavy games, Norton Security, PhotoDirector, as well as shortcuts to websites such as booking.com and ebay, to name but a few. Ready for those benchmarks? Let's get to it.