Introduction
The gaming laptops that hog the headlines cost many thousands of pounds and have little difficulty tearing through the benchmarks. Trouble is, few of us are willing to spend such lavish amounts, so for all those who live life outside of enthusiast circles, how do the more affordable gaming laptops compare?
We have a couple of lower-cost units lined up for review, starting today with the Asus ROG Strix GL753VD. It's fair to say that Asus ROG isn't a brand you you normally associate with value for money, but at £1,100 the GL753VD is the cheapest 17.3in gaming laptop we've tested in quite some time.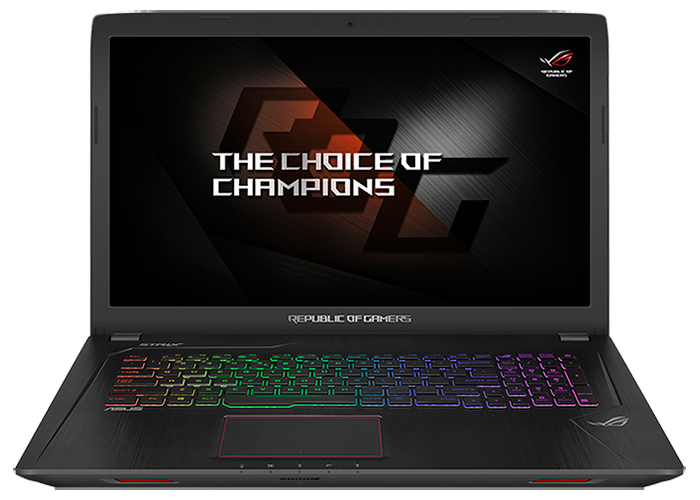 It's a sign of the times that £1,100 can be considered low-end, but when you consider that high-end alternatives can often cost two or three times as much, the GL753VD is relatively inexpensive. Dipping down to these price points naturally results in trade offs in some areas, and overall rigidity is one of them - Asus's 415mm x 273mm x 30mm chassis employs a fair amount of plastic and exhibits noticeable flex, particularly near the centre of the keyboard. Build quality can therefore be described as adequate but not outstanding, yet on the flip side a total weight of 3kg makes the laptop reasonably portable.
Unabashed in its desire to appeal to gamers, the GL753VD adopts a design aesthetic that will no doubt elicit a like-it-or-loathe-it approach. The form factor is about right for a 17.3in gaming machine, but the not-quite-red, not-quite orange branding on the lid is a tad garish, and when combined with the shiny surrounding paintwork you have a gamer look-and-feel that can be deemed an acquired taste.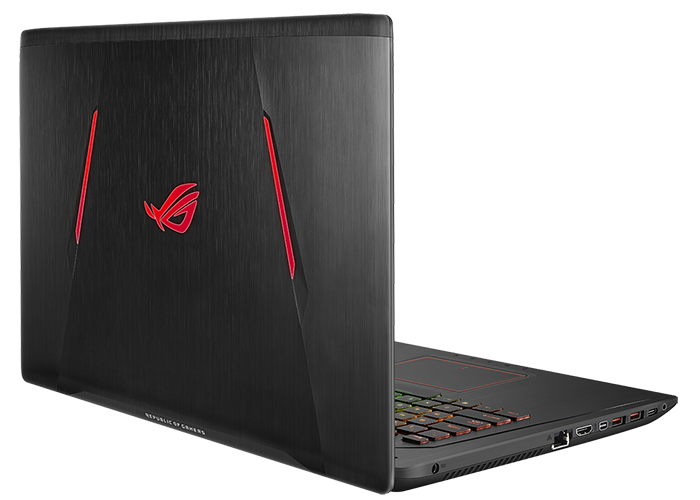 Performance often trumps style or build quality when it comes to gaming laptops, so what sort of hardware can you expect from a more mainstream solution? Well, at the helm is a quad-core Intel Core i5-7300HQ whose 3.5GHz top speed bodes well for gaming and the CPU is joined by 12GB of DDR4 memory and Nvidia GeForce GTX 1050 4GB graphics. Asus's 8GB + 4GB memory arrangement is somewhat peculiar, but storage takes a more traditional approach with a 128GB SanDisk M.2 SSD serving as the system disk while a 1TB Hitachi hard disk provides secondary storage.
Premium display features such as touchscreen input or G-Sync adaptive framerate technology haven't made the cut, however the 17.3in IPS panel - identified as LGD04E8 - offers good viewing angles, 60Hz refresh, a full-HD resolution (1,920x1,080) and a matte coating that helps minimise reflections. The same panel is employed by a fair few 17.3in systems and delivers a solid experience without excelling in any one area.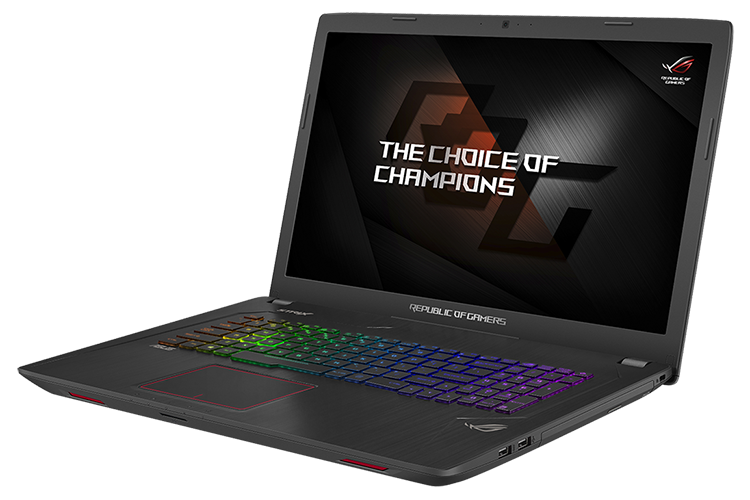 Forward-firing stereo speakers deliver plenty of volume but little in the way of bass, while the chiclet keyboard and multi-touch trackpad meet our expectations of a gaming laptop. The former offers a generous 25mm of travel, RGB backlighting and an integrated numpad, while the latter is well-sized and responsive.
A 64-bit install of Windows 10 is to be expected, and so too is a sprinkling of customary bloatware. We've experienced frequent nagging from the likes of Asus app giftbox, Asus product registration and McAfee LiveSafe, but all of these are easily removed via control panel.
It's important on a 17.3in laptop to put the space to good use and Asus has the GL753VD well stocked with ports and connectivity. In addition to built-in Wireless AC, the left side is home to a connector for the 120W external power supply, Gigabit Ethernet, HDMI, mini-DisplayPort, a pair of USB 3.0, USB 3.1 Type-C and an audio jack. Over on the right side you'll find two USB 2.0 ports and a DVD writer (remember those?), while an SD card slot is tucked into the front edge.
A generous selection, though the use of a low-capacity 48Wh battery raises question marks over battery life, and there are concerns that the £1,100 price point may not be quite low enough. Raising the budget by another £100 opens the door to the ROG Strix GL702VM, which while outfitted with a last-generation CPU offers GTX 1060 graphics and G-Sync visuals for only a little extra. Choosing between the two will depend heavily on the real-world potential of the GL753VD's GTX 1050 GPU, so how about we fire up them benchmarks?