Introduction
Not a fan of the Founders Edition? Find the MSI Gaming X and Asus ROG Strix OC a little too pricey? Fear not, there are plenty of other GTX 1060s making their debut during launch week. Scan Computers has 21 unique models already listed, while Overclockers UK has 29, and stock levels appear reasonable with prices ranging from £230 to £320.
Sitting nearer the middle of the pack is the Palit GeForce GTX 1060 Super JetStream, a £270 offering that touts a factory overclock on core and memory, a meaty dual-fan cooler and value adds such as dual BIOS and onboard RGB LEDs.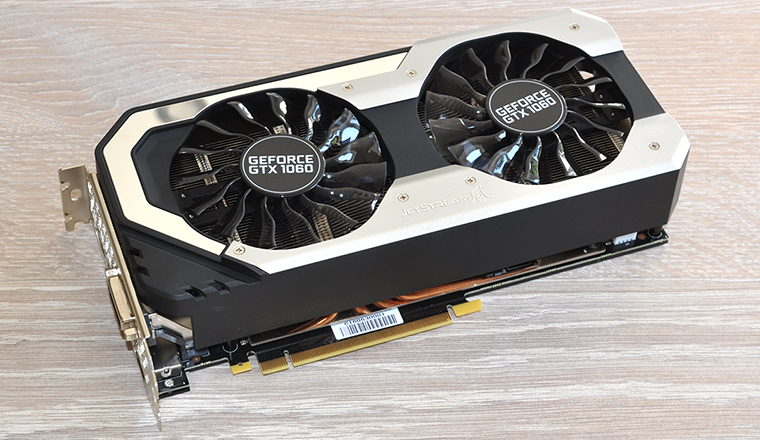 Measuring 248mm in length and 123mm in height, Palit's bulbous design is shorter than some of the heavily overclocked GTX 1060s on the market, however it is noticeably stout, occupying the best part of three expansion slots. We have, in the past, criticised cards for spilling into a third slot unnecessary, but given that the GTX 1060 has omitted support for SLI, we don't see the 2.5-slot form factor posing much of a problem in this instance.
Palit's black-and-silver colour scheme is simple and easy on the eye, however the large expanse of black on the sides of the shroud do make the card seem particularly chunky. And if it's a premium look and feel you're after, the Super JetStream may fall short of the mark as the shroud's liberal use of plastic material introduces a certain amount of flex in parts.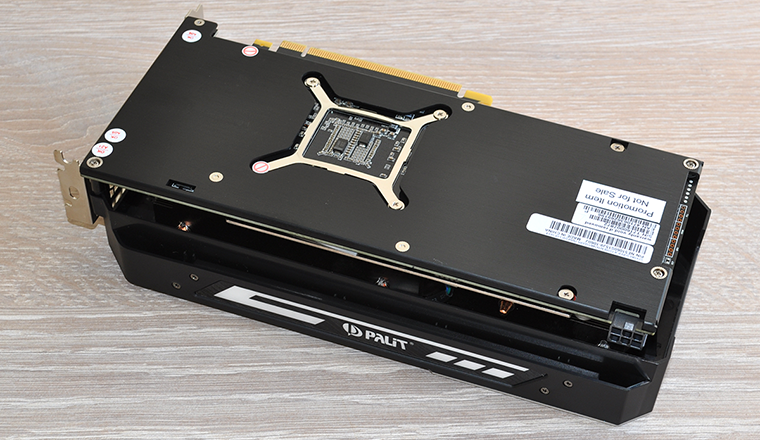 If you consider shipping speeds to be far more important than aesthetics, you're in luck as Palit's range-topping GTX 1060 is configured with out-the-box base and boost frequencies of 1,620MHz and 1,848MHz, respectively. Memory, too, is overclocked from 8,008MHz to 8,208MHz, making the Super JetStream specification an exact match for the pricier Asus ROG Strix OC.
A full-length backplate reinforces the black PCB, and though we've seen other manufacturers attach an eight-pin connector for supposed additional headroom, Palit refrains and sticks to a single six-pin connection that's in keeping with Nvidia's reference design. One other element of note is the small Dual BIOS switch - it's tucked, somewhat awkwardly, behind a slit in the backplate and serves as a fail-safe should you choose to tinker.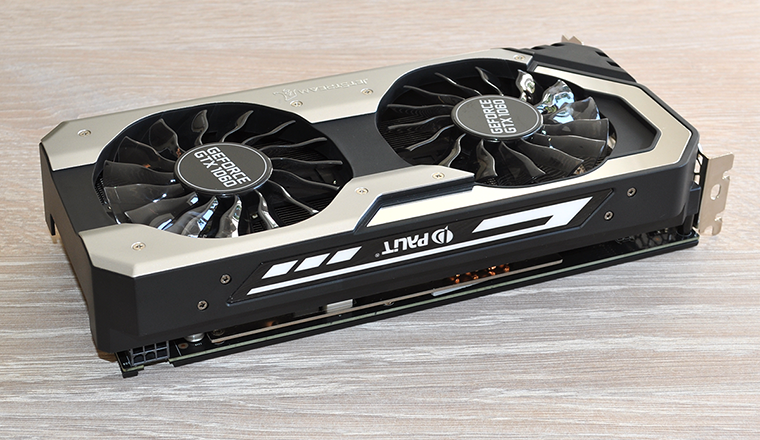 Our experience with other custom GTX 1060s suggests that cooling the 200mm² Pascal GPU is easy enough, and Palit's dual 90mm fans should make light work of moving heat away from the core. Both fans switch off entirely when temperature falls below 50ºC, at which point a rather large heatsink and four copper heatpipes are deemed sufficient.
As is the case with most modern GPUs, there's built-in RGB illumination for those with windowed chassis. Palit's implementation sees the brand logo and accompanying pattern on the top of the card backlit in a choice of colours. It's an effect that works quite well, and the optional Thunder Master software utility can be used to change colour, apply effects or turn off the LEDs entirely.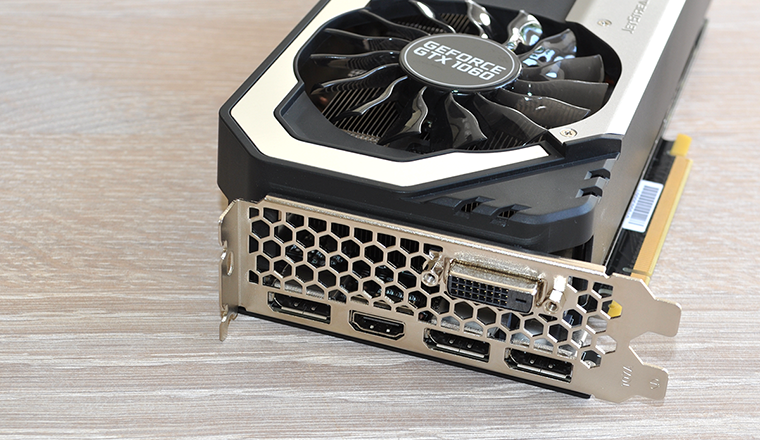 Elsewhere, a honeycomb pattern on the I/O bracket is said to allow the heat generated from the GPU to be exhausted out back, and the design doesn't come at the expense of ports. Sticking to Nvidia's default selection, the Super JetStream provides dual-link DVI, HDMI 2.0b and a trio of DisplayPort 1.4.
Palit's two-year warranty is 12 months short of what's on offer from the likes of Asus, Gigabyte and MSI, but the firm's highest-clocked card typically undercuts the competition. Is the GTX 1060 Super JetStream worthy of consideration at the £270 price point? Let's fire up the benchmarks and see.