Introduction
Wanting to spend up to £300 on a shiny new GPU? AMD's Radeon RX 480 and Nvidia's GeForce GTX 1060 are the two latest-generation parts vying for your hard-earned cash, and though both have plenty going for them, it's the latter that comes in a wider choice of flavours.
While fans of the RX 480 patiently await a Nitro, or indeed any other custom-cooled alternative, Nvidia's army of partners has already unleashed a tidal wave of diverse GTX 1060s. All the big names are lining up to send their cards in for review - heck, we may even have to turn some away at this rate - and though retail volume remains something of a question mark during launch week, there's no shortage of non-reference designs. First on the HEXUS test bench is the MSI GeForce GTX 1060 Gaming X.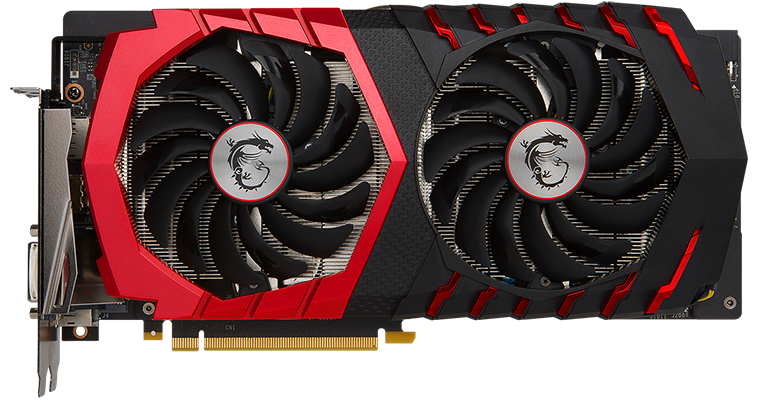 Priced at £300 on the nose, MSI's Gaming X is one of the most expensive GTX 1060s on the market, and if you think you've seen this cooler before, you'd be right. The same dual-fan design has already been employed on GTX 1080 and GTX 1070 variants, and given that it's an excellent cooler well suited to high-performance parts, MSI sees fit to repurpose the same heatsink and shroud for this more affordable sibling.
The cut-down GTX 1060 GPU could, of course, be coaxed into much smaller boards, but it makes sense for MSI to stick to a tried-and-trusted solution and gamers whose budget doesn't stretch to top-end parts will appreciate the fact that this third-rung offering is built equally as well.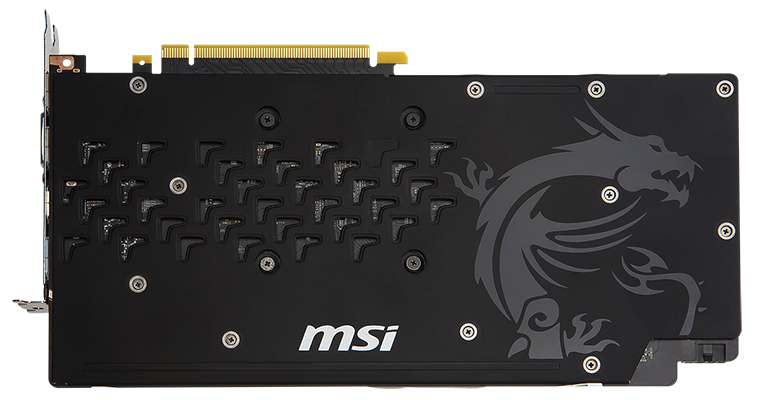 The Gaming X card feels as good as it looks, with a practically full-size metal backplate covering the large, custom, six-phase PCB. Overall dimensions stand at 277mm x 140mm x 39mm, while weight is recorded as 1.02kg, and common sense would suggest that cooling the underlying 200mm² die will be child's play for a cooler of this magnitude.
MSI's 'Twin Frozr VI' formula includes dual Torx 2.0 fans promising to generate 22 per cent more air pressure than regular blowers, and these are sat atop a full-length aluminium heatsink outfitted with a trio of 8mm copper heatpipes and a nickel-plated copper baseplate. As is the norm these days, the fans don't kick in until temperature rises to 60ºC or so, and there are RGB LEDs giving the card extra flair. These can be controlled via the MSI Gaming app and there are seemingly endless colour choices as well as five available effects.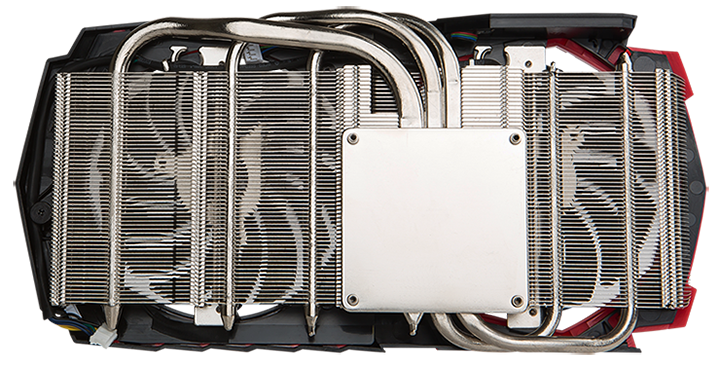 A cooler as meaty as this intimates a decent factory overclock, so what exactly do we get? Out the box, the GTX 1060 Gaming X's core frequency is nudged from 1,506MHz to 1,569MHz, while boost frequency climbs from 1,709MHz to 1,785MHz. The four per cent increase is surprisingly conservative for a card carrying a significant premium, and if you're hoping to see gains on all fronts you may be disappointed to find the 6GB GDDR5 frame buffer remains at a stock 8,008MHz.
We expect a bevy of rival cards to ship at higher speeds, yet do be aware that the on-the-box specification doesn't always tally to real-world boost performance. It's also worth noting that MSI, like Asus, gives customers a choice of operating modes via a bundled software utility. Switching to 'silent' mode will see core and boost frequencies fall to 1,506MHz and 1,722MHz, respectively, while 'overclock' mode will raise the bar to 1,594MHz and 1,810MHz. Interestingly, the latter mode will also bump memory to an effective 8,108MHz.

What else has changed compared to the more potent GTX 1070 Gaming X? Well, aside from the loss of 640 shaders and 2GB of memory, as well as a narrowing of the memory bus, the GTX 1060 Gaming X is also without SLI technology. The same is true of all GTX 1060 boards, and it's an interesting point of differentiation as the rival Radeon RX 480 does allow for a multi-GPU CrossFire configuration.
Elsewhere, the underlying GPU's 120W TDP is served by an eight-pin power connector, giving the MSI Gaming X board a little more wiggle room compared to the six-pin Founders Edition. Last but not least, the card's five display outputs are kept in line with reference, meaning dual-link DVI, HDMI 2.0b and a trio of DisplayPort 1.4.

MSI has reverted back to a silver I/O plate, as opposed to the snazzy all-black styling applicable to the GTX 1070 Gaming X, but there's no change to the bundle. The card is shipped with a one-year subscription to the XSplit Premium gamecasting service and is backed by a three-warranty from a well-known brand.
We imagine in-game performance will be eerily similar to the regular GTX 1060 Founders Edition card, but MSI's Gaming X should have the upper hand with regards to cooling, noise and overclocking. Let's see if those predictions hold true.