Card appearance
Ryszard took a look at NVIDIA's GeForce 6600 GT GPU a short while back. I recommend perusing his article to familiarise yourselves with what makes NV43 tick. We're look at cutting-edge technology, with full support for Vertex and Pixel Shader 3.0, 8-rendering pipelines, 128-bit memory bus, native PCIe support, and, in the case of the vanilla 6600, basic operating frequencies of around 300MHz core and 550MHz memory.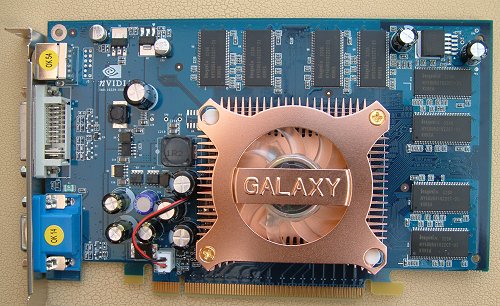 GALAXY's GeForce 6600 also resembles a budget part. There's no auxillary power connectors as a regular PEG 16X slot provides more than ample power. TSOP RAM is also left bare on this model. Further, the 6600 is also bereft of SLI capabilities; we'd normally see a small connector on the upper side of the board that's designed to connect up to another similar board and offer increased performance in tandem. The back of the card is bare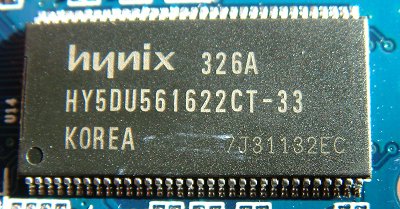 A total of 8 256Mbit Hynix 600MHz-rated chips allows GALAXY to push its 6600's default memory clocks up to a reasonable 550MHz, which equates to around 8.8GB/s of theoretical bandwidth. Some more simple maths tells us that the card also has 256MB of onboard memory.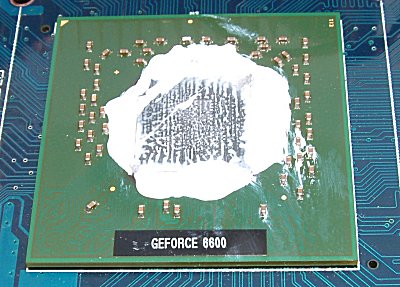 It's nice to see that GALAXY has had the foresight to add a generous amount of thermal goo between heatsink and 6600 GPU. The cooler's fan has also been thought out. It's unobtrusive in use and does a good enough job at keeping the core at below 60c during 3D activity.





The S-Video connection on the left-hand side is for TV-Out. GALAXY keeps costs down by not implementing any form of video input and processing. DVI connectors are now commonplace on any modern graphics card. 2D quality, from both DVI and HD15, was pretty sharp at resolutions up to 1600x1200.