Introduction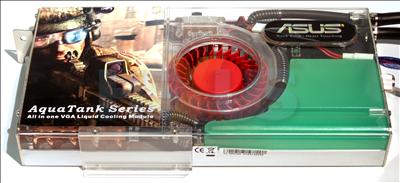 What does an NVIDIA AIC partner do when trying to differentiate itself from twenty-odd partners currently plying GeForce wares?

That's the question that most partners basing designs around GeForce 8800 GTX ask themselves. After all, it is the fastest graphics card around, bar none, so even the reference model is going to be helluva fast.

Nearly six months have passed since the introduction of the GTX and the past two months, in particular, have seen adventurous partners use a variety of methods for overclocking the red-hot SKU.

Some opt for selecting the very best cores, screening them further, and launching pre-overclocked cards. However, as good as the reference heatsink is, it's an air-based solution whose cooling is limited by, well, air.

ASUS has gone a step further and introduced a heavily overclocked GeForce 8800GTX that ships with an all-in-one liquid-cooling system. Read on to find out if this is the fastest (and most desirable) graphics card in the world!