Introduction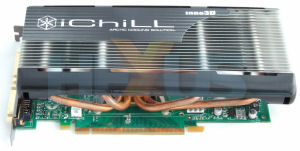 Inno3D has slowly been transforming itself from a homogeneous producer of NVIDIA-based graphics cards to a company that takes the enthusiast market seriously whilst still providing ye olde reference SKUs.

The attempt to woo the enthusiast is best represented by the current iChiLL series, which adds custom cooling, pre-overclocked core and memory speeds, and the use of higher quality components. The end result is a range of premium graphics cards that offer something new.

We first took a look at the company's iChiLL 7900GS ACS 6, and were suitably impressed by its impressive performance and attractive street price.

Following on from that and with due knowledge that NVIDIA is officially releasing its next-generation midrange GPUs very soon, it was time to take a look at the iChiLL 7950GT Accelero S1M. Find out if it's worth around £155 of your cash...