Introduction
A deluge of Nvidia GPU releases have been stealing the limelight of late. New high-end cards such as the GeForce GTX 970 and GTX 980 have cemented the green team's position as provider of modern, energy-efficient hardware, while the GeForce GTX 960 bestrides the mainstream market
But it's not all good news for Nvidia, as the GTX 970 has come under closer scrutiny for not being quite what it was initially made out to be. The lesser GTX 960 meanwhile arrives to retail at around £160 in overclocked form for a GPU that isn't significantly faster than the previous-generation model.
AMD and its partners spy an opportunity between these two Nvidia Maxwell-based graphic cards, and they are renewing the price-to-performance battle with the Radeon R9 290 in particular. A case in point is PowerColor, who is offering its custom-designed, overclocked PCS+ version at just over £200, thereby hitting the sweetspot existing between the two Nvidia cards.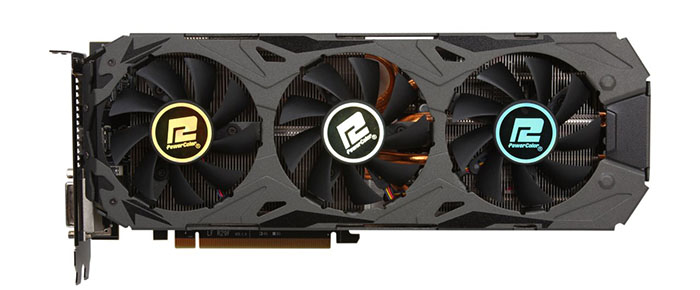 It was only a year ago that the R9 290X version of this card cost a wallet-busting £500. Father Time has been kind to the consumer who can now enjoy 85 per cent of that card's performance for a 40 per cent outlay.
PowerColor doesn't mess around with the PCS+ line, knowing that taming the heat produced by the underlying Hawaii-based silicon is no easy task. Enter the 2.5-slot cooler that spans the entire 290mm of the card's length. Want some heavy-duty action? How about five thick heatpipes, two sets of aluminium cooling arrays and a trio of 80mm fans. Such focus on cooling is said to reduce temperatures and noise levels by 24 per cent and 17 per cent, respectively, when compared with the toasty and loud reference card.
And substantial cooling isn't merely designed to whet the enthusiasts' appetites. Enabling lower-than-reference temperatures should ensure the card is able to stay close to its maximum frequencies at all times, something that R9-series reference GPUs have struggled with.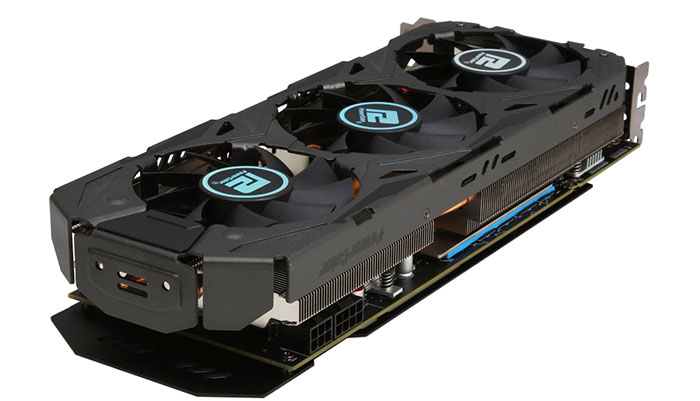 PowerColor scoffs at the 'up to 947MHz' core speed of said reference card and duly clocks the PCS+ in at 1,040MHz - a 10 per cent increase that, due to the cooler temperatures, is likely to be worth a touch more in real-word gaming. It's good to see the 4GB SK hynix memory isn't considered the poor cousin; PCS+ increases this from 5,000MHz to 5,400MHz. The long and short of it is that this card will be substantially faster than reference.
Power is fed through the usual 8-6-pin PCIe arrangement down one side. Keeping an eye on other hot-running components, thermal tape sits between the memory chips and cooler while two small heatsinks take care of the VRM circuitry. Interestingly, PowerColor adds some glue to the VRMs in an effort to mitigate the dreaded coil whine.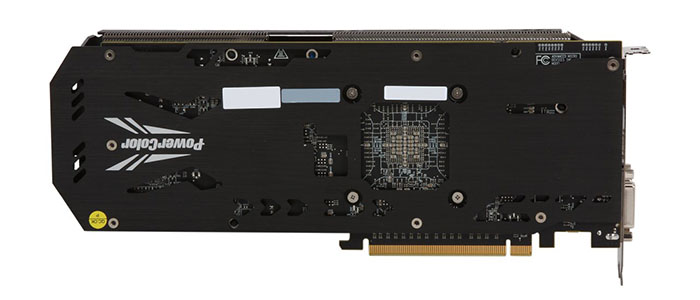 A metal backplate contrasts with the plastic shroud on the top. We'd normally argue that it's not strictly needed as the components are all housed on the topside, but it does become rather warm - to the tune of 65°C - when the card is placed under sustained load. Looking very closely at the top edge reveals a tiny BIOS-flicking switch that regulates the fan-speed profile, but not the frequencies, for this model. By default the card is in what we'd call the louder state - more on this later.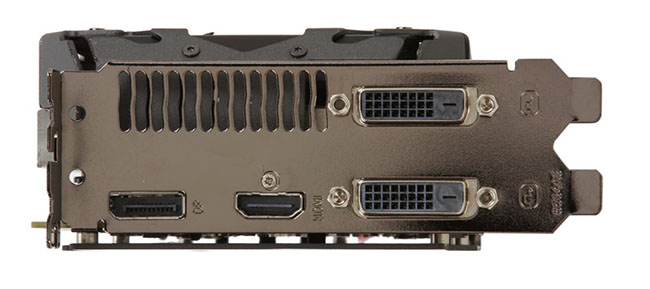 There isn't much call for a card-wide exhaust vent on an open-air cooling design such as the PCS+; PowerColor recognises this fact by sticking to AMD's default quartet of two dual-link DVI, DisplayPort and HDMI, all of which can be used concurrently to drive four high-resolution panels.
The kicker here is the price, or lack thereof. An overclocked R9 290 priced at £210 or so is further sweetened by AMD's Never Settle Gold Space Edition where purchasers can redeem up to three games from authorised retailers.