Introduction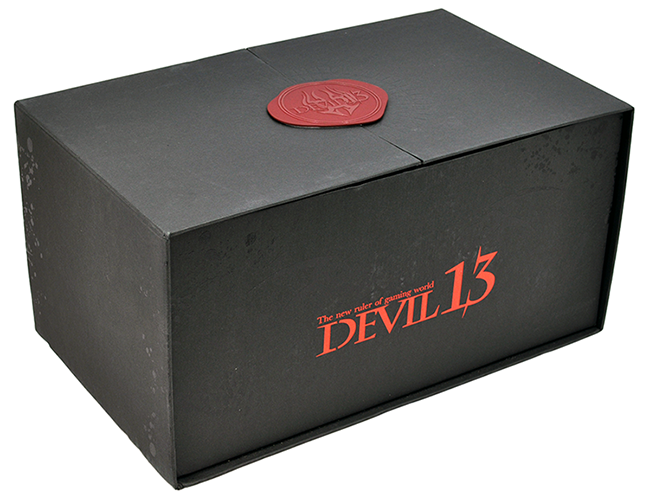 When a graphics card arrives in packaging like this, you tend to know that something rather outlandish lies within. And there's really no other way to described PowerColor's Devil 13 Dual Core R9 290X. As the name suggests, this here card takes dual R9 290X GPUs, hooks them up on a single PCB via internal CrossFire, and wraps everything up in top-of-the-line Devil 13 branding.
Asking price? £1,140. Weight? 2,339g. PCIe slots needed? Three. Bragging rights? Plenty, one would hope. It's clear that this isn't your average graphics card, and PowerColor has made an effort to enhance the package by bundling in a Razer Ouroboros gaming mouse as standard. We're also informed that the Devil 13 is eligible for AMD's Never Settle promotion, meaning free games are up for grabs, but of course it's up to the card itself to justify the bulk of that whopping-great price tag.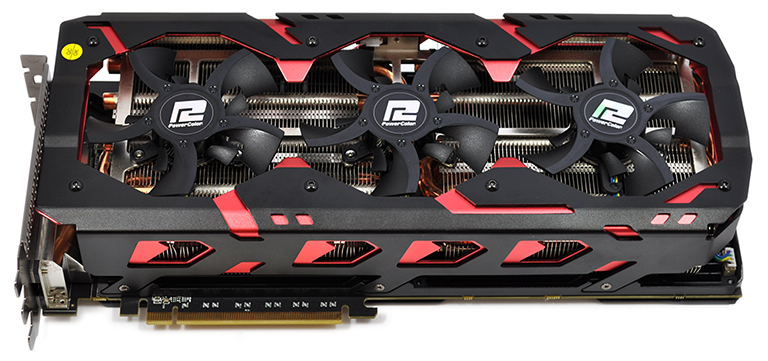 And let's be honest, what a card it is. Measuring 304.8mm x 136.2mm x 59mm, the latest Devil 13 looks hugely impressive. The cutouts in the black metal case tease a second red layer, the trio of dual-blade fans are shroudless, and you can see through to the massive array of aluminium cooling fins.
Give it a mouth, and this thing would surely scream POWAH. But how quickly does it actually run? Placing two high-power GPUs on a single PCB has historically resulted in sacrificed speed, but that wasn't the case on AMD's own Radeon R9 295X2, and it isn't the case here, either. Taking a slightly different approach, PowerColor has kept the cores running along at a R9 290X-matching 1,000MHz, but bumps the 8GB frame buffer (4GB per GPU via a 512-bit bus) up from 5,000MHz to 5,400MHz.
Even the backplate has been lavishly designed, where the Devil 13 branding is joined by a signed seal of approval from Roy Taylor, AMD's Corporate Vice President.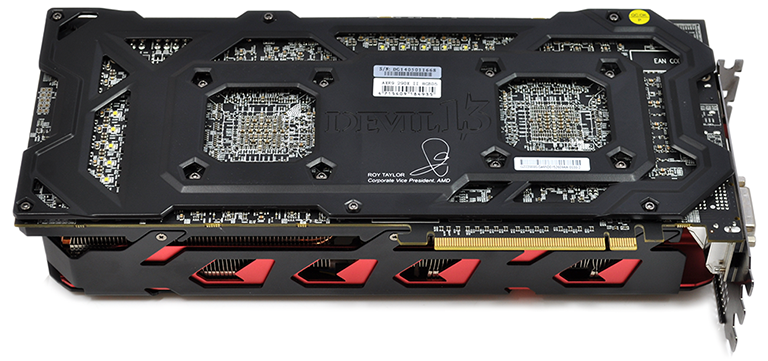 Built like a rock is an understatement, and there's a heck of a lot of cooling on offer here. PowerColor has squeezed in a total of 10 heatpipes (eight 8mm and two 6mm), as well as a die-cast plate that covers almost the entire PCB, and power delivery takes the form of a digital 10+2+3 multi-phase design.
Voltage measurement points are available along the card's edge and a range of LEDs provide an indication of GPU load status. High-quality Ferrite chokes and superior capacitors are of course onboard, and though we're still looking for the kitchen sink, we suspect it's in there somewhere.
Elsewhere we can see a Dual BIOS button that allows the user to toggle between 'default' and 'turbo' modes. You would think that one is quieter than the other, but there isn't a lot in it as the card runs rather toasty a lot of the time - we'll cover fan speeds and temperatures in more detail later in the review.

Now how about power requirements? Cast your memory back to the R9 295X2 and you'll recall that AMD made do with just two eight-pin connectors, with the card making up the shortfall by drawing more power from the connectors than it technically should.
PowerColor isn't taking any chances and equips the Devil 13 card with a quartet of eight-pin connectors. Pulling 150W apiece, these give the underlying GPUs up to 600W to play with, plus 75W from the slot. It's no wonder the supporting documentation recommends a 1,000W power supply as a minimum.
Display outputs, meanwhile, are designed to cover most bases, with the Devil 13 sporting two DVI outputs, HDMI and DisplayPort. A look at the I/O plate provides a better sense of the scale of this card, and those of you who are frightened by the near-2.4kg weight will be pleased to hear that PowerColor includes a height-adjustable standoff as part of the bundle.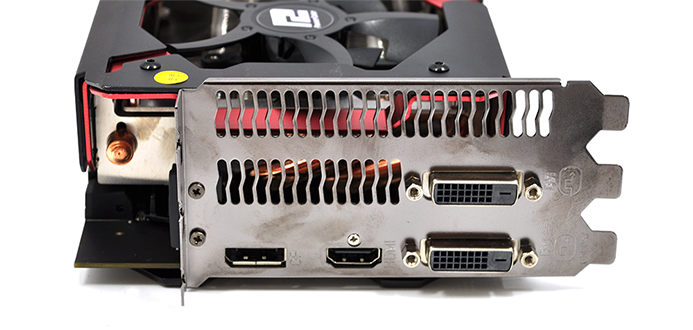 We're looking forward to seeing what the Dual Core R9 290X can do, especially against the R9 295X2, so it's a question, really, of air vs. liquid. Let's move on to some 4K benchmarks and see who comes out on top.