Double the framebuffer
Graphics company Palit has carved out a niche in creating overclocked cards that are oftentimes easier on the wallet than the competition. Take the GeForce GTX 780 as an example - Palit's JetStream model is available from £360 and, going by our experiences, offers an enviable mix of cooling, low noise and good overclocking potential.
The same is true of the GTX 780 Ti variant, shipping at sub-£500, but Palit is now bolstering the middle ground between the two by launching a GTX 780 (non-Ti) equipped with a 6GB framebuffer. The company sent us two for review, to showcase SLI performance at a heady 4K resolution.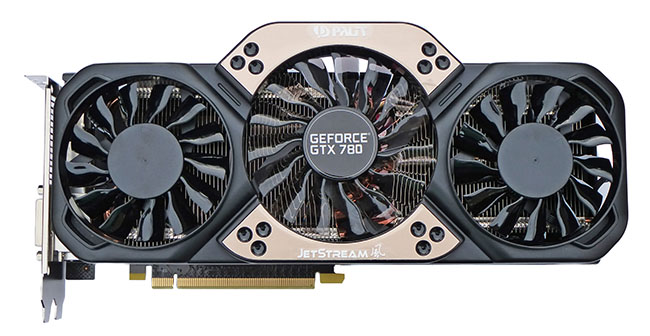 Other than GTX Titan and Titan Black the only other Palit card to feature a 6GB framebuffer is this GTX 780 JetStream model. The cooling solution is entirely predictable - it is present on all JetStream and Super JetStream cards in the GTX 780 family - and has historically worked well at keeping temps low and GPU Boosting clocks high.
The cooling uses a three-fan cooler on top of a couple of heatpipe-connected heatsinks sitting underneath. The central 9cm fan is placed a little higher than the surrounding 8cm pair, leading to a flared section that isn't entirely necessary. Though robust and sitting 2.5 slots high, mainly due to the oversized heatsink between fans and GPU, the whole card feels less premium than the reference offering.
Build quality aside, there's solid technology here, from an 8-phase PWM supply to the use of a massive copper base that kisses the GTX 780 GPU. Better-than-reference cooling inevitably leads to higher clocks; this JetStream's core is increased from 863MHz to 902MHz while GPU Boost improves from the default 900MHz to 954MHz. Memory, meanwhile, is kept at 6,000MHz. Frequencies, it turns out, are identical to the 3GB model.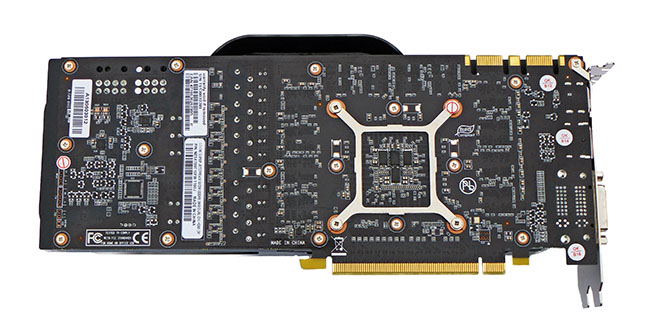 And it's the memory that's the standout feature. Palit has literally doubled the framebuffer by using denser memory chips from Hynix. Previously partners were not allowed to sell 6GB-equipped cards for Nvidia-imposed fear they would compete with the Titan family. Nvidia seems unperturbed by the comparison now, leading to this JetStream, though do understand that Titan and Titan Black, whilst being far more expensive, offer much faster double-precision support. GTX 780 6GB, then, is a gaming card first and foremost.
Power is sourced from 8+6-pin plugs on the far side. Equipped with a TDP of 250W, though perhaps a shade higher in reality because of the extra memory and higher clocks, we'd recommend a 600W+ PSU when installed into a standard PC setup. We actually ran two cards with a Corsair AX760i PSU without any problems, the system peaking at 460W or so at the wall when playing games, but we'd be reticent to use anything smaller.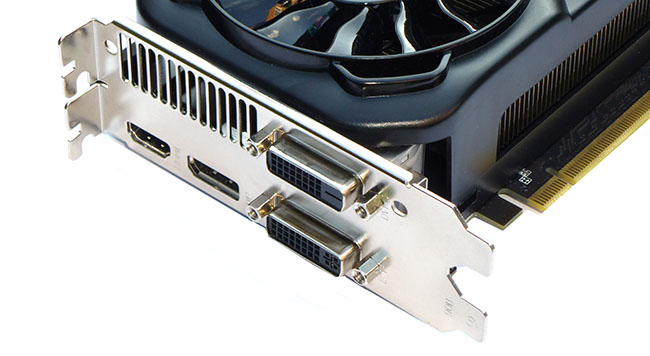 Palit uses the standard two dual-link DVI, DisplayPort and HDMI configuration present on most GTX 780s. The regular GTX 780 JetStream costs £360 and does very well when compared to cards in the same pricing spectrum. Adding the extra framebuffer increases retail price to £400, we're informed.
Sweeting the GeForce deal some, Nvidia has rejigged its gaming bundle to offer Watch Dogs, the eagerly anticipated action-adventure game, launching May 27, with GeForce GTX 660 and above.