The Monitor Itself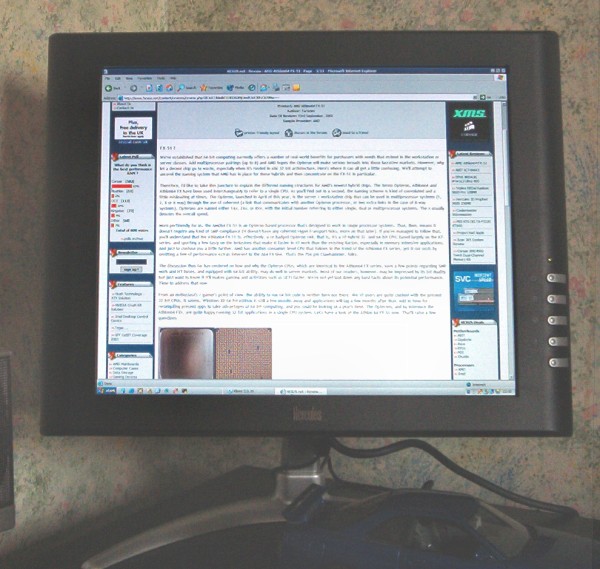 I'll forever berate myself for not getting my new digicam before the 920 PRO made its way back to Hercules. My current set of shots in no way do this incredibly stylish TFT monitor justice. The bezel is a matt black metal, most likely aluminium, since it's way too light for steel. With an embossed Hercules logo, a set of silver buttons and a power LED (green for go, orange for sleepy time) being the only things to spoil the stylish black surround, its minimalist styling gets the thumbs up from me.

The bezel isn't as thin as some other models on the market, notably some recent Hitachi's, but being black, you tend not to notice it so much. At least I didn't, even against a background of constrasting horrible floral wallpaper.

The curved silver metal base gives it something sexy to sit on. Presentation can sell better than performance, any day of the week, to some people, so Hercules made sure they got it right. You may not like it, but if you don't, go get a taste transplant and come back when you do.

Being a TFT, it's super thin and easily wall mountable, weighing only 6kg (without stand). Instructions on wall mounting with compatible VESA wall mounting hardware are supplied, should you wish to do so. I'd have done just that, had it not had to go back.

I can only enthuse so much, the real test is in the opinions of other users. I now know 3 friends with 920 PRO's (I kid you not), having spotted it round here recently. You'll see why in upcoming pages. Here's a formal spec.


True 20ms pixel response over full colour range
500:1 contrast ratio
H170°/V150° viewing angles (from normal)
250cd/m² brightness
17inch 1280x1024 native resolution
D-SUB analogue connection (DVI version sold seperately)
So a true 20ms panel with 17 inches of screen space at 1280x1024, in a classy package. How does it perform?

Buttons
Packing
Bright (unilluminated room shot)
Thin display