Introduction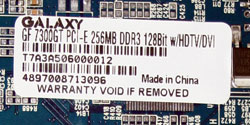 Remember this review? If not, and you don't fancy a perusal, let me refresh your memory. It's a GeForce 7600 GS from Galaxy, but a 7600 GS that's not really a 7600 GS at all, at least as far as NVIDIA laid down in the reference spec. sheets.

Galaxy overclocks the core sizeably, lets the G73 core make sweet I/O love to fast GDDR3 memories instead of DDR2 and replaces the reference cooler with something much more acceptable. The price quoted by Galaxy means, frankly, the card is a steal. AIB partner hardware done well.

So when Galaxy said, "well, we've done the same to 7300 GT, fancy a look?", we could hardly say no. The title of this piece pretty much confirms what's going on, but it's definitely worth the look.

Join us to see if Galaxy's heavily breathed-upon GeForce 7300 GT is worth your hard-earned.