Card appearance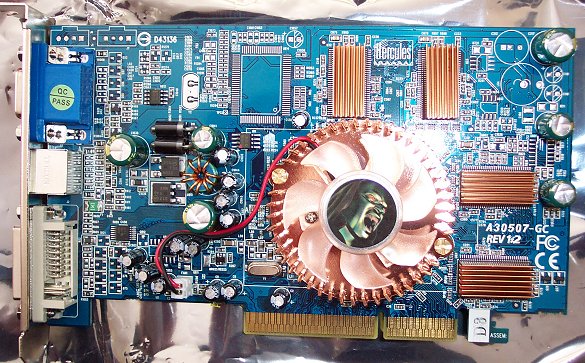 The actual card is quite small by modern standards, and we're happy that it is. The case-hogging NVIDIA 5900 Ultra is a beast of a card, literally. The lower clocked core and memory speeds allow Hercules to do away with the need for auxillary power, especially in view of the 0.13-micron manufacturing process. Could Hercules have gotten away with a passive design ?. It's eminently possible with the right heatsink. The now trademark blue Hercules PCB is, obviously, still in use.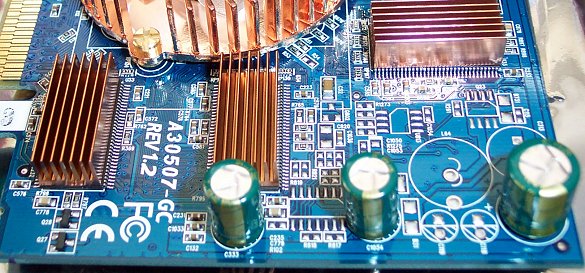 Hmmm. Copper RAMsinks on a card that's only equipped with 400MHz memory appears to be a little overkill, we reckon. They're excellently applied and give the card an expensive look, yet we question their real, meaningful use. Hercules usually apply RAMsinks to its range of graphics cards, so this is no real surprise, then. 8 32Mb TSOP modules are used in this instance.

The cooler is ORB-like in appearance. It's also quiet and unobtrusive when in use. One would only hear its presence in a system that was geared towards extreme quietness, and we feel that it would be right at home in most OEM and enthusiasts' systems. The card feels compact and well constructed, too.

Note the attention to detail shown by Hercules. Most manufacturers are content to use plastic pushpins. Hercules use quality springs and nuts for its range of cards. An informative exercise into how to build a quality card.

HD15, S-Video-Out and DVI-I are the usual suspects we find lurking at the back of the card. Only Tyan, from memory, have a 9600-based graphics card with dual DVI connections. ATi's Hydravision software allows the user to meddle with dual displays and general display characteristics.