ASUS V9950 In The Flesh

Box first, just to keep you in suspense for a little while longer. I don't know about you, but I always keep retail packaging for some reason. Maybe it's the Scottish scrooge in me, having a retail box helps when selling something on. Or maybe its the fact that retail packaging for a reviewer is a rare treat. More often that not, we get hardware in a white box, and a hand pressed CD is about the only luxury to go with it. So it's nice to focus on the box and bundle you'll get, should you purchase a board from a retail outlet or from an online vendor that is generous enough to supply a full retail product, rather than an OEM space and cost cutting version.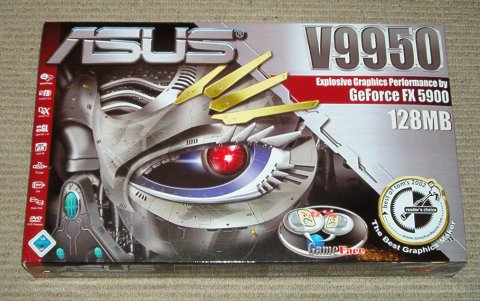 I'm cynical, but I keep expecting to see Matrix-style packaging at the moment. But that's not the case here, just a red electronic eye staring back at us from the middle of the box.

If you couldn't spot that it was an NVIDIA FX 5900 powered board with 128MB of memory, you need a visit to the optician. The only other box detailing is the large Tom's Hardware logo, maybe we'll see a Hexus logo on a vendor box one day.

Opening it up, what do you get?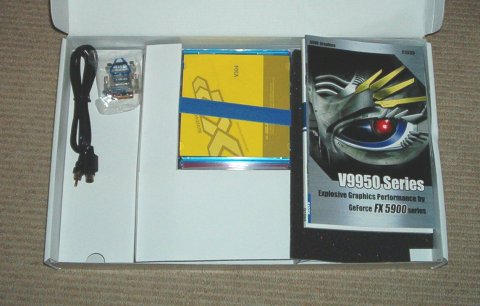 Don't worry, your card will be in there too when you get one. It was whirring away in the test rig at the time of the shot. Everything else is still there however, which is a shame, since it seems light on extras. Appearances can be deceiving however, you get arguably a better bundle than the MSI.

Apart from the card itself, you get an S-Video cable to power the simply amazing TV-Out functions provided by recent NVIDIA nView implementations. It can be fiddly to setup, none of the controls for useful things are on the same page in the dialog boxes, but once you've asserted your authority over the various sliders and check boxes, you get one great looking output on your television.

Strangely, the quickstart guide is even thicker than the other manual you get that explains the board features.

A DVI-I to VGA convertor is the final piece of hardware in the box that physically connects to the board, giving you an analogue output from the DVI-I output for some dual head goodness. Alas dear reader, if only I could afford a second head.

Then we come to the CD bundle. Along with a copy of ASUS DVD (it's strangely familiar, possibly a rebranded Intervideo core without checking) you get an excellent array of games or game demos. Splinter Cell, Warcraft III, Colin McRae Rally 3 and TOCA Race Driver are demo highlights, Battle Engine Aquila and Black Hawk Down are the full games. That's by no means an exhaustive list either, there are a few more titles to go with that lot.

It's probably about time we took a look at the card itself.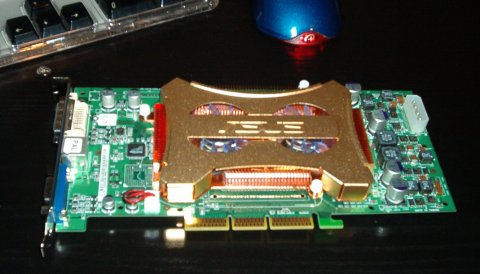 Two, see-through, plastic fans surrounded by more copper than a dodgy house plumbers van, are the obvious highlights of ASUS' FX 5900 implementation. It's a reference design down the very last surface mount component, but that's no bad thing. What sets the board apart is obviously its cooling. It's a very very heavy card, weighing subjectively more than the Hercules 9800 Pro and that's no mean feat. The heaviest graphics card I've ever had the pleasure of coming across, making for some fearsome cooling ability without a doubt.

ASUS dont do an MSI and discretely cool the back side of the GPU, we'll see how that affects overclocking later. For stock clocked running, it has absolutely no effect.

Noise? I'll leave that until later too. A quick look at the ports available, just for kicks. It's nothing different to the majority of the other graphics cards you can buy today, just simple outputs only, but I need to show off my digicam skills some more I think.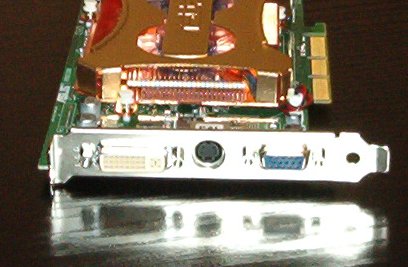 Finally, before we move on to the test setup, it's worth a mention that the board requires an external power source to function properly, such is the drain on a 1.5V AGP slot from a high end consumer GPU these days. You get a molex Y-splitter in the retail box, in the shot above it's hidden under the cardboard holding the DVI convertor and the S-Video cable.

On to the test setup now, before the benchmarks.