Testing methodology
GeForce GTX 760 2GB specs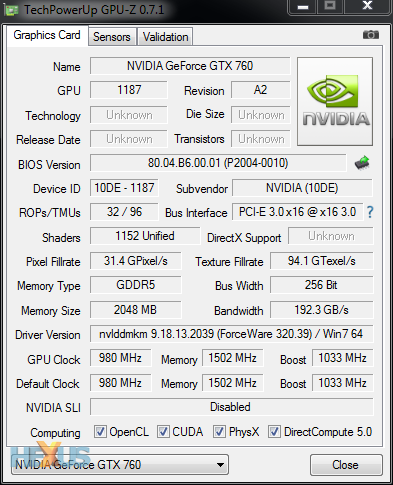 GPU Comparisons

Graphics Card
GPU Clock
(MHz)
Stream
Processors
Shader Clock
(MHz)
Memory Clock
(MHz)
Memory Bus
(bits)
Graphics Driver
Approx Price
Nvidia GeForce GTX Titan 6GB
837 (876)
2,688
837 (876)
6,008
384
GeForce 320.18
£790
Nvidia GeForce GTX 780 3GB
863 (902)
2,304
863 (902)
6,008
384
GeForce 320.18
£520
Nvidia GeForce GTX 770 2GB
1,046 (1,085)
1,536
1,046 (1,085)
7,010
256
GeForce 320.18
£310
Nvidia GeForce GTX 760 2GB
980 (1,033)
1,152
980 (1,033)
6,008
256
GeForce 320.39
£200
Nvidia GeForce GTX 680 2GB
1,006 (1,058)
1,536
1,006 (1,058)
6,008
256
GeForce 320.18
£360
Nvidia GeForce GTX 670 2GB
915 (980)
1,344
915 (980)
6,008
256
GeForce 320.18
£270
Nvidia GeForce GTX 660 Ti 2GB
960 (1,013)
1,344
960 (1,013)
6,008
192
GeForce 320.18
£220
Nvidia GeForce GTX 580 1.5GB
772
512
1,544
4,008
256
GeForce 320.18
NA
AMD Radeon HD 7970 GHz 3GB
1,000 (1,050)
2,048
1,000 (1,050)
6,000
384
Catalyst 13.5 beta 2
£320
AMD Radeon HD 7970 3GB
925
2,048
925
5,500
384
Catalyst 13.5 beta 2
£280
AMD Radeon HD 7950 3GB
850
1,792
850
5,000
384
Catalyst 13.5 beta 2
£215
AMD Radeon HD 7870 2GB
1,000
1,280
1,000
4,800
256
Catalyst 13.5 beta 2
£170
AMD Radeon HD 5870 1GB
850
1,600
800
4,800
256
Catalyst 13.5 beta 2
NA
HEXUS High-End Test Bench

Processor
Intel Core i7-3770K (3.50GHz, 8MB cache, quad-core)
CPU Cooler
Intel reference E97378-001
Motherboard
Gigabyte GA-Z77X-UP4 TH
Memory
8GB G.Skill RipJaws (2x4GB) DDR3 @ 1,600MHz
Power Supply
Corsair AX750W
Storage Device
Samsung 830 Series 256GB SSD
Optical Drive
Generic 24x DVD-RW
Chassis
Corsair Graphite Series 600T
Monitor
Dell 3007FPW
Operating system
Windows 7 Ultimate (64-bit, SP1)
HEXUS High-End Benchmarking Suite

GPU Benchmarks
Mode and Resolutions
Quality Settings
3DMark
DX11 at 1,920x1,080 and 2,560x1,440
Fire Strike and Fire Strike Extreme
BioShock Infinite
DX11 at 1,920x1,080 and 2,560x1,600
Ultra + DOF
Call of Duty: Black Ops II
DX9 at 1,920x1,080 and 2,560x1,600
8xMSAA, High/Extra Preset
Crysis 3
DX11 at 1,920x1,080 and 2,560x1,600
4xMSAA, High Preset
DiRT Showdown
DX11 at 1,920x1,080 and 2,560x1,600
4xMSAA, Ultra Preset
Far Cry 3
DX11 at 1,920x1,080 and 2,560x1,600
2xMSAA, Ultra Preset
Just Cause 2
DX10 at 1,920x1,080 and 2,560x1,600
8xMSAA, High Preset
CLBenchmark
Complete test
Default
General Benchmarks
Description
Power Consumption
To emulate real-world usage scenarios, we record mains power draw both when idle and while playing Far Cry 3
Temperature
To emulate real-world usage scenarios, we record GPU core temperature both when idle and while playing Far Cry 3
Noise
A PCE-318 meter is used to record noise levels when idle and while playing Far Cry 3
Testing notes
We've added the GTX 760, GTX 670, a slightly-overclocked GTX 660 Ti, and a Radeon HD 7870 to our high-end line-up. Including these three comparison GPUs provides a fuller picture of where Nvidia's new card sits in relation to its peers.
GeForce GTX 760 requires an updated driver, v320.39, and some simple testing shows it to offer no obvious speed-ups when compared to v320.18 WHQL used on other Nvidia cards.
All 13 cards are included in the basic graphs. We also show per-second results and graph the GeForce GTX 670 and Radeon HD 7950 up in comparison to GTX 760.
Be aware that specifying reference frequencies is actually a poor proxy for in-game performance. This is due to the way in which the card(s), particularly Nvidia's, GPU Boost to higher frequencies that differ depending upon environmental conditions. We noted the highest core frequency for each real-world game and list them below.
| BioShock | Call of Duty BO2 | Crysis 3 | DiRT | Far Cry 3 | Just Cause 2 |
| --- | --- | --- | --- | --- | --- |
| 1,071.3MHz | 1,084.4MHz | 1,045.2MHz | 1,058.2MHz | 1,058.2MHz | 1,071.3MHz |
There's a slight amount of variation between games, which is to be expected, and the consensus is the reference card peaks to an average of around 1,060MHz when evaluated across all real-world games.