Introduction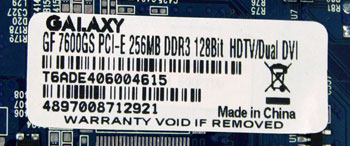 It seems you can't make it through a day as a graphics analyst without tripping over the reference rulebook an NVIDIA AIB partner has just tossed aside in the pursuit of a more appealing product for their customer.

The factory overclock is the most common avenue, many of NVIDIA's board partners going down that route to sell more boards, but rarely do they do anything else. Not that free speed is such a bad thing, but any enthusiast worth his or her salt could do the simple clock changing work that most vendors do, on their own, saving themselves the price premium attached.

That rings true especially in the mid-range where most enthusiasts play, trying to get even more bang for their hard earned buck. However, run off and read most AIB partner support sites and you'll see statements to the effect that overclocking on your own voids your warranty. So maybe the factory route is a good one after all, right?

And what if the vendor pairs a sizeable factory overclock -- from 400/400 to 500/700 say -- with a new, quieter, better performing cooler, along with innovative assistance for further approved overclocking experimentation? If that were a mid-range product with attractive features, pricing and performance, you'd sit up and take notice, wouldn't you?

Galaxy certainly hope so with a GeForce 7600 GS to shake up the establishment. Not only have they laughed in the face of 7600 GS's reference clock settings, but they've thrown out the obnoxious little reference cooler and attached something entirely more attractive in its place. And all while offering you other goodies to aid even more performance to be investigated without fear of breaking or voiding anything.

On paper, all that would seem to be "for the win", as all the cool kids say. And that's what this article seeks to investigate, so join us as we analyse the Galaxy GeForce 7600 GS 256 GDDR3.