SAPPHIRE Radeon X1900 XT 512MB Bundle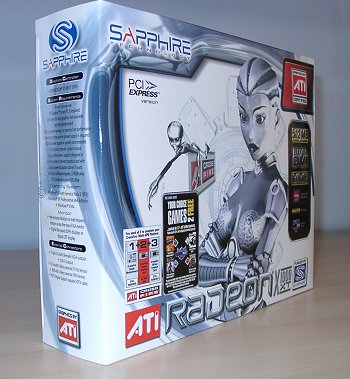 SAPPHIRE makes due note of the CrossFire multi-GPU compatibility of the X1900 XT 512MB. However, the method of communicating between CrossFire cards hasn't changed in the move over from X1800-based cards. You'll still need a CrossFire master card that has a dedicated compositing engine. Master card tend to be a little more expensive than vanilla cards, too.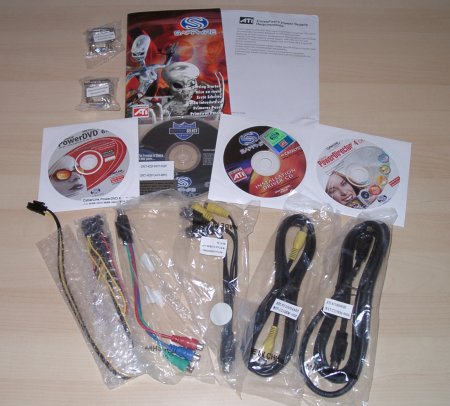 SAPPHIRE's relationship with CyberLink bears fruit in the form of PowerDVD 6 (2-channel edition) and PowerDirector 4DE, which makes the most of the card's video-in facility. Being a top-end SKU, SAPPHIRE's Select bundle, which comprises of a total of 4 games that you can demo for an hour before selecting 1, is upgraded to allow you to choose 2 titles. Sounds good, until you realise that the title on offer aren't cutting-edge, shader-heavy titles that will show the card's abilities off. Rather, they're relatively old titles that ship with any number of SAPPHIRE bundles.

Hardware-wise, SAPPHIRE bundles in S-Video and RCA cables, along with an adapter between the two. There's also an S-Video-to-component (output) adapter, perfect for connecting up to decent AV equipment or displays. Note that component video, although better than RCA because it separates colour and brightness signals, is an analogue connection and therefore not quite as good as a pure digital connection such as, say, HDMI. A couple of DVI dongles allow connection to analogue displays, and the brief printed manual is augmented by a more thorough version the installation CD.

At the time of writing, SAPPHIRE's TriXX software, which provides temperature/fan-speed monitoring, together with the option of explicitly defining fan speeds, wasn't compatible with either the X1900 XT or X1900 XTX products. We hope that SAPPHIRE launches an updated version soon; it's a definite value-adding extra.

Another basic bundle that's more suited to a £100 card than a £365 offering. Of course, 'lite' bundles help keep the price down, and you are then free to purchase any games you wish.

Warranty

SAPPHIRE offers a standard 2-year warranty on its Radeon X1900 cards. If the card should become defective in the first year, SAPPHIRE advises that you RMA it back to the retailer that you bought from, who will then liaise with SAPPHIRE' support centre. Turnaround is dependant upon the retailer's return policy, so it's best to check before purchasing, to determine whether the retailer will swap the card out immediately for a new one, or will simply push it along to SAPPHIRE to deal with.

Second year support is with SAPPHIRE directly, who will either replace or repair a faulty card. As with all card warranties, overclocking the card past guaranteed speeds, if any, or modifying it in any shape or form will invalidate support. The warranty is tied in with the card's serial number and not the original purchaser.