Radeon HD 7750 revisited
If it's high-res, high-quality gaming you're after, AMD's Radeon HD 7750 isn't the graphics card for you. Introduced back in February, the baby 7000-series card has been cut in specification so severely that while the top-of-the-line 7970 offers serious grunt, this bottom-of-the-pack alternative provides merely a whimper.
It's a card that will be overlooked by gaming enthusiasts, but also one that shouldn't be ruled out by everyone else. It's affordable, for starters, with cards readily available from as little as £80, and if you're tight on space, this 7000-series card might be your best bet; it isn't particularly big, it's powered completely by the PCIe bus, and its multimedia feature set is top-notch.
A Radeon HD 7750, then, should be a strong contender for home theatre PCs, but some of AMD's partners unfortunately aren't seeing it that way. In the months following launch, we've seen the baby 7000-series card kitted out with big, meaty coolers that are, putting it quite bluntly, pointless. This is a card that we reckon ought to be compact, quiet and cheap, so we've dug out two that attempt to meet some of those requirements in their own unique way; the £95 Sapphire Radeon HD 7750 Ultimate and the £80 VTX3D HD 7750.
VTX3D HD 7750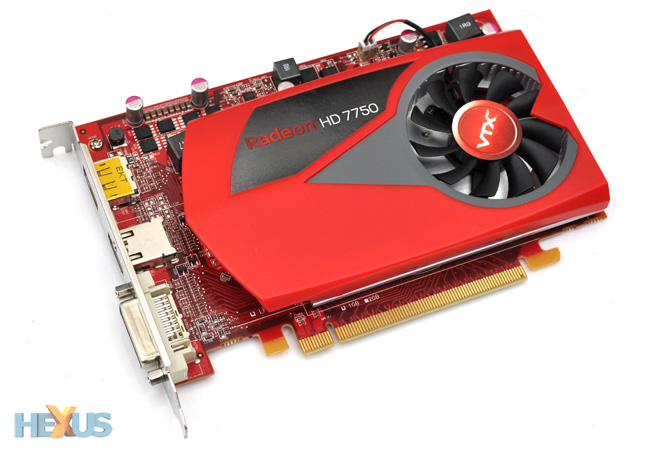 Starting with the cheaper of the two, the £80 VTX3D HD 7750 looks like a nostalgic AMD graphics card - it's finished in long-forgotten ATI red, features no dedicated CrossFire fingers and no PCIe power connectors.
Like AMD's reference board, power is supplied via the motherboard's PCIe bus, and the same interface allows for two-card CrossFire configurations. Handy to know, as VTX3D's card is designed to be a single-slot solution, making it easy to put two side-by-side on even the tightest motherboards.
VTX3D understands that the Radeon HD 7750's 28nm GPU doesn't require a lot of cooling, and the small fan sat atop of a mid-size heatsink should prove to be more than sufficient.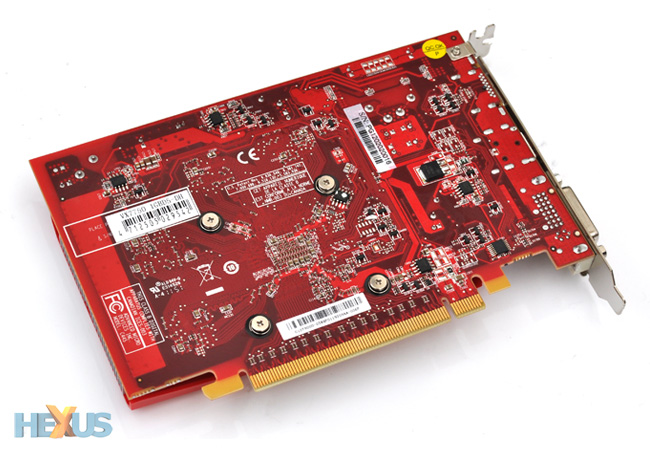 The design is in no way exciting, but the full-height PCB is relatively compact at 170mm in length and the card's total thickness is kept under 20mm.
A potential match for space-constrained chassis, but while we appreciate the single-slot form factor, VTX3D doesn't attempt to increase the performance on offer. In keeping with AMD's reference design, the card's core is clocked at 800MHz and the 1GB frame buffer runs at a stock 4,500MHz.

It's more of the same up front, too, where the VTX3D Radeon HD 7750 sticks to AMD's standard trio of outputs; DisplayPort, HDMI and dual-link DVI.
There's nothing other than a DVI-to-VGA adaptor in VTX3D's bundle, so you'll need to source your own HDMI cable if you're thinking of hooking this up to a big-screen TV, but you can rest assured in the knowledge that the card's forward-looking HDMI 1.4 port offers full support for quad-HD resolutions, stereoscopic 3D and 7.1 audio.
Not a bad contender for a HTPC that will double as a light gaming system, but if you're worried about the noise of VTX3D's tiny fan, there's the Sapphire HD 7750 Ultimate...