HD 7950 CrossFire vs. GTX 580 SLI
AMD's Radeon HD 7950 is here, folks. You've seen the reviews, you've tasted the performance and you've already planned your upgrades. But some of you will have bigger plans and greater ambition; for why have one ultra-fast GPU when you can have two?
CrossFire and SLI have been promising to double up in awesomeness for a number of years - with admittedly mixed results - and the latest crop is no exception. In fact, as far as AMD is concerned, the new generation goes one better thanks to a little something called ZeroCore power technology. Designed to drastically reduce overall power consumption, this new feature enables a 'Southern Islands' GPU to switch off almost entirely - reducing idle power consumption to just a couple of Watts, and allowing the card's fans to stop spinning.
Apply ZeroCore power technology to CrossFire, and you have a scenario where multiple GPUs can be installed, but only one is used during everyday tasks. Fire up GPU-intensive applications and the Radeons will burst into life, but on the whole, the system should be quieter, cooler and less damaging to your electricity bill.
All sounds rather good, but there's only one way to know for certain so we're putting the tech to the test by pitting a pair of Sapphire Radeon HD 7950s against a pair of EVGA GeForce GTX 580s.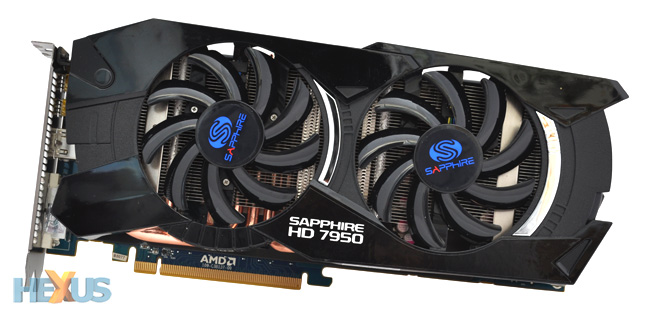 It's a heavyweight showdown that'll have most power supplies trembling with fear, and we're adding a little extra spice by using factory-overclocked cards that fetch around £375 apiece at retail. Representing NVIDIA are two EVGA GeForce GTX 580 Super Clocked cards (797MHz core, 4,050MHz memory), and in AMD's corner we have two Sapphire Radeon HD 7950 OC cards (900MHz core, 5,000MHz memory).
We've already seen one non-reference Radeon HD 7950, but it's worth expanding on Sapphire's offering as it's shaping up to be a real corker. Arriving at retail priced at £375 (though Sapphire reckons it'll drop closer to £360 in the coming weeks), the 7950 OC takes AMD's standard design, attaches a big-ass heatsink with a couple of fans, and gives the GPU core a 12.5 per cent overclock right out of the box.
Sapphire's 7950 PCB is for the most part in keeping with AMD's reference design; there's the Tahiti Pro GPU sat in the middle, and it's surrounded by 12 GDDR5 memory chips that provide a total 3GB capacity. The memory continues to run at default speeds - an effective 5,000MHz - but Sapphire has bumped the GPU core clock speed up from 800MHz to 900MHz, and there are a few other subtle changes, too.
The PCB has been coloured in trademark Sapphire blue (though, if we're honest, we prefer the standard black), it's about 5mm shorter than reference, and Sapphire has added a metal plate that gives the card a little extra rigidity and helps dissipate heat from around the memory and other vital components. Two CrossFire fingers are where you'd expect to find them, but the BIOS switch alongside has also been given a slight tweak. Whereas most 7950 cards will offer two identical pre-programmed BIOSes - one specifically for backup - Sapphire's OC model comes with a second BIOS that's configured to favour overclocking with a more aggressive fan profile.
What's underneath is neat enough, but punters will most probably be eyeing up Sapphire's Radeon HD 7950 OC because of a new dual-extractor fan technology dubbed 'Dual-X'.
Consisting of two 90mm PWM fans, five copper heatpipes and a card-long array of aluminium fins, the cooler looks the business and, as you'll see later in the review, does a mighty fine job of keeping the 28nm GPU cool and quiet under load. The heatsink does stick out above the PCB by about 15mm - so be sure to check you've enough clearance - but the card's overall length is almost identical to reference at 275mm and it isn't particularly heavy at around 780g.
On the input/output side of things, Sapphire sticks with AMD's default selection of dual-link DVI, HDMI and a pair of mini-DisplayPorts. Power, meanwhile, is provided by a standard pair of six-pin PCIe power connectors.
We already know that the Radeon HD 7950 is good, and that the underlying GCN architecture has merit, but we're here to tackle two specific questions; how good is Sapphire's custom cooler, and what kind of performance can you expect from two cards running in unison? Read on to find out.